This is an absolute beginner's tutorial that will teach you how to create a blog step by step. By the end, you will have a fully functional website ready to be published and found by the search engines and your readers.
If you need any help during this tutorial, contact me, and I will be more than happy to help you set up your blog. Let's get started.
An introduction to blogging
I don't pretend to simplify blogging by any means. It takes a lot of work and effort to grow a blog and make money with it. Give it at least a year of hard work to start seeing results. Some people may take even longer depending on where you start your journey.
If you decide to figure everything by yourself, it may take you a little bit longer. You will eventually find your way. So if you don't have the money to invest in a good course that teaches everything you need to succeed as a blogger, you better give yourself some extra time before you decide to throw the towel.
Is blogging worthy?
Oh yes, even if you don't make a dime, you still find blogging very rewarding if you like writing and learning new things. I get bored easily, and I am constantly learning new things. I have been blogging for a couple of months, and it has been the only thing that I consistently try to do more of.
Besides, blogging can be very profitable if you haven't read any blogger income report; I encourage you to do so. It is mind-blowing how many people make a full-time income or how many millionaires owe to blogging their success.
Disclosure: This post may contain affiliate links that at no cost to you; if you make a purchase using my link, I may earn a small commission. I only recommend products that I've used and trust.
Select your niche
The first thing you need to determine is your niche. What is your blog going to be about? What are the main subjects you will cover to help your audience solve a problem?
Blogging as a business is not about you, but rather about your readers. Accordingly, you have to talk about subjects that interest the same audience.
Since you are here because you want to start a blog to make money, you need to select the right niche. And the right niche doesn't completely involve you being passionate about it.
The right niche is a combination of passion, skills, and experience. Your niche will be in the middle.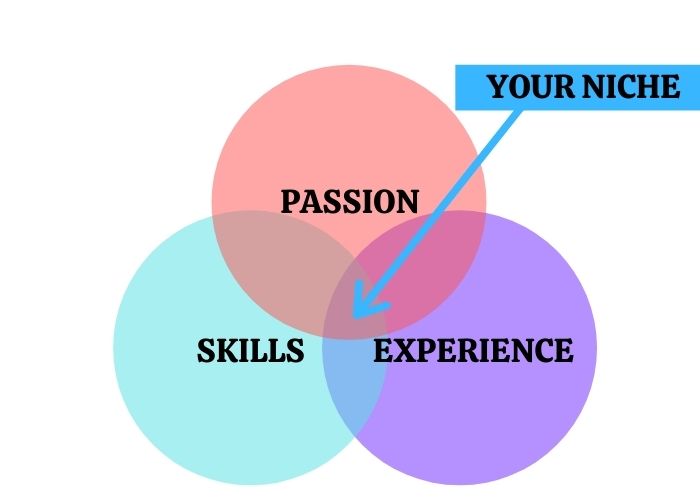 You don't need to be an expert on the subject, just like you don't have to be a genius writer. You will learn as you go. However, your niche needs to have monetizing potential.
Examples of profitable blogging niches are: Food, Personal finance, art and craft, mommy blogs, business, marketing, fitness, weight loss, and the list goes on.
Avoid niches like Health if you are not a proven expert. Otherwise, your blog will have a hard time raking on search engines like Google, and you don't want that.
Name your blog and find hosting.
Now that you have decided on your niche, it's time to secure your name URL. A domain name is the address you put on the search bar to find a website. For example, bluehost.com is Bluehost domain name. It is also referred to as URL. So from now on, we will use it indistinctly.
Ideally, you will select a brandable domain name, which will add value to your blogging business and your audience. It will have its unique identity and will be easy to remember. Follow this guideline to help you find the perfect domain name.
Once you start blogging, if you find that your name is no longer relevant to the subject of your blog, or you end up changing the direction of your content, you can change your domain later on.
It happened to me, and change it 😉 no big deal.
Select your hosting provider

for your blog
Now it's time to select your hosting. Just like in real estate, you need land to build your house, online, you need a host to build your blog and park your domain.
In this tutorial, we will be building your blog using WordPress, which is the tool that will allow you to create your website without ever having to write a single line of code.
However, easy doesn't mean less powerful or fewer capabilities. To give you an idea, WordPress powers more than 40 percent of the internet. And companies like BBC America, Sony Music, and Microsoft News trust WordPress to create their website.
Now to make the most out of WordPress, you need the best Hosting company, Bluehost.
Bluehost is the best hosting company for beginners. Its 24 hours customer service has been a lifesaver for me. That's why I recommend you start with Bluehost.
With Bluehost, you get a free domain name for the first year and a free SSL certificate which is the lock you see at the top of the browsers. Without that security, you will not rank on google search starting May 2021.
The rest of the tutorial assumes you have signed in with Bluehost. If you haven't, it is time to go there now.
How to create a WordPress blog with Bluehost
Head to Bluehost.com and hit the get started button. You will land on a screen like a picture down below.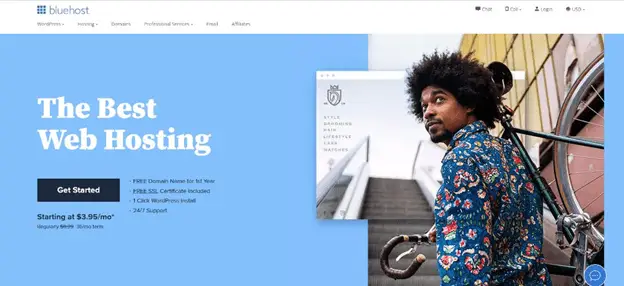 Select your plan. The basic plan would work fine initially; however, I recommend Choice Plus because it adds free domain privacy and additional security. That will prevent hackers or other not so well-intentioned people from finding your personal information through whois.com. You should add that protection option if you select the basic plan to shield your personal information.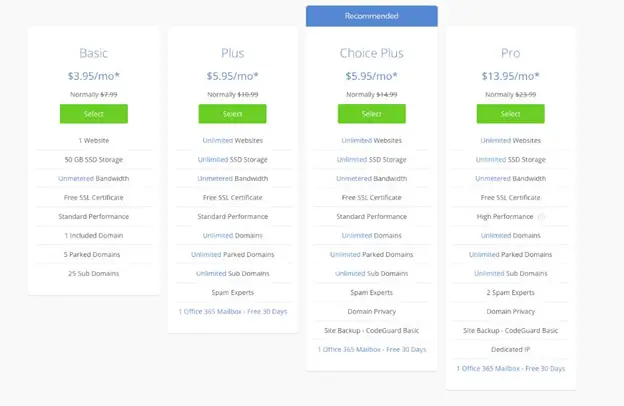 The next screen will take you to enter the domain name you selected before.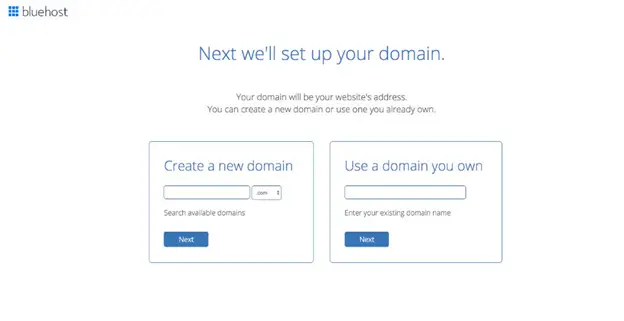 Input your domain where it says to create a new domain in the previous picture. If you have a domain already, then use the domain you own. Then click next. The next step is to input your personal information and create your account.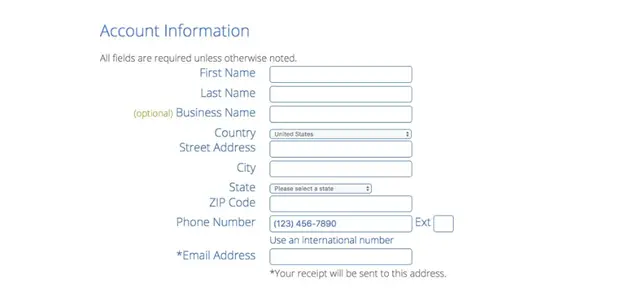 Following this, you enter your payment option and submit.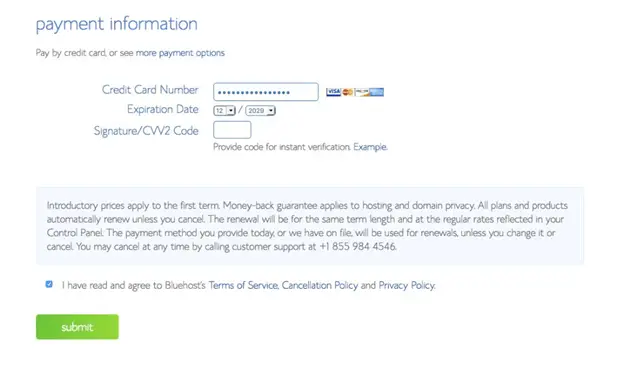 Review your plan options on the next screen and select or deselect what you think appropriate. If you selected the basic plan, you need to keep selected the Domain Privacy protection. That comes at an extra $0.99 per month.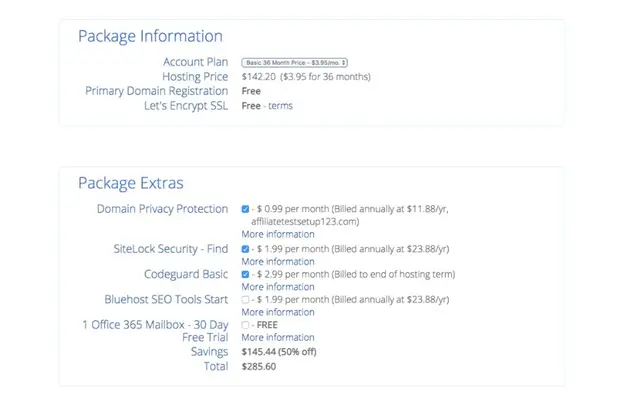 Bluehost has a 30-day money-back warranty, no question asks, so you will have a grace period to decide whether or not blogging is for you.
The next screen will take you to select your password. Make sure it is secure and easy for you to remember.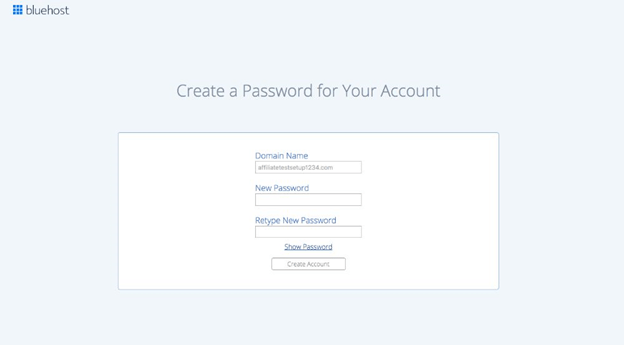 We are almost there! Next, press the blue button to go to the login section.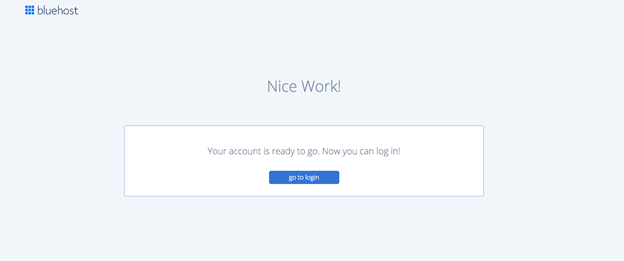 You will be prompt to log in using the password and email you enter earlier. Go ahead and log in to your new account.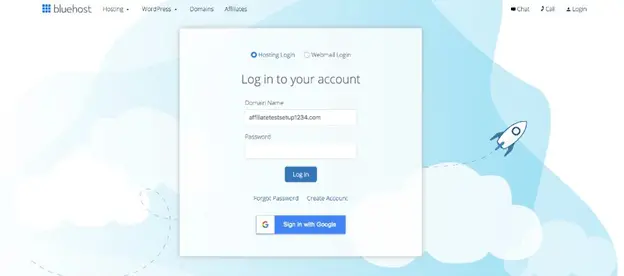 The next screen down below will ask you to name your website and enter the site tag line. Enter the name and tag line. Don't worry if you don't have a tagline yet. You can add one later on. Leave everything else as it is and continue.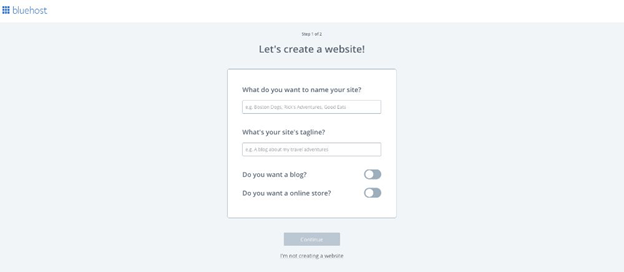 The following screen asks you about your goals and expertise levels in building a website. Worry not; this might be your first website but won't be the last one. A year from now, you will be creating a tutorial like this one to teach your audience how to start a blog 😉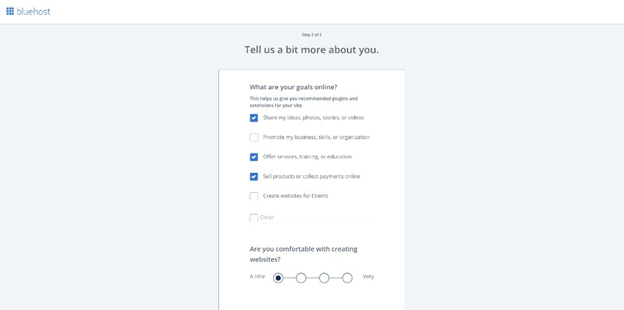 The next step is to select a theme. A WordPress theme allows you to customize the appearance of your blog. It will determine the structure and functionality of your whole site. You need to select a theme that is fast and versatile.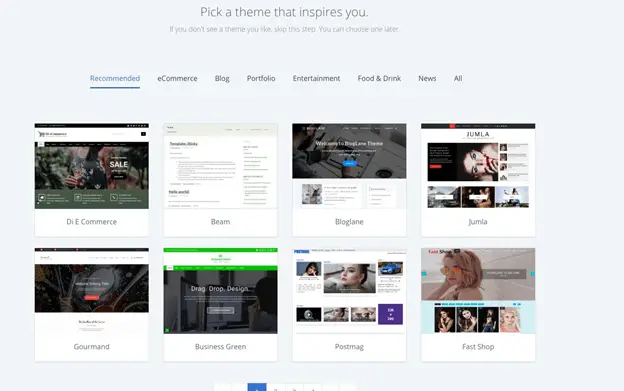 I use the Astra theme. You can get away with a free version, and then if you want to customize more elements, you can upgrade it.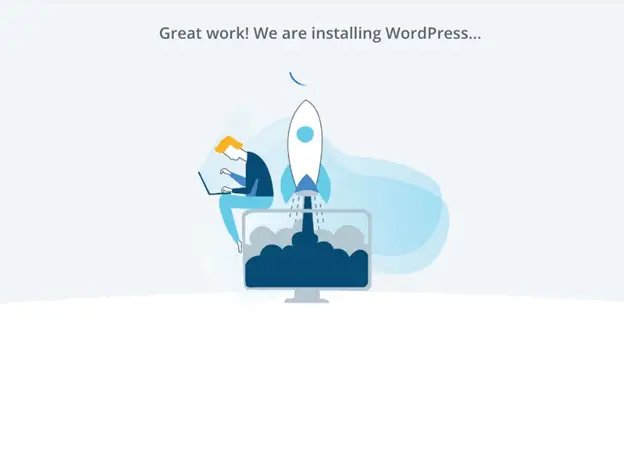 Wait for Bluehost to do its job!! It is installing WordPress in your blog.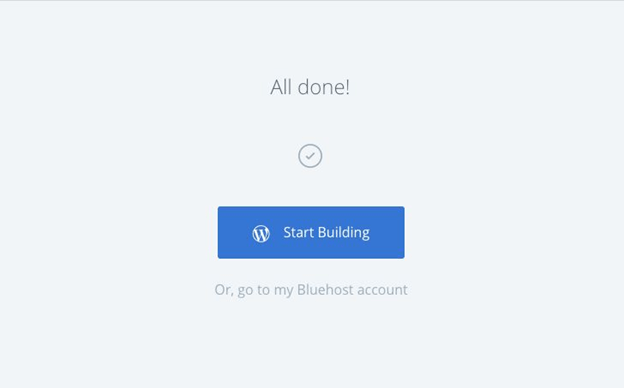 Urray, there you have it!! You have installed WordPress and created your first blog. The start building bottom will take to your blog.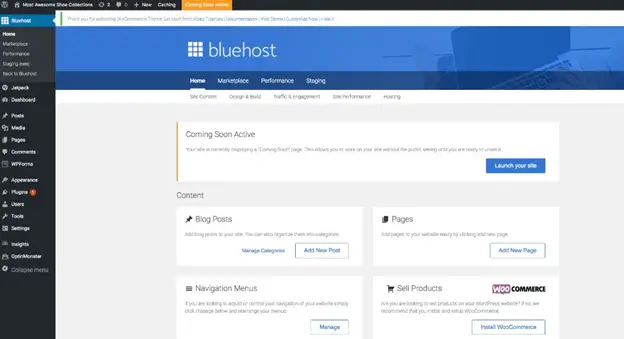 The previous image is where all the magic happens. Congratulations, you have created your blog. It is not live yet, but it will soon be.
If you have any questions, send me an email or leave me a comment. I will be happy to help you set up your blog.
Designing your blog and putting the puzzle together
Great!! So far, you have created your Bluehost account, have installed WordPress on your site, and are ready to give life to your blog.
The next step is to organize your blog, personalize it to the colors and fonts that will form part of your digital brand, and Install some plugins.
I want to you sign out of your account, from now own you will access your blog this way: Open your internet browser and type your URL followed by /wp-admin/
For example, https://www.YOURURL.com/wp-admin/ will open the following window.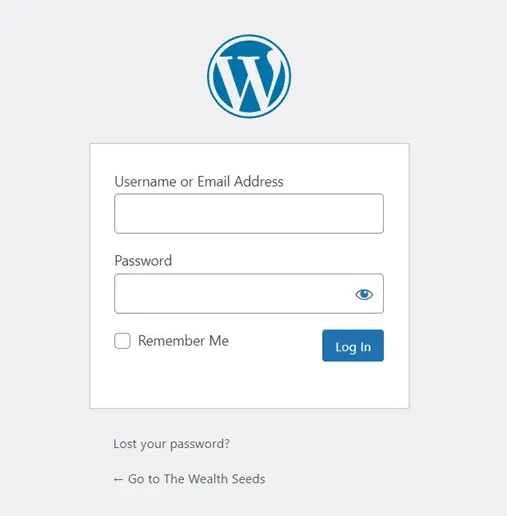 That is how you should always access your blog. Sign in and see you in the next section.
Installing essential pluggings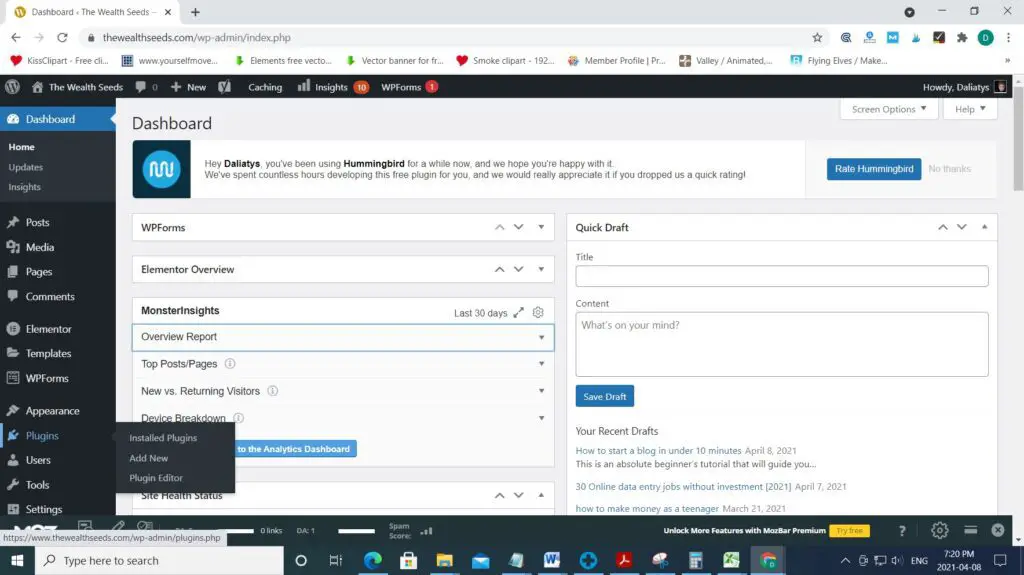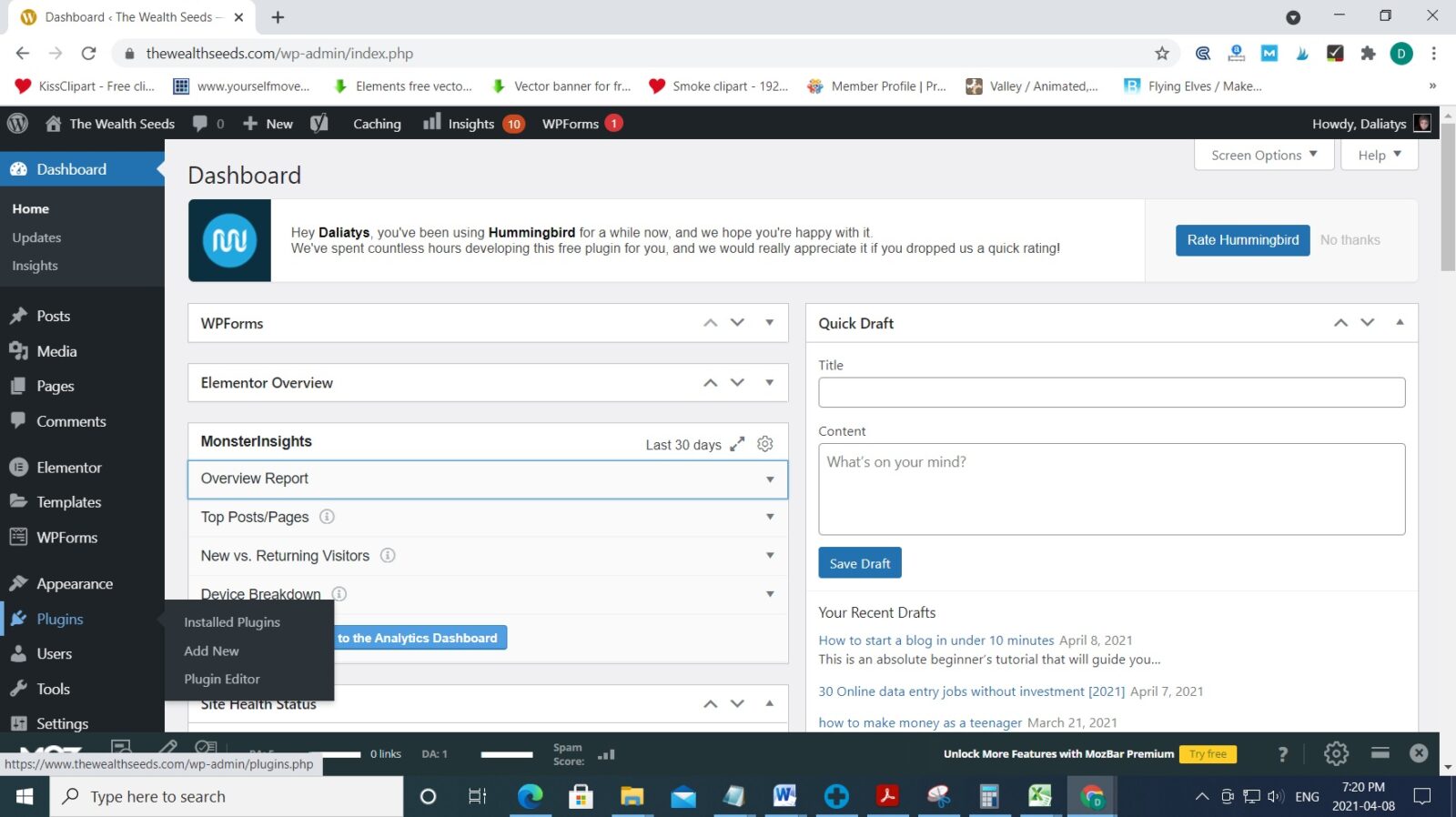 Now you need to get familiar with the dashboard, which is where you will develop your blog. The next step would be to install some essential plugins to make your blog rock.
The first plugging you need is Elementor, a drag and drop page builder that will help you build your site easily and quickly.
Jetpack is a multifunctional plugging to improve performance, security, and backup your site.
Google Analytics for WordPress by MonsterInsights will connect to your google analytics and will help you understand where your blog traffic is coming from.
Yoast SEO. This plugin will help you optimize your blog to be search engine friendly. Learn to work with it from day one since it will be the best ally in your quest to Google ranking glory.
A word of caution. Traffic takes time to build. Don't get discouraged when you see that no one is reading your blog. In the beginning, you shouldn't worry about it. Focus on creating valuable content for your readers. Become an expert keyword researcher and make your content SEO friendly, so google and bin gets to love you.
And most important, start building links to your website from day one. If you want to grow your blog into a profitable business, I repeat aloud, start building links from day one!!. On page one of Google is where the money is, and you get there building authority; hence you need other websites linking to yours.
Add categories pages and organize your site.
After you have added categories pages and organized your blog, your first task is to write the about section. Explain why people should read your blog and what is in there for them. Your about page is not about you but about what you have to offer to your audience.
Once you have crafted a solid about the page, you can go live and publish your blog. Please don't wait to have 10 or 20 blogs to publish your blog. It will slow you down and keep you in the Google sandbox longer than needed. Sandbox is the term used to refer to the time that google entirely ignores you, and depending on your niche, and it could be from 3 to 12 months.
When you publish your blog, you need to send your site map to Google and Bin. Sending the map is crucial since that's how the engines will find your new content. Yoast generates a site map. Just follow Google search console guidelines to send your sitemap.
There is a lot to learn, but don't get overwhelmed. I promise you will love the journey.
To summarize
Congratulations, you have given the first step in building your blogging empire. Let's summarize what you should have done today.
You selected your blogging niche and your blog name.
Created a Bluehost account and registered your free domain.
Installed WordPress and your blog theme.
Added all the plugins to get you started.
Published your blog after writing your about page.
Connect with the google search console and send your site map to Bing and Google.
Pretty awesome!! you have done a great job. Now start writing great content for your readers, and don't forget about keyword search and link building.
Let me know if you need any help along the way in creating your blog.