So your want to become a better version of yourself, good for you!. I am sharing with you the 21 ways to glow up physically and mentally that have changed my life, and that will change yours.
These tips will help you achieve a permanent glow up. You will see fast results when you start taking action.
Are you ready to shine? let's get started!
How to glow up physically
Let's start with the physical glow-up. It will be easier and faster to see results. And that will give you the courage to keep going with the rest of your transformation.
1. Start taking care of your skin.
Starting a skincare routine will make your skin glow. You can start seeing results as soon as you implement it.
Regardless of your age or sex, there are three simple steps to glow up with a skincare routine: Cleanse, Treat, and moisturize.
Not all skins are the same, and you should treat yours accordingly. But in essence, follow the same steps.
Cleanse your face with gentle washers twice a day.
Apply a toner afterward to balance your skin pH. You should select a toner based on your type of skin.
Adding a vitamin C serum during the day helps to prevent damage to your skin from pollution and sun exposure.
Don´t forget to treat the skin under the eyes with an eye cream. That part of your same is the most sensitive and fine. Be mindful of that when you select a product.
Now it's time to moisturize to keep your skin hydrated. Don´t be shy and use as much moisturizer as you fill your need. It will create a protective skin barrier.
Don´t forget sunscreen which is the most important step of your glowing skincare routine. Sun is the main responsible for premature aging.
2. Grow your hair stronger and healthier.
Having healthier hair will make your overall look glow. There are several things you could do to make your hair look prettier.
You should address the specific challenges that your hair may have. For example, if you have split ends, trimming them will go a long way.
You could also try a new haircut that favors your face shape to make you look younger and brighter. Try that hairstyle you have always wanted.! Don't be afraid to experiment with a new look.
Hair is composed mainly of protein. Adding protein to your diet will help you take care of your hair from the inside out.
If you are not getting enough nutrients from your meals, you can add a supplement to address the issue. This article will give you a better inside into how to treat and look after your hair.
3. Have a manicure and pedicure.
Having a manicure and pedicure is essential for your transformation. It will reduce your stress levels and improve blood circulation and joint mobility. Also, it will prevent the development of fungus infections and other pathogens.
A manicure and pedicure will also improve your overall appealing so it has to be included in your glow-up guide.
You can be as bold as you like. Try acrylic nails if you like long nails. Leaving them natural is ok too.
Use colors that make your hands and feet attributes stand out. For example, dark tones will make your nails look smaller. Keep that in mind.
4. Shape your Eyebrows.
Giving care to your eyebrows is an essential step in your glow-up transformation. The eyebrows should be shaped according to your face shape to enhance your features.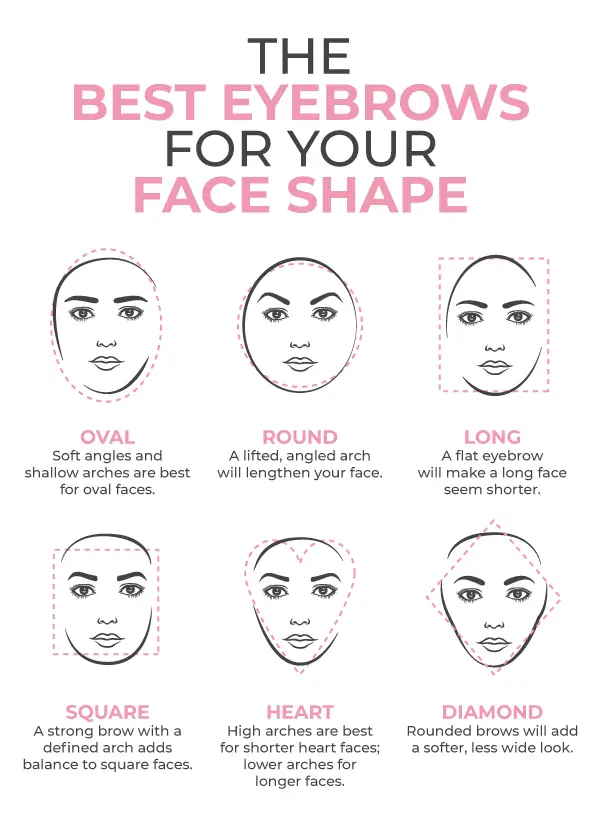 Even though you can do your own eyebrows, I recommend you go to a beauty specialist. They will shape them at least the first time. Then you only need to keep them clean when the hair grows back.
5. Add a lip care routine.
Similar to my skincare routine I have a routine to look after my lips. And this is another way to glow up and you need to add it to your glow-up list.
Exfoliating your lips at least once a week to remove dry and dead skin will make your lips feel smoother.
Don´t forget to hydrate them. Lips dry out easily because they don´t have oil glands. Drinking enough water will do the job.
Or, you can opt for moisturizing products or lipsticks that can add an extra layer of moisture and protection.
6. Whiten your teeth.
Having white, gorgeous teeth is an essential way to glow up.
Teeth tend to yellow with age. Your eating habits can also stain them. The good news is that the process can be reversed.
You can try natural remedies to whiten your teeth like brushing with baking soda or using hydrogen peroxide.
Or, you can buy a whitening treatment. I encourage you to ask your dentist what is the best option for you.
7. Remove unwanted hair.
Remove unwanted hair Another step you need to add to your glow-up list is to remove excess hair. Remember to shave your legs and underarm.
Check your mustache. Hormones can make women grow hair in unexpected places. Don't forget to do this step frequently since your face will look cleaner, clearer, and softer.
8. Drink lots of water.
According to the Journal of Biological Chemistry, our skin contains 64% water. Water is a vital nutrient to our cells since it is its main building material. It helps our body to get rid of waste, and it has other important functions. Hence, the need to hydrate as a way to glow up.
Each person has their own target water consumption needs. So, what works for me, may not work for you. Just keep in mind to drink water before even feeling thirsty. It is an inexpensive and convenient way to make your skin glow.
9. Have a healthy balanced diet with plenty of veggies.
If you want to achieve a long-lasting glow-up, you must get into the habit of eating more vegetables, fruits and maintain a healthy diet in general.
Vegetables and fruits will nurture your body with essential nutrients like antioxidants. Antioxidants help protect the skin from cellular damage caused by free radicals, pollution, and sunlight.
Overall veggies and fruits will help you have radiant luminous skin and slow down the aging process.
10. Select clothing that suits your body.
Selecting the appropriate outfit for your body is another way to glow up. Try clothing that best suits you.
Watching youtube videos for advice on what to wear is a good idea to find your style.
Using accessories to complement your clothing will also contribute to your transformation.
11. Give makeup a try
Don't be afraid to give makeup a try. It may be all you need to glow up.
You don't need heavy makeup to see a significant difference. Sometimes less is more. Using a soft natural-looking makeup that accentuates your features will go a long way.
Take a look at the previous video to experience the power of makeup. This can help you glow up fast.
12. Start exercising
Exercising your body offer benefits beyond weight loss. Even if you don't need to shed a pound you need to exercise as part of your glow up plan.
When you move, your blood circulation improves and more oxygen and nutrient reach your skin. As a result, your skin looks healthier. On top of that, there are other benefits like there is an increase in collagen production. Exercise also promotes new skin cell which makes you shine and reduce the natural aging process.
Exercising also results in an improvement in mental health so I could have included this step also on the glow-up mentally list. So keep that in mind.
13. Get more sleep.
Sleep helps your body repair. For your glow up challenge, good sleep means that the collagen in your skin gets replenished. This makes you look younger and brighter.
So start relaxing and have good quality sleep.
How to glow up mentally
Now is time for your mind to glow up. The following tips will guide you to achieve internal wellbeing.
Performing a mental glow-up is intended to transform your thoughts and make the most out of your daily experience. It is a way to see enhance your life from the inside out.
14. Practice mindfulness meditation.
Practicing mindfulness can bring lots of benefits to your mind, even your body will thank you for it. For example, stress levels go significantly down when people start meditating. Meditation also improves sleep and reduces blood pressure.
It is our first step in our glow-up list because you can see results fast when you start being present in the moment. Dedicating time for yourself and your wellbeing is a must.
The best part is that you don't need to buy anything to get started. There are plenty of free resources to guide you in the art of meditating.
15. Adopt a positive attitude.
Having a positive attitude will increase your confidence in your skills and ability to perform and achieve your goals.
Thinking positive helps you see challenges with a different approach. To see what good can comes from the bad things that happen. In that sense, you won't be down with small things, but rather you look optimistically forward to the future.
Eventually, you will see how you start removing negative things and people from your life. And your mind will glow up as a result.
This article will help you achieve a more positive state of being by acquiring a growth mindset.
16. Set goals and work to achieve them.
There is nothing more exhilarating than to set a goal and achieve them. Having a goal stimulates new behaviors that will guide your focus towards achieving your objective.
Goal-setting gives you a sense of control over your life. You are in charge of your destine, and you can shape your future. It is an empowering feeling. Another way to glow up too.
17. Be grateful for what you have.
Gratitude is a superior state of being. You vibrate at a higher frequency when you feel grateful. That's why you should practice the feeling more often tosz transform your mind.
I have the habit of reflecting on the things that I am grateful for every night before going to sleep. You can do the same. I promise it will work wonders in your life as you start transforming your mind.
18. Do more of the things that you enjoy.
Believe it or not, sometimes, we neglect ourselves and stop enjoying life. If you want to reshape your mind, you must take time for the things that you love doing.
Just as you work hard every day, you should have time to enjoy the things that make you feel alive.
Whether is watching a TV show, fishing, or simply reading a new book, you need to do more of that. Life is about pleasure too.
19. Learn to love yourself.
If you truly want to glow up, you need to start loving yourself. Once you see yourself as the center of your world, things start to change progressively.
It is not a matter of being selfish, but you cannot truly love another until you know how to love yourself. That sounds cheesy, but it is true.
Self-love fuels you with confidence, worthiness, and a positive attitude in general.
20. Listen to motivational speakers.
I am a huge advocate of motivational speakers and authors. A word of encouragement can change a life. My favorite motivational speaker is Jim Rohn.
I recommend you listen and decide for yourself whose message resonates with you. It could be Tony Robbins or Napoleon Hills or whoever has a message that you feel identified with.
Having a guiding voice encouraging you to give the best of yourself will help you tremendously in your glow-up process.
If you prefer the written word, you can always read motivational and self-improvement books.
21. Use affirmations.
Affirmations work in your subconscious mind. And subtlely they compel you to act. That's why affirmation work wonders if you want to become a better version of yourself and glow up.
There is no mystery to start using affirmations. Write down what you want to accomplish and read it like if you had it already. Most experts recommend reading them twice a day. Early in the morning and then before going to bed.
In the Lazy man's way to Riches, Joe Karbo attributes most of his success to a technique that implements affirmations, goal setting, and positive thinking. Not only that, tones of successful and happy people have affirmation among its habits.
How to glow up for boys
The steps outlined in this list are also valid for boys. Replace the part of the eyebrows and makeup with a professional facial to remove impurities and soften your skin. And you should be good to go.
As a man, you too need a skincare routine. My husband decided to start taking care of his skin, and let me tell you this, he looks so much better now. So yes, you too can pamper your body and have a glow-up.
Final thoughts on how to glow up.
There you have it a step-by-step outlined guide to performing a glow up physically and mentally.
You can take out or add any step you like along the way to tailor these tips to your own needs. In the end, you know best what works or not for you.
I do know for sure that you will see instant results once you commit to change for the better. Good luck in your transformation journey.