Today we are going to dive into the subject of saving money challenge. We covered in a previous post how to set financial goals. This led us here. If you have already decided what your future financial goals are, one important part of that future must involve saving money.
Saving money can be really frustrating for some people, especially if you don't have an established saving routine or a plan.
Once you know what you are saving for, you will have extra fuel to stick to your saving goals and take action.
If you lack the discipline to save a consistent amount of money, entering a money-saving challenge like the 52 weeks money-saving challenge will help you achieve your saving goals.
If you are planning for a big life event like buying a house, this saving plan can help you save for your house down payment really fast.
What is the 52 weeks money saving challenge?
A year has 52 weeks, so we could also call this challenge the 365-day saving money challenge. Or the year-saving challenge. Call it as you like; the thing is that if you follow the rules at the end of the year, you will have saved the amount you established as your saving goal.
The 52 weeks money saving challenge consist of saving each consecutive weeks an amount of money pre-establish. That amount is then incremented each week by a set amount based on how much you want to save at the end of the challenge.
If you start saving $1 in week one, then in week 2, you will save $2, and in week 3, put aside $3. Here the amount of money saved corresponds with the number of the week.
You increment this way $1 each week. One dollar more than the previous week.
How much money do you save on the 52 week challenge?
If you increment $1 each week by week 52, you will save your last amount, and you will have exactly a total of $1,378.
The idea behind incrementing how much you save every week will help you get used to frequent saving without even noticing it. The resistance to save is reduced every week as you see your savings grow towards your goal.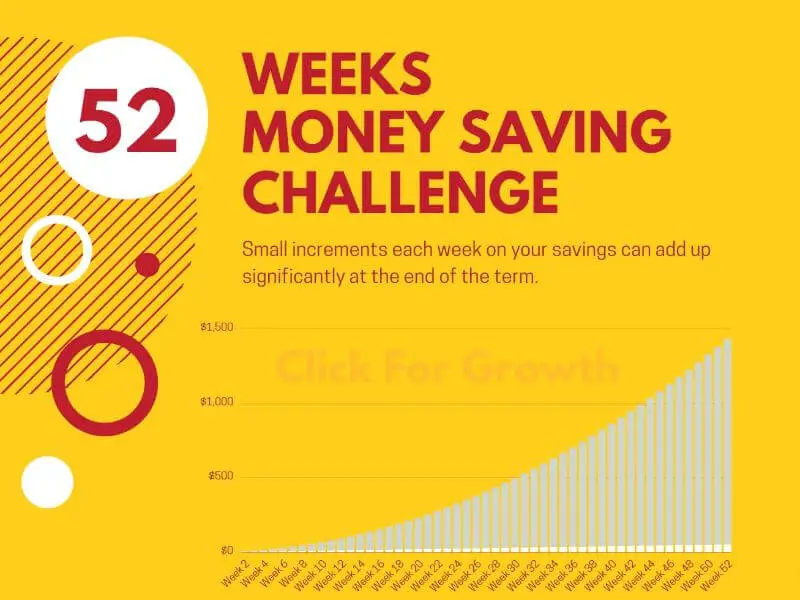 Let's reframe the concept so I can explain it better. You won't be saving an indistinct amount of money. Instead, you will set aside a pre-establish amount of money that increments accordingly the amount you determine will be your increment. The usual is increments from $1 to $10.
So if you set your increment to $1 each week you will add $1 more than the previous one. That is $1, $2, $3… always starting the first week saving only $1.
Money saving challenge 10000
We've covered the basics of the 52 money-saving challenge, but what if you wanted to have more saved than just $1378 at the end of week 52? Let's say you want to use the challenge to save $10k in a year.
To save $10 000 using the 52 money-saving challenge, you have to set a weekly increment of $7.50. The first week you save $1. The second week $1+$7.5 =$8.5, the Third week then $9.5+$7.5= $17 and so on until you have reached week 52 where you will save $383.5 and your total savings will be $9997.
If you use an increment of 8 instead, your total savings will be $10660. Take a look at the table for a clearer picture and reference.
Download the calculator for reference.
Weekly savings structure to save $10000
Weekly increment
8
Week
Amount to save
 total savings
1
 $                            1.0
 $                             1.0
2
 $                            9.0
 $                          10.0
3
 $                          17.0
 $                          27.0
4
 $                          25.0
 $                          52.0
*****
 *****
*********
51
 $                        401.0
 $                   10,251.0
52
 
 $                        409.0
 $                   10,660.0
52 weeks money saving challenge weekly savings chart.
Money-saving challenge 5000
To save $5000 using the weekly saving money challenge you will start the first week $1 then increment $4 each week for a year.
You can download the 52 weeks saving money challenge calculator and adapt the savings increment to your own needs. The calculator will help you determine how much money you have to save each week to reach your savings goal.
Getting started with the money-saving challenge
The first thing you need to do is decide how much money you want to save. Set your expectations based on your disposable foreseen salary, extra income, stimulus paid, or any other money you know you can put aside.
Using the 52 weeks money saving challenge you can save as much as you can. Given that you realistically can put aside the amount of money you want to save.
You can also start a side hustle and make extra money.
Determine where you are going to store your savings. You can use an envelope or a piggy bank if you earn cash. However, this accessible money can be tentative and interfere with your savings plan.
Unintentionally, you might break the saving challenge before the end of the term.
If you don't have a savings account, you should consider opening a high-yield savings account. Talk to your bank, ask them how to open a fee-free savings account, and consider using it instead and deposit your savings weekly in your savings account.
You can also consider using an app to keep track of your spending to have all your transactions in one place and learn where you can stop spending to add to your savings.
In this way, you will end up also making some money on your savings interest.
Now that you have the saving mindset and have the momentum going you can start pinching pennies here and there to save even more. Check at these Money-saving apps to save on gas, groceries, online purchases, and more.
You can also break free from your cable company and start saving with these Project Free tv Alternatives
To summarize
Do not discourage if you find it hard to save money. A lot of people do. Every change starts first in the mind, so you will have to work with the inner you and make an agreement to succeed in your money-saving endeavors.
Once you break that initial resistance, things will get better, and saving won't be difficult. That is why the 52 weeks money saving challenge is the best way to save money because you save small amounts incrementally  and it grows as you grow your desires to save
What motivates me to save money is to see my savings growing and growing. Find your motivation and embrace the challenge. Let me know in the comments how much are you planning to save, and if you need any help with the resources I have provided here, feel free to contact me.
You may also like