Looking for ways to save money? I discovered something extraordinary! Costco has secret codes to price its merchandise.
These secret Costco price codes will give you clues to determine if you are buying at the right time, should you wait to buy? will the merchandise be restocked, and more details. With only looking at the ending code of the price.
Len Rapoport first revealed the Costco price codes in this blog post that I will share with you. It is interesting reading if you want to know how he used the code to buy at a major discount and resell the merchandise afterward for a profit.
His revelations about Costco price codes became so popular that huge websites like yahoo and business insider have written about it. Even a website has been created with the name Costco.97.com following the price tag of .97. I will tell you all about it down below.
I Found out about it and couldn't stop thinking how great you would benefit from this information, so I am bringing it to you; if you have heard of it already, skip this post and read how to watch free TV. That one will help you as well to save some money each month.
Ok, I will start once and for all!!! no more preambles
Costco pricing codes
If you have a Costco membership, you know that Costco does an excellent job at camouflaging special prices. Unless you get the flyer they hand you at the entrance door, you won't find prices or special deals with the orange Tag advertising CLEARANCE at Costco.
Costco is more subtle about discounts. That is why they have adopted secret pricing policies to classify items according to certain criteria we will cover in this article.
What the regular price would look like at Costco.
Most regular-priced Items end in .99 cents. However, you might see a price display with a different ending like .79¢, .49¢, .89¢ for when they get a good deal from manufacturers and pass it on to customers.
However, what you should look for is the merchandise with prices ending in .97 cents if you want to take advantage of the odd pricing to save money at Costco.
What does it mean a price ending in .97¢ for your wallet?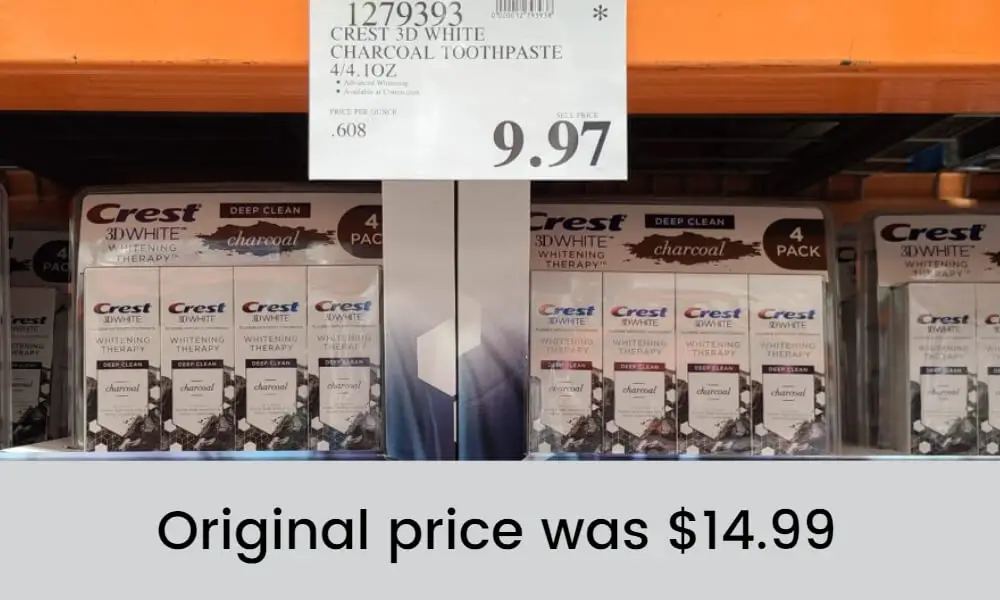 The product's price that ends in .97 cents is marked down because it didn't sell well or is seasonal item.
.97 means a huge discount, usually clearance.
Costco, for whatever their reasons are, prefers not to disclose when a product has a liquidation price. Either way, they will honor their awesome return policies and all the other benefits that we members have at the store.
So it is up to you to determine by looking at those odd prices what to spect and whether to buy or not or simply wait. But you can't make that decision if you don't know about the secret Costco price code.
Sometimes the manager markdown is not that juicy, and you are better of not buying. However, there are other times when it is significantly lower than the original price. And that is when you have to take advantage of your knowledge about the .97 cents.
To make sure you are actually getting a great deal, you can ask a manager what the original price was. Unless you were following the price, of course, and know what it was before.
Costco prices ending in .88 or .00
Items priced at .88 or .00 are usually manager discounts. When merchandise needs to move fast because the package is torn or a sellable return. The managers can quickly modify the prices to sell the merchandise. Which makes this item's manager markdown.
It may also be because it is the last Item of its category and the manager wants it out of the shelf.
You will also only find these managers' deals in one location, not across all Costco stores.
This is a good time to get an extra discount if you need to buy the product or want to resell it, why not?
The asterisk (*) on the price tag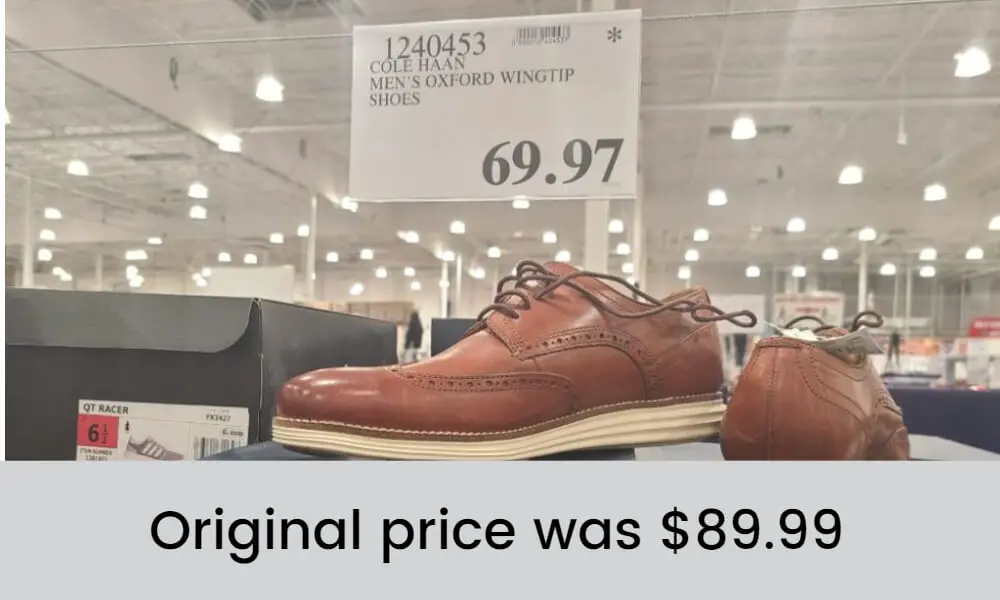 The asterisk (*) on the upper right corner of the price tag means that the product will not be restocked. This clarifies whether you should stock more of the item, given it won be for sale again. You are like to get a good discount.
Always keep in mind that if you don't need it. Just because it is on sale or special price or a price drop doesn't mean you have to buy it.
How do I get Costco clearance items?
If you want to get Costco clearance items, your best way to find them is by looking at the store for the .97 cents marked items.
Some businesses have thrived in selling clearance items from Costco.
I used to buy at a liquidation store that sold mainly Costco items, and I didn't know that until I join Costco membership.
I wondered how they could keep the prices so low if they were selling Costco merchandise, and the secret was that they bought when the products had massive discounts.
What is costco97?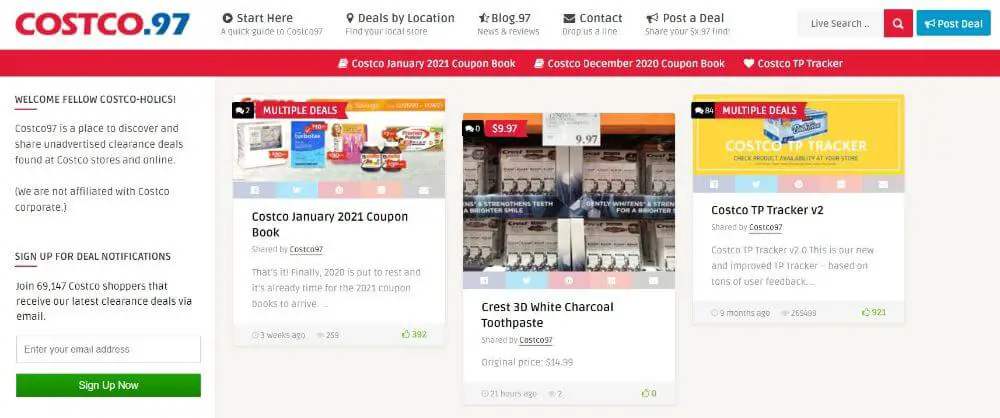 Costco97.com is a website where people go to share and find Costco deals. It is like a community of Costco lovers. As of today, it has over 69,147 email subscribers that receive Costco deals three times a week.
So you can sign for their newsletter, and you will receive weekly deals from Costco near you.
Costco97.com is not an affiliate of Costco, and they don't sell any item on their website. Its mere function is to gather information and share it.
They get the information from their active members that share the findings with the community. If you are always chasing deals, this is something you would benefit from.
Raincheck at Costco
Let me give you my last money-saving tip. If you ever miss an opportunity to buy something on sale because Costco ran out of stock. Do not worry. You can still get the same price next time you visit the store.
This is what you need to do: Talk to a manager and tell them what you are looking for. Once they have confirmed that the item is actually out of stock, ask them to issue a raincheck if they don't offer it first.
A raincheck will allow you to buy the item for the same price it was on sale, even when it has returned to its regular price. I have done it a couple of times for my son's diapers.
Costco price code infographic
Take a look at this infographic for a summary of the price codes.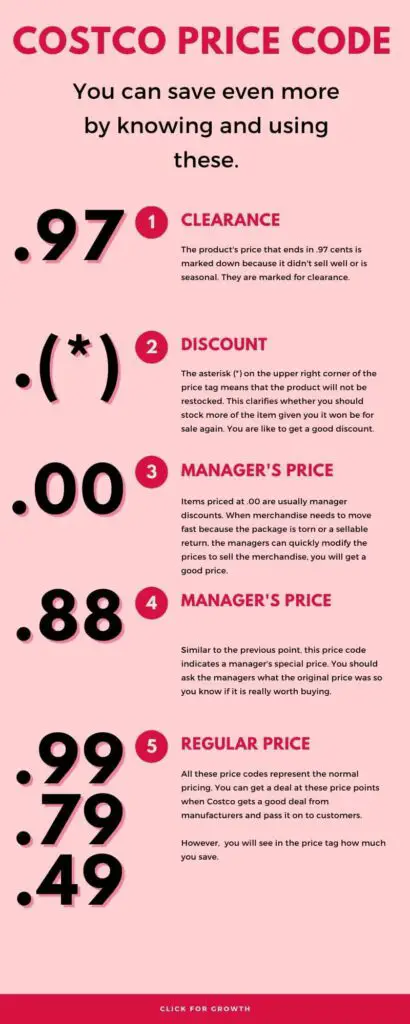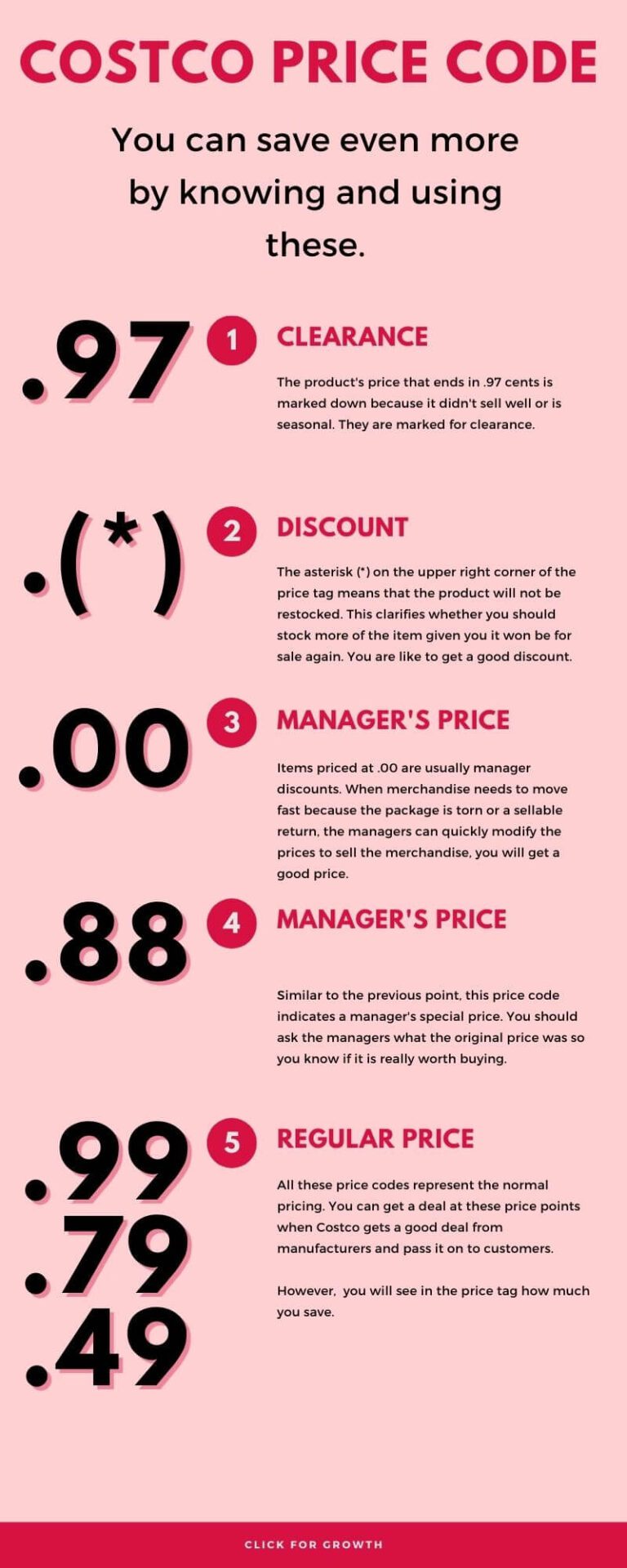 More ways to save money at Costco.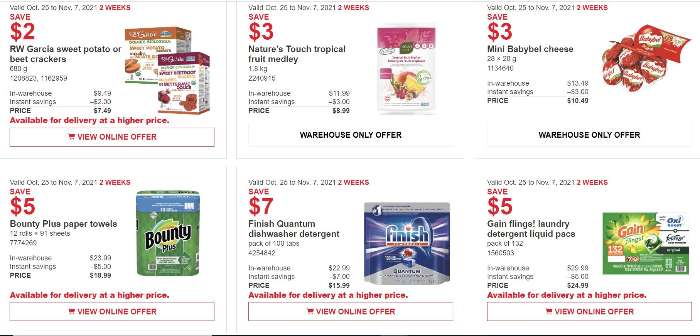 Now that you know how to identify the special pricing codes to get hints of significant hidden savings let's put on the table more money-saving tips for you.
Consider Kirkland over other brands: Kirkland is Costco's brand and usually is cheaper than other similar products. For example, Kirkland mayo is always priced $1 lower than the leading Mayo brand. Honestly, they taste the same.
The sanitary paper is also another Kirkland product that beats the competition in price and quality. The only time a pass is when the leading brand has a lower price. Other than that, I always buy Kirkland.
What about rotisserie chicken? They have the best price of all the grocery stores that sell them. Even you get a better deal over buying raw chicken, which is always more expensive.
Consider using Costco coupons. On the free Costco Connection magazine you receive bi-monthly, there are additional savings you can take advantage of.
When you enter the store, the doorkeepers usually hand you out a flyer with the instant rebates of the week. Keep an eye on those you can get terrific deals.
Last thoughts on secret Costco Price

codes
I hope you use these money-saving tips and find value in knowing the Costco pricing code. Let me know in the comments if you had noticed the odd prices before.
Here you can find more ways to save money.
You may also like: