Ok, my friend, today we are going to maximize our savings!. I want to share my favorite 10 money-saving apps for Canada with you that you will want to start using right away. These apps will save you a significant amount of money that you can then allocate towards achieving your financial goals or towards your emergency fund.
…..So let's dive right into the subject!!
1. Flashfood.
Best for: Saving money on groceries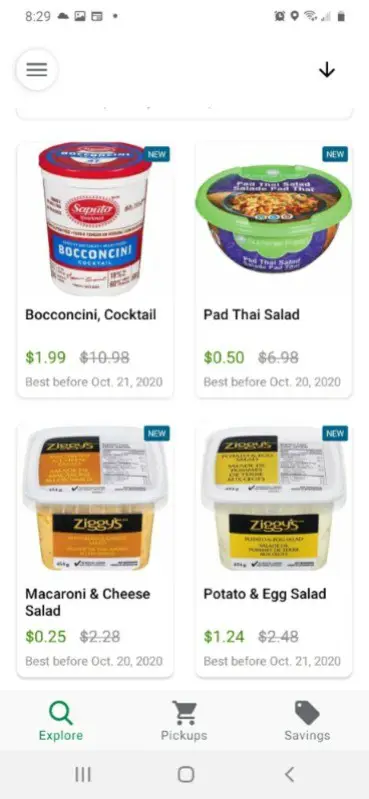 This money-saving app only available in Canada allows you to buy high quality, surplus grocery items at steep discounts of up to 50% off or more without using a coupon. And it is the first app I check when I go grocery shopping(Actually, I checked it every day)
It is meant for grocery stores like Loblaws (Reals Canadian super Store) or Maxi (Quebec).
What I love most about Flashfood is that you can get deals daily without having to wait for next week's flyer. You can really, and I seriously mean it, get great deals, especially on meat and fish that are the ones that most add to your grocery list.
My husband sometimes looks at me in disbelief, thinking I am lying when I told him the price I got for an item, that's how much of a good price you get.
You won't see the same food items all the time. Remember, I say they are surplus groceries, so it is only when they are available. But it is worth it, for sure.
It works like this, download the app and start browsing for food items. Add them to the cart, and when you are ready to check out, purchase right from your phone. Head to the store you bought from and look for signs of the Flashfood Zone. There will be someone to help you out and confirm you have picked up.
Tip: If you don't like how the item looks or are not comfortable taking it home, you can get your money back. It happened once to me, and didn't have any trouble getting a refund.
2. Flipp
Best for: Digital Flyers and shopping list as well coupons.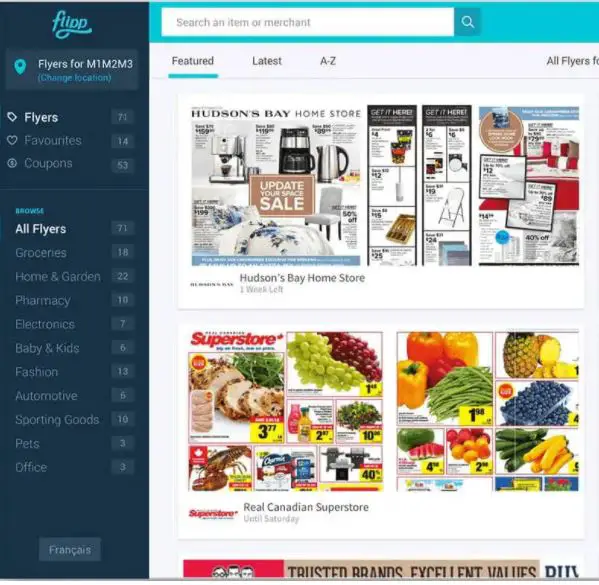 I have had Flipp for so long that I don't know what we would be without it 😉
The beauty of this app is that you have all the flyers in one place with this app. It lets you save the deals and make a shopping list, which is handy if you are on a budget and want to keep your grocery expending under control and at the same time saving money.
On top of that, your list will be made of items that are on sale!.
My husband is the one that uses it the most. He is the deal shopper of the house, and he relies on Flipp for that.
It is Free, no need to sign or enter your email. Just start using it to find deals, and you are all set. You can also find coupons when available.
3. Gas Buddy
Best for: Saving money on Gas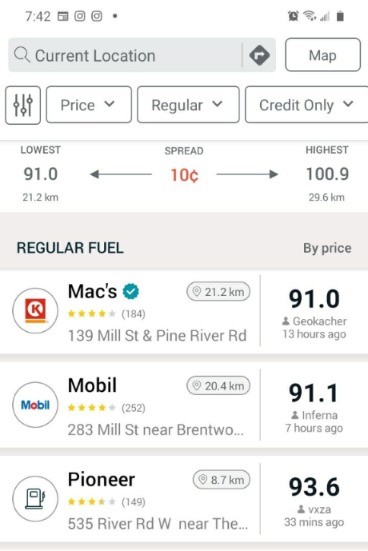 This app gives you 27 ways to save money on gas at 150,000 gas stations throughout North America. It finds the best price on gas near you. You can add filters and sort by type of fuel and distance to find the best option for you.
Likewise, It is also super easy and stray forward to use. Start by downloading it, then open it, and start searching. There is no need to register or sign for anything.
The extra tools to help save even more money, like their trip cost calculator, allow you to plan your road trip and are a lifesaver.
Additionally, you can also log your fuel purchase, and the app will determine your fuel economy. Equally important, it will tell you if your vehicle has any recall.
4. Checkout51
Best for: Earning Cash Back on Gas and Groceries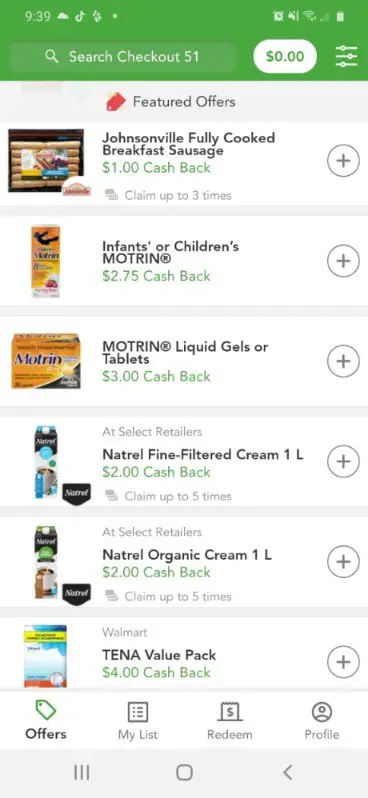 If you are serious about saving money, you have got to get this app. It gives you cashback on groceries, and they recently added cashback on gas for Canada!
It is simple to use you download the app and create an account and start saving instantly, well not that instantly 😉
They have a list of the current offers you look for the product you want to get cashback for. Add it to your shopping list follow by Tapping "Redeem" and check off the items you purchased on your receipt. Upload your receipt using the app's built-in camera to take a clear photo of your receipt. After they approve your receipt, you will receive a credit to your account with cashback. After you reach $20, you can cash out.
Some offers may be claimed multiple times. However, each receipt can only be used once.
You can earn Checkout 51 Cash Back in combination with any other coupon or discount unless there is a condition applied to the offer.
5. MINT
Best for: Managing your finances in one place.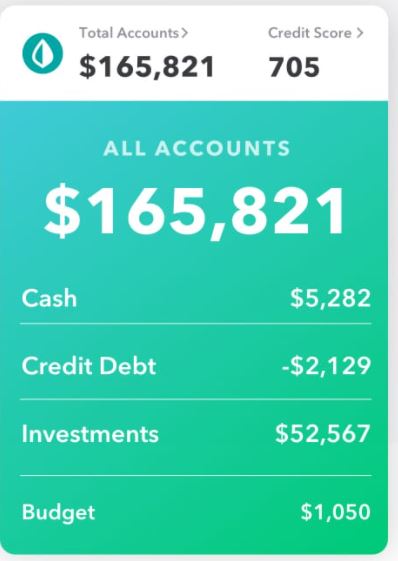 If you use Turbo Tax to file your taxes, you will feel at ease using it since the same creator develops it. The Canadian app has over 10 million downloads and 4.5 stars.
Mint is a free money manager and financial tracker app that integrates your bank accounts, credit cards, bills, and investments under the same roof, so you know where you are in terms of money.
By tracking your money, you will cut unnecessary expenses and allocate it towards your savings. This apps helps you manage your money using a simple and easy to interact interface.
Having all your finances together will help you make better decisions about your spending and give you some relief from having to log in to multiples accounts to pay your bills. Also, it can save you from possibly forgetting to pay a bill and hurting your credit score.
Besides, you can even monitor your credit score for free to help you improve it or keep an eye on it for maintenance and alerts.
With Mint, you can also create a budget, and it makes it super easy to use.
They can also help you find additional savings along the way. They analyze thousands of checking, savings, credit card, brokerage, CD, and IRA rollover offers. Based on that data, they can make recommendations that could help save you the most based on your lifestyle and goals.
6. Wish
Best for: Saving money on fashion, everyday basics to the weird and wacky, and everything in between.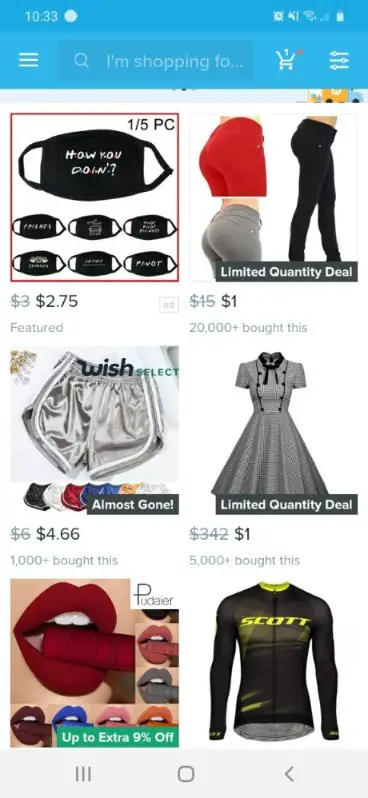 This app is an online marketplace. It has so many great features, but the best of all are the prices you can get!. It connects you directly with the manufacturer, so that's why their prices are hard to beat.
Wish is all about great deals and lots of creative ways to help you get a discount. When you buy, you get points, and if you refer a friend, you can get more discounts and free stuff. It is a pleasing experience to use the app.
The only inconvenience is that your merchandise can take some time to arrive, but it is worth waiting. I have ordered a couple of times, and when I was about to complain to customer service, my order arrived.
Supporting Canada's local business is more crucial than ever lately, and Wish has recently incorporated local retailers' offers. So this eliminates the long waits, and you can pick up in the store. That's awesome!
Their customer service is excellent, so that's another point added. Likewise, they offer free return
7. Money Box
Best for: Saving money and achieving saving goals.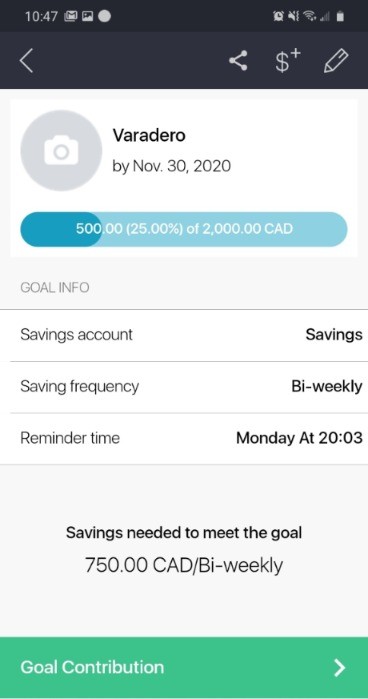 If you find yourself neglecting or failing to achieve your saving goals, this free money-saving tracking app will help you reach your savings goals.
You can easily set visual motivations like a sunny beach vacation or that dream house you have been saving for.
It works like this, Named your goal example Trip to Europe. Set the amount and currency you want to save and the target date. Decide how frequently you will contribute to your saving and when you will be reminded it. There you have a plan for saving that can't fail.
8. 52 Weeks Money Challenge
Best for: Reaching money saving goals in a challenge.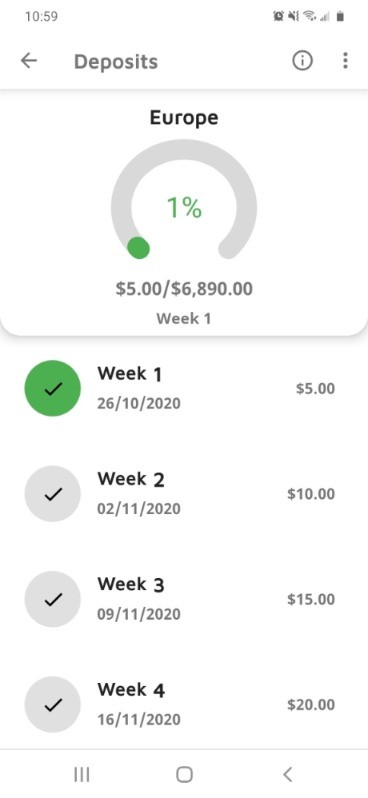 In a similar vein as Money Box is 52 weeks money challenge, but in this case, you have extra encouragement by participating in a challenge that will keep you motivated to reach your ultimate goal.
It's a free app downloaded more than 1million times and has a review score of 4.7 stars. That is pretty amazing.
As its name suggests, you will enter a challenge for 52 weeks to save a specific amount of money weekly for one year.
They propose that the first week you save $1, the second week save $2, the third week you save $3, and so on until you reach week 52 where you save $52. At the end of the challenge, you have saved $1378.
Your saving goal will set the amount of money you need to save every week from reaching your goal at the end of the 52 weeks.
9. Groupon
Best for: Getting a discount on almost every imaginable category.

This app is the father of the money-saving apps in Canada because it's been around for quite some time. It has been downloaded more than 50 million times and has a review of 4.6 stars. That is impressive! And you can use it almost anywhere around the world to find discounts from 50% to 90% off.
Using this app, you can find great deals on restaurants, travels haircuts, massage, and almost everything you can think of.
 I always double-check that I am actually really getting a  discount by checking directly with the merchant or institution I am looking to buy, just in case. 😉
10. Rakuten
Best for: Getting cashback for your online purchases.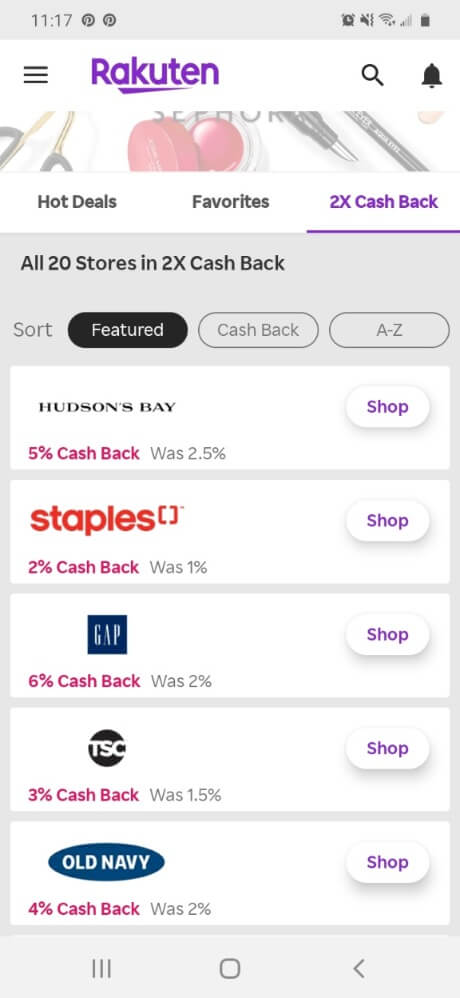 They used to be Ebates; if you watch Canadian television, they advertise heavily on TV, and yes, it is true, you can get up to 30%cashback on your online purchases from over 750 stores in Canada.
If you register an account now, you receive a $5 welcome bonus.
How does it work? You create a free account with Rakuten and search for the store you will be buying for. Make your shopping as usual, and you will get cashback. They can give you cash back because they get a commission for referring you to the stores, and then they share that commission with you.
You can choose from 3 options to get paid from PayPal, Amazon gift card, or a physical check.
Right now, if you refer a friend, you receive $25 per every friend you refer to.
It is easy to use and secure!
Conclusion
It is great to find some apps to help you save money in Canada. Just a precaution word, be careful not to spend more just because you are getting a good deal. If you need to buy something and you can get a discount or cashback from your purchase, great! If not, let it be. Otherwise, you run the risk of becoming a deal hunter, and that's not why we were looking into saving in the first place.
Let me know in the comments which app do you think will help you the most.
To check more content like this, go to my Saving Money section. You will Find Project Free Tv Alternative to save on monthly bills. Also, you can find my free budgeting template.
You may also like: