Are you thinking of buying a Costco membership? Would you like to have more insights on whether it is worth your money? Today I will share with you everything that you need to make an informed decision. After reading this post, you will be able to determine if a Costco membership is worth it for you.
Let me disclose that I am a big Costco lover before we dive further into the subject. Although you will probably notice it throughout my writing.
But, I also like facts to back my decisions and for my family, Costco has been a lifesaver. I want you to make the best decision for your unique situation.
7 years ago, I remember the first time I set a foot on Costco soon after I landed in Canada as an emigrant. I must confess, I was impressed by the quality of the products. Not to mention the fact that you needed a membership to shop in the store. It makes you feel like a VIP 😉
It took me a while to join the club. I was using my friend's membership card for some time until we decided to look at the benefits of becoming a member. This is what you need to know to make an informed decision on whether it is worth your while.
Costco memberships features and benefits
Costco offers 4 types of membership: The Costco Executive Membership and the Gold Star Membership for individuals, and the Business Executive and standard Business for business owners.
All membership types give you access to shop at all Costco locations around the globe and online. You also get two membership cards for you and someone else in your household.
Executive Membership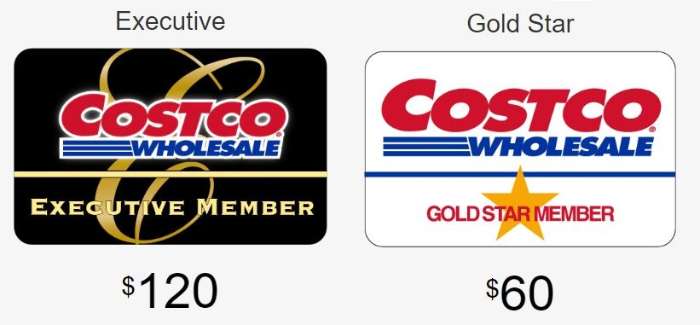 The Executive membership is the premium level of memberships. It includes a free extra card and an annual %2 reward on most Costco purchases. There is a limit to the reward you can earn of $1000. And there are some products and services that do not qualify for the 2% reward, for example, gas or prescription drugs among other items you can find here.
As an executive member, you will enjoy exclusive offers only available to you. On top of their free Costco Connection magazine mailed to you every two months. This publication is packed with more options for you to save on Costco products and services.
The Executive Membership fee is $120 plus applicable taxes.
Gold Star membership
Gold Star membership comes with the basic features. You will only benefit from Costco's low pricing for bulk merchandise. This membership will give you access to the warehouse and online. It comes down to a $60 fee plus taxes.
You can access all Costco locations worldwide. And it also includes an additional card. Gold Star Membership does not include rewards.
Costco Business Memberships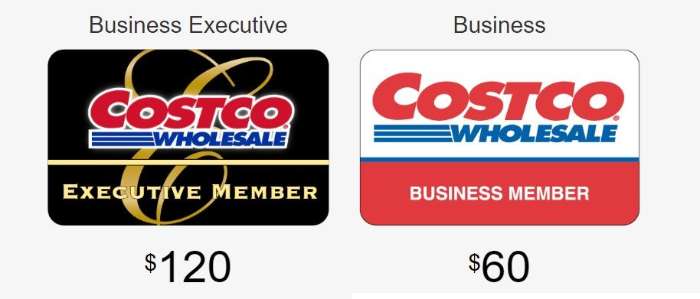 If you run a business you should consider a business membership instead. Costco has available 2 types of business like personal memberships.
You do not need a business membership to buy at Costco business centers. But you do get other benefits for businesses with a dedicated business membership. For example, you can buy products for resale and can pay with a cheque.
If you run a restaurant and live close to a Costco Business Center you can save a lot. I used to drive 100km only to shop at the business center for my restaurant. It was a ridiculous sheep. A box of green peppers could cost $5!! When you compare the prices with Sysco for Example, Costco's prices are lower.
Of Course, you can consider the drive if your business is small. For larger restaurants, you are better off having food delivered to your business. Although Costco Business Center delivers to your door if you are in the GTA.
Let's check the business membership
Business Executive Membership
Includes all the benefits of the Executive membership plus you can add up to 6 people to your membership. Additionally, you can buy the merchandise for resale.
It has a $120 annual fee plus taxes.
Business Membership.
The business membership is the basic level membership like the Gold Start. Yet, you receive the Costco Connection publications for free.
You can add up to 6 people to your membership and buy products for resale.
The annual fee is $60 plus taxes.
Is a Costco membership worth the price?
It all comes to your specific needs. Buying in bulk can save you a lot of money If you have a large family. A Gold Star would be enough to get inside the warehouse and enjoy their discount price.
$60 a year represents 0.16 cents a day. That is $1.12 a week. If you grocery shop at Costco or buy gas, you will save well over $1.12 a week.
For example, the gas at Costco is always between 5 to 10 cents lower than any other place. Let's take the lower number for our example. If you save 5 cents on each litter of gas you buy at Costco, and you fill your tank weekly, you would save $2 a week. That is if you buy 40 litters a week. Gas alone would pay for your Gold Star Membership
If you chose the Executive Membership and pay $120 a year, you will pay 0.33 a day which is $2.30 a week. So you need other benefits to make the Executive Membership worthy.
If you spend over $500 a month on groceries, the 2% reward will make up for your membership.
No one can beat Costco's prices on diapers, baby formula, rotisserie chicken, eggs, or veggies. That alone would make up for your membership.
| | | | | |
| --- | --- | --- | --- | --- |
| Membership Benefits | Executive | Gold Star | Business Executive | Business |
| Access to all Costco locations around the world and online. | Yes | Yes | Yes | Yes |
| Two membership cards | Yes | Yes | – | – |
| 2% reward online and Costco travel (Annually) | Yes | No | Yes | No |
| Exclusive offers and extra discounts | Yes | No | Yes | No |
| Free Costco Connection magazine by mail bimonthly | Yes | No | Yes | Yes |
| Shop Costcobusinesscentre.ca. Exclusively for businesses. | No | No | Yes | Yes |
| Add up to 6 additional people to your membership | – | – | Yes | Yes |
| Purchase for resale | – | – | Yes | Yes |
Table Key features of Costco Membership
Costco Membership Pros and Cons
Costco Membership disadvantages.
Now, not all are rainbows and good things about Costco. I can highlight some drawbacks you should also consider before joining the club.
If you are an impulse buyer, your Costco bills can really add up. It is easy to fall into the trap of buying on impulse just because you see an irresistible price and feel fear of missing out.
Sometimes products don't stick around for too long. Even though they have an amazing selection of branded name products, there are products you won't see more than once. So you can really get in love with a product.
Costco is usually super crowded as well. Finding a parking space can be a challenge in some warehouses. Not to mention the lines at the cash register.!
Be aware that most products come in large quantities, so you will need to store or have sufficient mouths to feet so your food doesn't spoil.
No credit purchases, meaning you have to pay in full for large orders like appliances.
Other than that I think overall has more advantages than disadvantages.
Costco Membership advantages.
There are lots of pros to joining Costco and that is why I am still a happy member.
Firstly, there is Costco's incredible return policy. You can confidently buy any product. If you don't want it anymore Costco will return your money, no question asked.
Then there are the unbeatable prices of so many products that you can't get anywhere else.
Food sampling alone makes it worth the travel to the store.
Costco is one of the best employers there is. They treat their employee so well that they transfer that to the customers. You will feel that you are part of something bigger than yourself.
You can save on your phone plan, internet and other services with rates offer only to Costco members.
If you are buying a new car, Costco could give you an extra discount as well.
Costco Executive Membership Reward Calculator.
The following calculator will help you determine your Executive Membership cashback based on how much you will spend each month at Costco at a 2% rate.
Final Words
You have enough information to make a decision based on facts. Now it is up to you what to decide. The Costco membership is worth it for sure and that's why I keep mine.
You should have a clearer picture now of what you will gain by joining Costco and what to expect. If you finally join you will notice that Costco has some secret pricing strategies. By decoding those prices you can find even more saving opportunities. This article will tell you all about it.
Good luck!!
Discover what the $,$$$ means on Google restaurant reviews and save on your next night out.