A new cash game app online claims you can earn real money playing games. I have installed the app and researched extensively to bring you my verdict. Is Bubble Party app legit?
What is Bubble Party app?
Let's start with what Bubble Party is not. Bubble Party is not the same as Cash Bubble. Having that clear, let's see what the Bubble Party app is.
Bubble Party is a game app you can download from Google Play. The developer is advertising it as you can win money playing on the app, but can you really earn money with it?
But let me not deviate from what the Bubble Party app is. The Bubble Party app is developed by the GamesParty team. You can find their website's link on the privacy policy they offer on Google Play.
I tried to find the app on Apple Play and couldn't find it. No information on their site suggests they are available in the Apple store.
How does Bubble Party work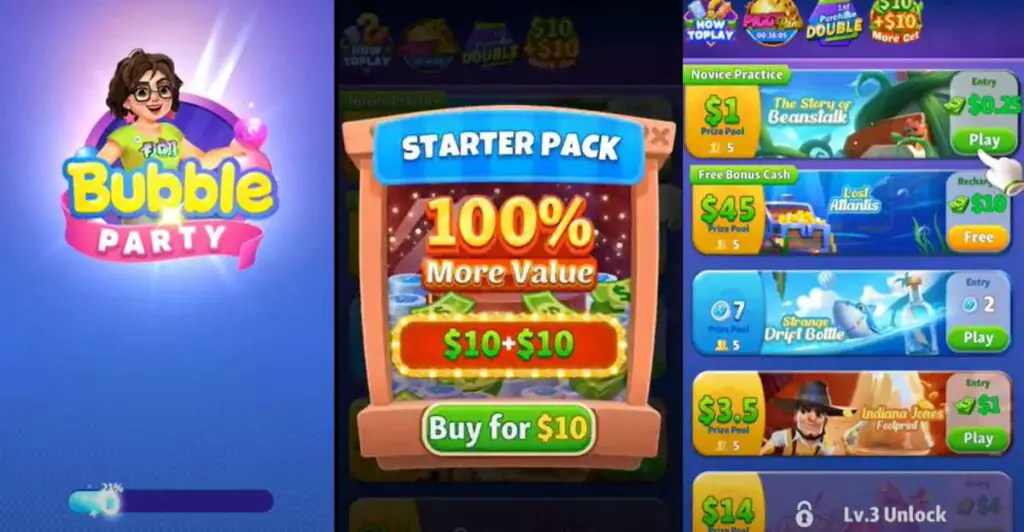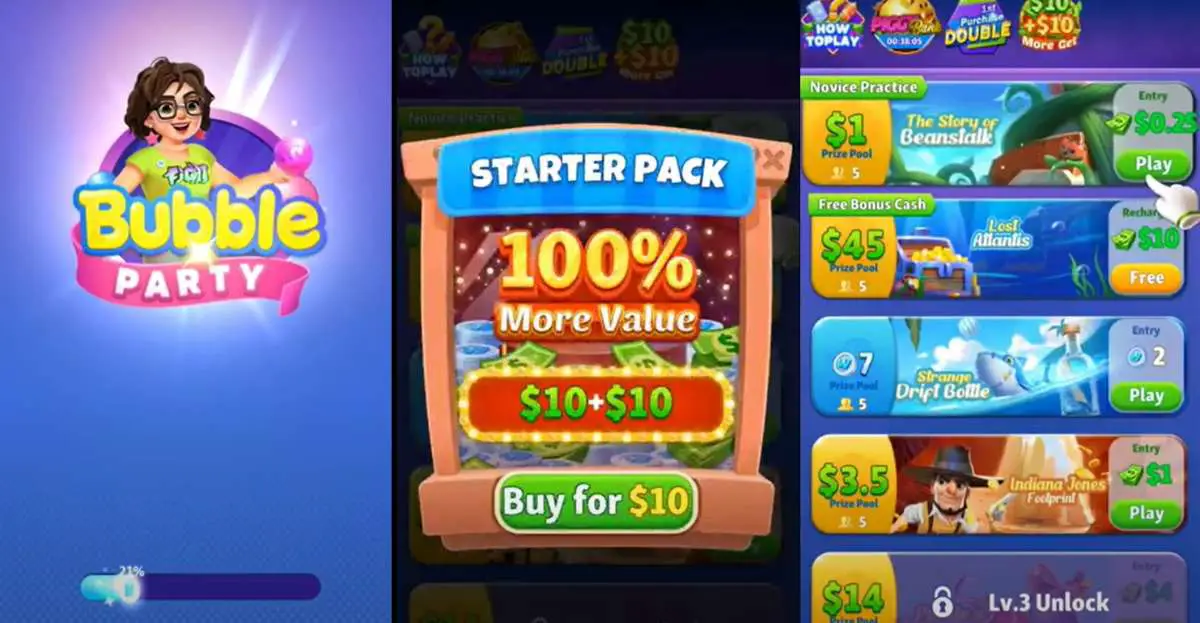 Bubble Party is a traditional bubble shutter game. To play it, match bubbles of the same color to pop them in bundles of threes and more and create boosters for more bubbles to pop.
Once you install the app, you can play different games. As you start playing, you collect rewards that you convert to money, and then you can use them to play more games.
Some games cost 25 cents to play, promising you can earn more.
They have good graphics, that's for sure.
In one of the games, you shoot bubbles to match the ones with the same color, and they burst when you reach more than 3. Every time the is a burst, you earn points. 12422 points will convert to 50 cents.
There are also daily quests you complete to earn more points. They pop up, and you can add more cents to your account as you complete them.
There is also the piggy bank pop-up that gives $10 if you deposit $10 if you dare to do it. And many more options encouraging you to deposit money.
They also have a league you unlock after playing a certain number of games. You have to spend money there, too; for every dollar you spend, you earn 10 medals.
Can you really make money with Bubble Party?
No, you can not earn any real money playing Bubble Party. I am so sorry to let you down on this, or you should thank me for opening your eyes 😉
I didn't earn enough to be able to withdraw, but I know this kind of app, and since the beginning I started playing, I knew this was not going to pay. So why would I keep losing my time and money on something that is not legit?
There are lots of legit apps where you can earn a couple of cents, but Bubble Party is not that app.
Bubble Party app reviews
Bubble Party app is relatively new. However, the reviews I found are promising. Everybody agrees on something; this app doesn't pay.
My first impression when I opened the app was this is scammy. The first element that raised a red flag for me was their flashy high cash prices. As the old saying goes, when something sounds too good to be true, it sure is.
"I played that game for two weeks, and it's fake. They will not let you withdraw any loyalty money you earned from watching all the ads and from winning games. They only let you withdraw the winning money you paid to gamble. But again, if you pay them money to compete in any games, you'll lose as they also have fake competitors with fake winning scores that look like real winners and people. But actually, they are just 3 computer bodies that are blocking anyone from getting into 1st 2nd, and 3rd place to win any money. They'll let you win at the beginning just to give you hope. But don't count on anything afterward. "

Susan11|| on Reddit
"HORRIBLE. I've tried contacting them via email and their support team on the app as well, but no luck. No one will get back to me on what is going on here! I'm trying to withdraw my earnings and it won't work! It says it's going to send my email a 4 digit code and most of the time the code never shows up in my inbox OR it shows up hours later or even the next day. By that time the code is expired. What the hell kind of operation are those people running with this app??! Their support team wrote me back ONCE asking if I'm putting the right email in… My answer is absolutely, 100% yes, I am putting in the right email and yes my email is activated.. I sent them my email and username and they never replied. Its pretty horrible how they advertise how amazing this game is when in all reality they are robbing people of their hard earned money. Requesting my money back. Immediately. I also tested the network and Yahoo varies between 20-80 min wait time… How are people supposed to cash out when the code will obviously expire before then?"

MollyFoundYou4
Is Bubble Party a scam?
If you looking at the app to make money, then yes, it is a scam because they won't pay you what they advertise. They promise you can make hundreds of dollars, and that is not true. Who knows what they would do with your information?
Also, you have to pay your hard-earned money to play their games which you won't recover even if you win.
Detecting a scam app can be tricky, but here are some steps you can take to reduce your risk of falling victim to a scam:
Do your research: Before you download any app, do some research on the developer and the app itself. Look for reviews, ratings, and comments from other users. Check if the developer has a website or social media accounts.
Check the app permissions: Be wary of apps that request access to sensitive information such as your contacts, location, or personal data. Check if the permissions requested by the app are relevant to its function.
Look for spelling and grammar errors: Scam apps often have poor spelling and grammar in their descriptions, which can be a sign that they are not legitimate.
Check the app store: Be cautious of apps with a low number of downloads or ratings, as well as those with a lot of negative reviews. Avoid apps that have been flagged by the app store as potentially harmful.
Be cautious of offers that sound too good to be true: Scammers often use offers that are too good to be true to lure people into downloading their apps. Be cautious of any app that promises large rewards for minimal effort.
Use trusted sources: Download apps only from reputable sources such as the Google Play Store or Apple App Store. Avoid downloading apps from third-party app stores or unverified sources.
Be wary of phishing scams: Scammers may try to lure you into providing your personal information by sending you emails or messages claiming to be from a legitimate app developer. Always verify the authenticity of such messages before responding or clicking on any links.
Is Bubble Party app legit?
No, Bubble Party is not a legit money-making app. You earn digital coins, which can help you to continue to play. They encourage you to pour money into the app with the promise of higher earnings but don't get full by the shiny object; you will get nothing.
Last thoughts on Bubble Party
While playing such games can be fun and entertaining, it is essential to keep in mind that they can also be addictive. It is crucial to maintain a healthy balance between playing games and other activities like work, study, exercise, and socializing. Also, don't play Bubble Cash for the money; there is no money to be made there.
There are apps that actually pay you to play and are legit as they can be. However, if you really need money, playing games won't make what you need. Consider upgrading your skills or learning something valuable that will have an impact on your financial future. There are tones of opportunities out there. Yours is waiting for YOU; go after it!!