Did you know there is a free iPhone and iPad app called Bubble Cash that lets you earn money playing? Stick around if you are looking to install the app and are wondering if Bubble Cash is legit. Here we will decode the Bubble Cash app's true essence.
This post may contain affiliate links, and we may receive compensation when you sign up at no cost to you. Please read the disclaimer for more information.
What is Bubble Cash
Bubble Cash It's a really fun game that you can download on your iPhone or iPad from the App Store.
In Bubble Cash, you get to shoot or pop bubbles on the screen to earn points and get a higher score. It's a skill-based pop shooter game, also known as a "bubble shooter."
The game was created by Papaya Gaming Ltd., which is a company that makes a lot of popular mobile games. Along with Bubble Cash, they also created Bingo Cash and Solitaire Cash.
One cool thing about Papaya's apps is that they give you a chance to win real money through cash tournaments. That means you can play the games and win actual money!
If you check the App Store, you'll see that Bubble Cash is really highly rated, with a rating of 4.6 out of 5 and over 82000 ratings and reviews as of April 19, 2023. It's also ranked #5 in the Casino game category, which means it's one of the most popular games of its type.
How does the Cash Bubble work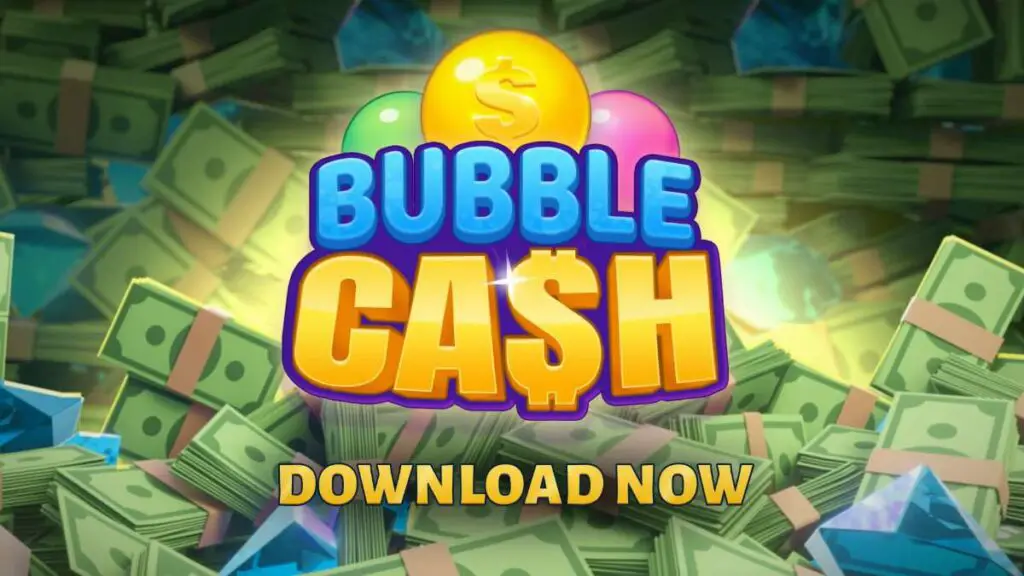 Bubble Cash is a game where you shoot bubbles to earn points. The goal is to clear the board of bubbles before time runs out.
You start with three hearts, and you lose a heart if your shot doesn't clear any bubbles. The game adds a row of bubbles and gives you three more hearts if you lose all three.
You can bounce the bubbles off the sides of the board, but they stop bouncing when they touch another bubble. Your score is based on how many bubbles you clear and how much time is left. The more bubbles you burst, the more money you make.
There are different game modes in Bubble Cash, such as gems games, freeroll, limited time, and paid games.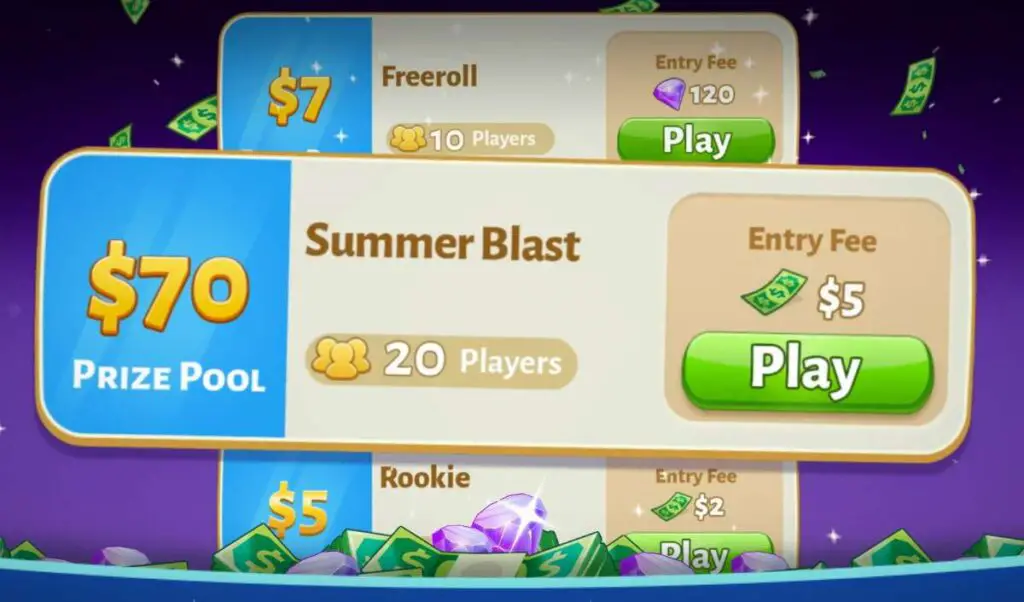 You will play with gems instead of bubbles, and you will win gems as prizes that you can later exchange for cash.
Freeroll tournaments let you earn without having to invest or pay anything. However, you need to use gems you earn gradually as an entry fee.
If you win the tournament, you can earn up to $7. Freeroll tournaments offer the opportunity to play the game without paying and potentially win cash. You do need to accumulate enough gems to participate in freeroll tournaments which could take some time.
Paid games and tournaments:
Bubble Cash also provides paid tournaments. Participating in these tournaments requires both gems and your own money. Paid tournaments present a chance to win larger cash prizes, but you need to pay an entry fee that usually ranges between $1 and $5 and requires gems you have previously earned.
Making a deposit on Cash Bubble is secure. You can do it using Paypal or Apple Pay.
The prize pools in paid tournaments typically range from $7 to $80. If you emerge as the winner, you can withdraw your earnings to Paypal, Visa, MasterCard, Apple Pay, and American Express as of 2023.
However, if you lose the game, you will lose the money and gems you paid to enter the tournament. The winner takes all the money.
Another way to earn cash on Bubble Cash is to earn experience points and level up.
How to earn cash popping bubbles.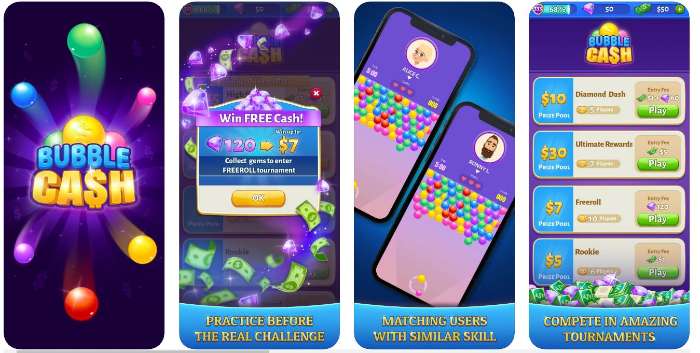 You may be asking yourself if there's a catch to making money with Bubble Cash. But there is absolutely no trick. Bubble Cash is a legit money-making app.
Bubble Cash is free to download and is totally based on your skills to play. No luck involved. Players have reportedly won many money prizes so far. And it is rated for ages 17 and older.
Tournaments are one of the main ways to play and earn money. You compete against other players within your ability level. All users receive the same layout, and those who finish in the top 3 positions win.
Simply match 3 bubbles of the same color, then use your finger to goal and blast them away to clear the board.
The app is free to download and play, although the cash tournaments are not totally free. But, there is a programmed Freeroll competition, where you can compete using the gems that you have earned already in the game. So you don't need to use your hard-earned money.

Things to consider before start using the app.
The game is rather simple. I am confident you will cash up with it really fast. But some advice doesn't hurt, right?
Once you download the app, you can immediately start playing for free. After you have collected 120 gems, you are good to join and compete in the tournaments. Which will increase your earning potential.
By adding small amounts of money to your account, you will fast forward the process of joining the tournaments. Which helps you compete for bigger rewards. Additionally, you get an extra cash bonus for each deposit. But doing that is entirely up to you.
On top of your regular cash prices, you can earn bonus cash and gift cards with raffles.
To withdraw your money, you will need a PayPal account, Visa, MasterCard, Apple Pay, and American Express cards.
Who can play Bubble Cash for money?
Bubble Cash is fun and legit, but it is not for everybody to play. There are entry requirements because, after all, it is a casino gaming app.
If you are 17 or older, you can play; if not, this isn't for you. Sorry pal!
Bubble Cash is available on the Apple store and recently became available on the Galaxy store only for UK and USA. It is not available on the google play store yet.
If you live outside of the USA, Canada, Australia, or Tasmania, this isn't the app to earn cash for you, either.
There are also some regional restrictions for tournaments played in the USA, where only the states of Arizona, Arkansas, Lowa, Louisiana, Maryland, and South Carolina can join paid tournaments.
Is Bubble Cash safe?
Yes, Bubble Cash is a safe and legit app. Thousands of people use the app regularly for either fun or to make some extra couple of bucks.
You won't get rich playing on this app or make a reliable income. But if you still going to play on your phone is worth getting paid for your time after all.
And that is exactly what Bubble Cash will do for you; ease the guilt of wasting your time and helping pay for your next pair of sneakers or a gif for someone special.
What people say about Bubble Cash App: Reviews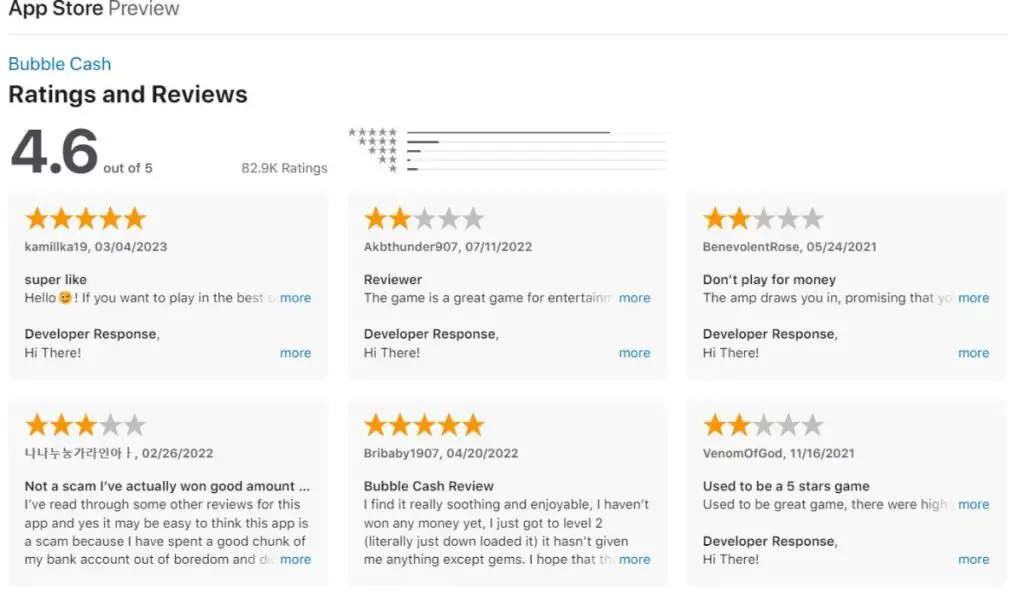 Bubble cash app reviews are impressive. This app is rather popular. It has more than a million downloads from the App Store and more than 82,400 ratings, balancing 4.6 stars out of 5.
Players who have been using the app for years say they have had fun with the app and that the company really pays and has a fantastic technical support team. Such is the case with Chels835, who gave a 5-star review of the app.
On the opposite side, there are reviewers who complain that you don't make much money on the app and that sometimes your winning potential wind down after you win. But that is predictable.
If you found bubble cash on an ad, don't take their promises literally. They say you can make big money, but that is to hook you up.
There are situations where you can lose money, and they are clear about it. You don't get your money back when you enter tournaments and lose.
But generally, the game is enjoyable to play using the diamond credits without spending money, and the option to watch ads to earn diamonds is undoubtedly a plus.
If you lower your expectations, you will have fun and make some cash.
Does bubble cash pay real money
Yes, Bubble Cash pays you real money. They offer a variety of opportunities for you to earn money on the app. There is a lot of proof that the app pays.
I first downloaded the app in 2021, and I have never had a problem with them. I am revisiting this post in 2023, and nothing has changed since then. Bubble Cash is legit and pays you real money, no doubt about it.
But Don't get me wrong, and let me be clear. Bubble Cash app pays, but you won't get rich playing these games. It is a lot of fun popping bubbles and earning cash, but the cash you earn is pocket money, pennies, if you say. If you are happy with that, then you will earn some money to buy a beer on the weekend or maybe once a month.
Play it for fun, not for the money.
How much money can you make on Bubble Cash?
The amount of money you can earn will depends on the game you choose. Some games have higher entry fees and bigger prizes, while others have smaller entry fees and smaller prizes.
For example, if you enter a tournament where the entry fee is $10 and there is a pool of $80. You could earn $80 if you win the game. On the other hand, if you lose, you don't get your $10 back.
If you win money from the paid games or have bonus cash, you can withdraw it from your account, and there is a $1 handling fee for each withdrawal request.
There is no guarantee of the amount of money you could earn. If you need to ensure you earn a fixed amount each month or day.; You are better off finding a more reliable way of making money.
Making enough bonus cash to enter the Freeroll mode can take a long time, so keep that in mind.
If you win money from the paid games or have bonus cash, you can withdraw it from your account, and there is a $1 handling fee for each withdrawal request.
Bubble Cash is a fun way to pass the time, and if you're skilled enough, you could win some money too. Remember that it's not a guaranteed way to make money, and it could take a lot of time and effort to earn enough to withdraw.
Final thoughts
It is up to you to determine if Bubble Cash is for you. You should think about what your goal is with the app and set clear and realistic expectations.
Ready to start popping bubbles for money? Download Bubble Cash and start having fun.
If you are interested in widening your horizon and adding more game apps to your gaming portfolio, this post is a list of the best game apps that pay real money.
Is Bubble Cash a scam?

No, Bubble Cash is not a scam. Bubble Cash is a gaming app that offers various legitimate ways to earn money and cash prices.
The app has been around for some years and has been downloaded millions of times. It also has a great review of 4.6 stars.
Is bubble cash rigged?
Take a look at Akbthunder907 review on 07/11/2022. This will help you answer your question.
Some people have different opinions. You can also find a review of someone who has been playing Cash Bubble for some time in the comments.
He believes the game is rigged and is not skilled-based at all.
With gambling games involving luck, there is not much certainty if the games are rigged or not. However, the app does pay, which is a plus.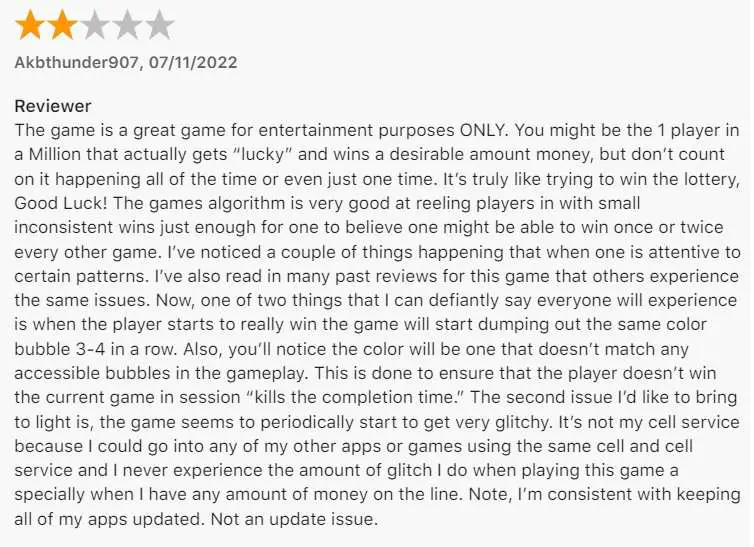 Do you have to pay to play Bubble Cash?
No, and yes. To play regular games, you don't have to pay. You can still earn money with traditional games.

However, if you want to participate in tournaments where you can earn higher prices, you do need to pay an entry fee.
Is bubble cash legal?
Yes, Bubble Cash is legal to play. The developers advocate for responsible gaming and encourage you to play cautiously so you don't become addicted to gaming.
If you notice any sign of excessive gaming, please seek assistance.
Does Bubble Cash give you money?
No Bubble Cash doesn't give you free money. You play, and you win. Once you have earned money, you can withdraw it.
How does Bubble Cash make money?
Bubble Cash app developers make money in several ways, including but not limited to the following:
Advertising: Developers can place ads within the game, such as banner ads, video ads, or interstitial ads. They can earn revenue based on the number of impressions or clicks generated by the ads.
Sponsorship: They partner with brands or advertisers to create sponsored games that promote a product or service. In these cases, the developer is paid a fee for creating and distributing the game.
Can you lose money on bubble cash?
Yes, If you enter a paid tournament and you lose, you won't get your money back. However, you can use the money you have already earned to enter the tournament, and in that way, you don't lose more than that.
Does Bubble party really pay?
No, Bubble Party is not a legit game app to make money. you can read more about it here.
Is Bubble Crush Cash Prizes legit
Bubble Crush is not the same app as Bubble Cash. Even though you might be drawn to think is the same app. I cannot say it is not legit, but if you are looking to see if it pays you, the answer is no.