Did you know there is a free iPhone and iPad app called Bubble Cash that lets you earn money playing? Stick around if you are looking to install the app and are wondering if Bubble Cash is legit. Here we will decode the Bubble Cash app's true essence.
This post may contain affiliate links, and we may receive compensation when you sign up at no cost to you. Please read the disclaimer for more information.
How to earn cash popping bubbles.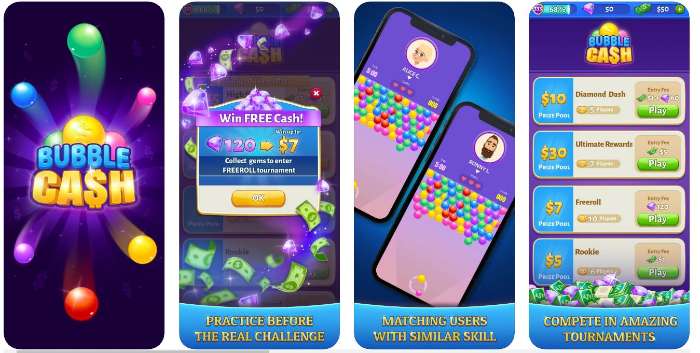 You may be asking yourself if there's a catch to making money with Bubble Cash. But there is absolutely no trick. Bubble Cash is a legit money-making app.
Bubble Cash is free to download and is totally based on your skills to play. No luck involved. Players have reportedly won many money prizes so far. And it is rated for ages 17 and older.
Tournaments are one of the main ways to play and earn money. You compete against other players within your ability level. All users receive the same layout and those who finished in the top 3 positions win.
Simply match 3 bubbles of the same color, then use your finger to goal and blast them away to clear the board.
The app is free to download and play, although the cash tournaments are not totally free. But, there is a programmed Freeroll competition, where you can compete using the gems that you have earned already in the game. So you don't need to use your hard-earned money.

Things to consider before starting using the app.
The game is rather simple. I am confident you will cash up with it really fast. But some advice doesn't hurt, right?
Once you download the app you can immediately start playing for free. After you have collected 120 gems, you are good to join and compete in the tournaments. Which will increase your earning potential.
By adding small amounts of money to your account you will fast forward the process of joining the tournaments. Wich helps you compete for bigger rewards. Additionally, you get an extra cash bonus for each deposit. But doing that is entirely up to you.
On top of your regular cash prices, you can earn bonus cash and gift cards with raffles.
You can withdraw your money you will need a PayPal account or Apple Pay.
Is Bubble Cash safe?
Yes, Bubble Cash is a safe and legit app. Thousands of people use the app regularly for either fun or to make some extra couple of bucks.
You won't get rich playing on this app or make a reliable income. But if you still going to play on your phone is worth getting paid for your time after all.
And that is exactly what Bubble Cash will do for you; ease the guilt of wasting your time and helping pay for your next pair of sneakers or a gif for someone special.
What people say about Bubble Cash app: Reviews
Bubble cash app reviews are impressive. This app is rather popular. It has more than a million downloads from the App Store and more than 34,400 ratings, balancing 4.6 stars out of 5.
Players who have been using the app for years say they have had fun with the app and that the company really pays and has a fantastic technical support team. Such is the case with Chels835 who gave a 5-star review of the app.
On the opposite side, there are reviewers who complain that you don't make much money on the app and that sometimes your winning potential wind down after you win. But that is predictable.
If you control your expectations, you will have fun and make some cash.

Final thoughts
It is up to you to determine if Bubble Cash is for you. You should think about what your goal is with the app and set clear and realistic expectations.
Ready to start popping bubbles for money? Download Bubble Cash and start having fun
If you are interested in widening your horizon and adding more game apps to your gaming portfolio, this post is a list of the best game apps that pay real money.