An average person spends about 3 to 4 hours each day on their smartphones. What if you can earn some money while being glued to your smartphone? Enter, survey, and rewards sites/apps. If you are interested in this type of site, then you must have heard about Kashkick. If you want to know if Kashkick is a scam or not, keep reading.
This relatively new site is known for combining aspects of survey sites with rewards programs. So, is Kashkick a scam, or is it a legit way to earn by side hustling? Well, this Kashkick review will disclose everything you need to know about this particular website. So, read on to see if you should spend your precious time on Kashkick or not.
Kashkick review for 2021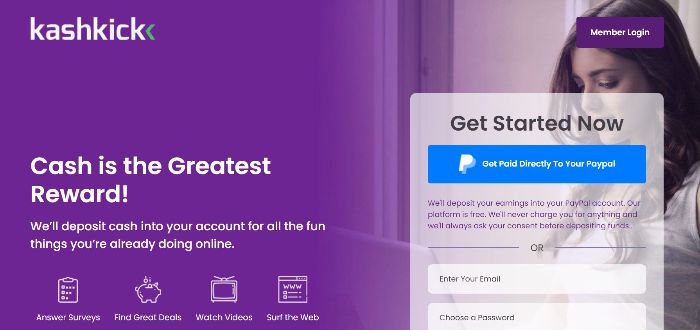 What is KashKick?
Kashkick site was launched in 2016, and for years now, it has been acting as a Get Paid To (GPT) website. Summing up, it is a free reward and cashback platform. 
This site provides various activities like playing games, watching videos, completing opinion polls, and taking surveys for you to earn some cash. 
Additionally, you also will be completing paid offers to earn cash rewards.
Their referral program is another way you can take advantage of to make more money. The company will directly deposit the fund into your PayPal account.  
How Does KashKick Work?
Kashkick works just like most GPT sites. The site basically allows you to earn rewards by doing small tasks.
So, to know how it works, you need to understand what is available there for you to earn the cash rewards.
Here are some popular ways that can give you an idea of what is there for you.
You need to complete a preliminary survey accurately and sincerely to create your profile. The data you provide will be the kind of surveys you will receive an invitation to complete the survey. 
Every time you receive a survey invitation, they also send you the estimated completion time along with the amount you can earn. So you don't waste your time on something that is not worth your time or effort.  
You can also play games and earn cash while having fun. 
Watching videos is another exciting way to earn money on Kashkick. 
It works by providing you with the option to earn via other paid offers like surfing the web, subscribing to a specific site, and so on. 
How to Sign-Up for KashKick?
Your first step should include signing up and creating an account. It is very easy to sign up as it is a straightforward process that takes only a few minutes to complete.
You just hit the "Sign Up" button after inputting your email address and choosing a password. 
The site will not ask for any sensitive or personal information that might be risky to share. You will receive a confirmation email to verify your account.
You will receive a bonus of $1 after completing your profile. However, there is no sign-up bonus. 
How Much Money Can You Make on KashKick?
Just like in the case of most GPT sites, your earning will depend on how much time you are willing to spend and how many tasks you are taking on per day.
Generally, it will take 15-20 minutes to complete a survey which can pay you anywhere from $0.5 to $2.
You can expect to earn anywhere from $5 to $50 each month by being a casual user. It has excellent work availability, and you will have plenty of activities to do to earn extra money.
How do you get paid?
One of the best things about Kashkick is that it does not use a point/credit system. Your earnings will be displayed in a dollar amount. 
There is a minimum payout threshold which is $10. It is very reasonable, and you can hit that mark in just a month.
You can get your payment via PayPal (and not via a standard bank account), which is very convenient. 
The payouts take place every two weeks.
Is KashKick a Scam?
The truth is that KashKick is a legit website. And I totally understand you having second thought about it. But Kashkick is not a scam.
Instinctively we tend to doubt what might seem too good to be true. But This is not the case. Kashkick is not promising you riches. It is only allowing you to earn some pocket money in your free time. And regularly if you have the time to do it. 
They make their money partnering with businesses that need to hear your feedback on their product to improve them. So Kashkick is the bridge between you and that business owner. 
I am not advising you to join any site online recklessly. I want you to make informed decisions and be safe online. That is why I always recommend researching the websites you are joining and looking for any red flags. 
My favorite place to check the legitimacy of an online business is TrustPilot. Their reviews and unbiased and have no other intent than to uncover any wrongdoing.
Looking into Kashkick Trustpilot reviews got me thinking, there is definitely something you need to know about this company.
What you should know about Kashkick
Kashkick has a Trustpilot review of 3.9 starts of 40 ratings in November 2021. 
There is a mixture of reviews. Most of the negative reviews complain that there are few surveys to keep you busy, whereas the good reviews are mainly from users that Kashkick has invited to leave a review. 
Another thing that caught my attention was that there is little information about who owns the site. And the available information is rather generic. 
That doesn't mean that Kashkick is a scam. What it means is they still need to work on their image and prove their worth.
However, they are pretty active in their Facebook community and answer all the questions you may have.
 The survey takers have mentioned that it has an outstanding survey panel. Another fact that will convince you that it is legit is that it makes all payments via PayPal. You must be thinking about how this site sustains itself. Brands pay this platform to get input from different audiences, and the company uses that money to pay you for your efforts.
KashKick Income Proof
Unfortunately, there is no income proof related to Kashkick. It is rare for GPT and rewards sites to post income proof. However, most user testimonials, reviews, and online information reassure that the site is legit and will definitely pay you for your effort and time spent on it.
Is KashKick Worth It?
It depends on what you are looking for to achieve by joining Kashkick. If you want to add another way of earning online a couple of bucks, yes, it is worth your time. 
 However, you should know that you will not earn massive money from it even if you spend all day on it.
Keep in mind that you have to keep the account active to enjoy all the benefits it offers. Otherwise, if your account stays inactive for 60 days or more, then you will forfeit all your earnings, and the account will be closed. 
Who can join?
The first thing that you need to know is that it is free to join Kashkick. It is only available in the US. So, if you live here, you can join this site quickly. It is available in the UK, Australia, and Canada as well. However, to join this site, you need to be at least 18 years of age. 
Pros and cons
Next, let's look into the pros and cons of Kashkick:
Pros:
Easy registration.
Availability of several surveys.
No points/credit system.
Low minimum payout limit.
Payment via PayPal.
Great referral program.
Cons:
Limited offers.
Low earning potential.
Does KashKick have an app?
No, Kashkick does not have an app. At least not until November 2021.
Kashkick alternatives
After reading through you find that this isn't for you despite Kashkick is not a scam, don't worry, there are plenty of well-established GPT sites out there to keep you busy earning money all day long.
Here at The Wealth Seeds, I am always tracing legit money-earning sites for my readers and I promise you won't be short of alternatives for Kashkick.
Swagbucks for instance is one of the most popular sites that offer similar features as Kashkick. It has a fantastic reputation and you can find enough proof online to validate its legitimacy. It also has a TrustPilot review of 4.3 stars with over 24k inputs.
Survey Junkie is another alternative to Kaskick. It is a well-established reward site with a fantastic online reputation.
Final thoughts about KashKick
There you have it; we have has covered everything that you need to know about Kashkick; the good, the bad, and the ugly. By now, you must have the answer to your concerning question – is Kashkick a scam? Or is it legit? Now you have the answer. I have made my part. Now it is up to you to decide if Kashkick is worth your effort and time.
All you have to do is sign up and then start the processes to make a few extra cash. This site is straightforward to navigate, so you won't have any problem using it.