This post will cover everything you need to know to start making money online with GPT (get paid to) sites. I have put together a list of the best GPT sites out there that pay high rewards, give lots of gifts and incentives, and best of all, they are all legit and free to join.
I have tested them all, so that's why I know that they work.
What Are GPT Sites?
GPT stands for Get Paid To, and that is precisely what GPT sites are. They are rewards sites that pay you to complete tasks on their online platform like clicking ads, watching videos, signing up for websites, surveys and more.
GPT sites are one of the oldest, fastest ways to make money online. If you spend considerable time online, you can make money for things you usually do like shopping, watching videos, searching the web, or simply answering questions.
How Do GPT Sites Work?
On the other hand, GPT sites offer several services for their clients like market research when they offer surveys, advertising networks when they offer to pay to click ads, or a combination of both or more.
They make money by offering these services to companies that need to access users(like you) to get feedback on products or services, interact with their software, apps, or games. And in that way, GPT sites get the funds to pay you for your time.
From your end is simple, you just sign up for a free account. Start earning money by doing tasks and any other money making oportunities GPT sites offers and when your earning reach the minimun payout limit, withdraw your funds.
How much money can I make?
How much money you can make on GPT websites depends on various factors like your geographic location, age, even your marital status will determine how much income you make.
Additionally, some reward sites pay more than others. There are GPT platforms that have membership tiers, and your rank determines your earnings.
Likewise, in the beginning, when you sign for the first time, you will make more money because you get rewarded for signing up. Again, you sign up that you will receive the highest paying offers, and they won't be available afterward. At least, that is from my own experience with each of the sites I have listed here.
In general, you can expect to make anywhere from $10 to $50 daily from a single site. Depending on how much time you have to dedicate to these tasks.
Are GPT Sites Legit?
GPT sites are legitimate businesses that bring value to the marketplace. Their sole purpose justifies their existence, so yes, they are legit.
When you first hear of a GPT site, you might think it is too good to be true, but this is not the case. You don't get free money with GPT sites; you put the time to complete the task, which has value.
When rewards websites offer you incentives like free bonuses to sign up, they do it because they need people to join their programs.
People like you or me are the blood of their business. They need us to offer their services. That's why they give you a free incentive to join. They are investing in you to bring you in.
However, I know the online world can be deceiving, and there are scammers out there ready to take advantage of our faults. To protect yourself better, you should always put this principle into practice.
Are GPT sites worth it?
This, my friend, is up to you to decide. What are your money-making goals, and how much you need?
If you need to make $10 fast or $5, GTP sites are the way to go to make money online fast.
However, don't expect to make a living if you live in a developed country like Canada or the USA. These countries have minimum wages in some regions as high as $14/hour. You can still make pocket money but not a sustainable income.
On the contrary, if you live in a developing country where the cost of living is inferiorly low, you can make a killing online with GPT sites. Keep in mind that you will benefit the most by signing for GPT sites that offer tasks rather than surveys, given that surveys won't be readily available to you due to your geographic location.
Top GPT sites
1. Swagbucks Most Popular

GPT site
Who can join: Anyone 13 years old or older.
Get paid to: Shop online, watch videos, search the web, answer surveys, Play games.
Paid Out options: Gift cards from like Amazon or Walmart or get cashback from PayPal.
Minimum cashout: You can redeem your rewards when you have 100 SB = $1.00 or 300 SB if you want to redeem with gift cards.
Swagbucks.com is one of the most, if not the most popular, GPT site on the internet. When you complete a task, you earn points called SB. By task, I mean shopping in your favorite stores, searching the web, answering surveys, watching videos, or playing games. And it is totally free to join.
Your SB points are redeemable for cash using Paypal or gift cards to stores like Walmart, Amazon, or Target.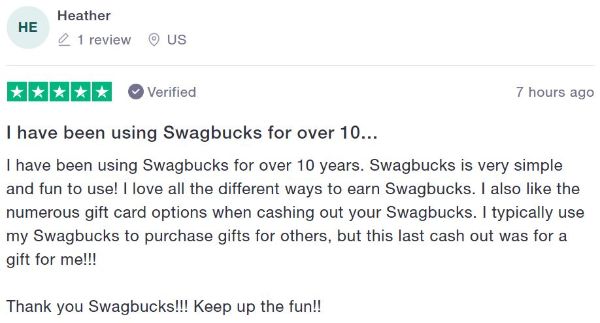 Swagbucks has an excellent review in Trustpilot with 4.3 stars out of more than 23000 reviews. And it's been around long enough to have a good reputation of paying its member with over 550 million dollars paid until this point.
This is a fantastic way for teenagers to make money online. You should consult with your parents for their consent before enrolling in GPT sites. As long as you are 13 or older, you can join the platform.
Other opportunities to earn more on Swagbuck include referring friends and getting paid for it. Additionally, on your birthday, you will receive 55 SB points starting June 1st, 2021.
2. Daily Rewards
Who can join: You have to be 18 years or older to register
Get paid to: surveys, playing games, watching videos, reading emails, or referring friends
Paid Out options: Paypal
Minimum payout: $30 Bonus Signup: Recieve $5 when you sign
DailyRewards is a market research company where you can get paid to do things like taking surveys, playing games, watching videos, reading emails, or simply referring friends.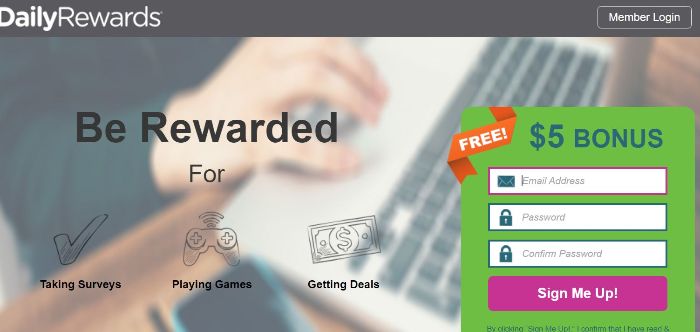 This is a legit GPT site that has been an accredited BB business since 2010.  
DailyRewards has a Trustpilot review of 4,2 stars out of 509 inputs which is considered significant good. 
You have different options to make money on DailyRewards: 
If shopping sounds like fun to you, imagine getting cashback from every purchase you make online. You can earn from 1% to 10% back.
Surveys are one of their main ways to reward you. However, you can find watching videos tasks regularly where you get paid to watch videos.
If you like freebies, who doesn't?, one of the DailyRewards offers is trying out new products and services. 
Likewise, small tasks like sorting online content, labeling products, or looking for an answer online are available to do for cash rewards. 
Finally, if you want to bring your friends over to the platform, you get 10% of what your friend earns. 
You cash out your money once you've earned $30. Immediately after, you become a gold member, which gives you additional benefits like more rewards.
3. PrizeRebel
Who can join: 18 years of age or older or 16 years of age with parental or legal guardian authority and permission.
Get paid to: Clicking on ads, signing up for a site, surveys, watching videos, referrals.
Paid Out options: Paypal, gift cards from Walmart, Amazon, and others
Minimum payout: $2
PrizeRebels is a free to join GPT site that rewards you for doing simple tasks like watching a video or clicking an ad.
They have been around since 2007 and have a ready to prove their background check with their massive social media following.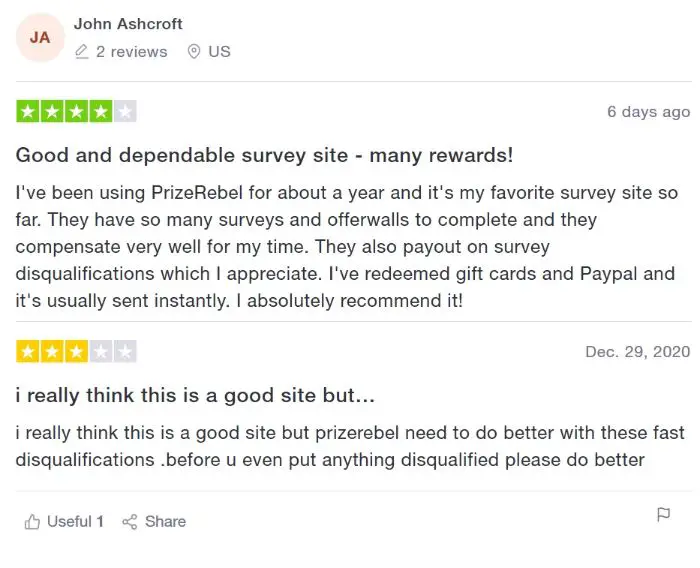 Once you complete a task, you get points for your time, exchanging for gift cards or cash out using PayPal is easy.
They have membership categories that, as you increase your class, you get more benefits and discounts.
You can redeem your points as soon as you have $2. To give you an idea, 100 points represent $1.
PrizeRebel surveys are only available to the UK, USA, CA, and AU. If you are not from one of these countries, you can still join, but your earning potential will only offer walls, tasks, daily points, and referrals. Still, it is an excellent option to make extra cash.
4. YSense best GPT site internationally
Who can join: 16 years of age or older anywhere in the world
Get paid to: Try new products and services, download apps, sign up for websites, watch videos, take surveys and referrals.
Paid Out options: PayPal, Skrill, or Payoneer, or a gift card
Minimum payout: $10
Ysense is a GPT website that is available online to earn money by taking surveys, completing tasks, watching, and more.
For each task you complete, you get cash. You can withdraw your earnings using PayPal, Skrill, Payoneer, or a gift card if you prefer that way.
Surveys are the main dish on Ysense. New surveys are posted on the platform every day, allowing you to take part in them and earn more.
Completing a task is another option to make money. After you have earned $50 worth of jobs, you get a $5 bonus or even more if you participate in the weekly contests.
You won't be short of options to make money. For example, you may get offers to download apps or get free trials and get rewarded for it.
Watching videos to get paid is only available for American members. Take advantage of them if they are available to you.
Another way to earn is by referring your friend. You get paid $2 for the first $5 made by your referee, $0.30 for signup for top countries like the USA or Canada, and $0.10 for new registrations for other countries.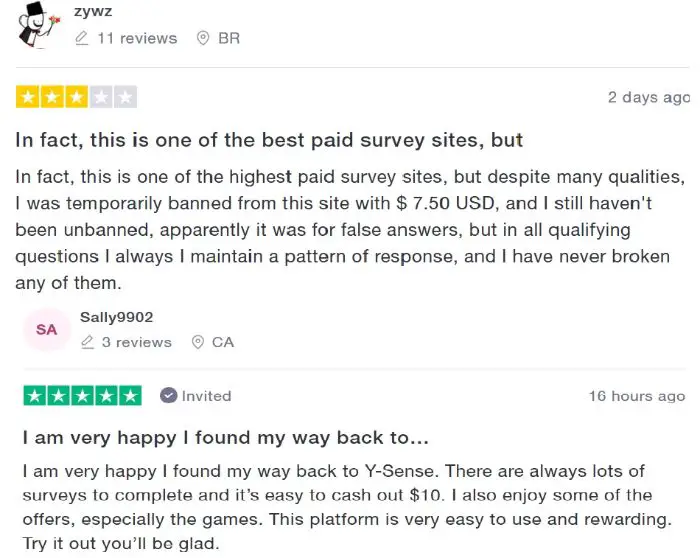 Ysense is a legit website that has a Trustpilot review of 4.1 stars.
5. Cointiply best Cryptocurrency GPT Site
Who can join: Anyone 16 years old and older.
Get paid to: Complete task, Do surveys, watch videos, offers, loyalty bonus, click ads, games.
Paid Out options: Bitcoin or Doge Wallet.
Minimum payout: 30000 coins for Doge and 50000 coins to Bitcoin
Cointiply is a Bitcoin rewards platform where you get paid to interact and complete tasks.
Here you earn coins which then you convert into dollars. 10000 coins are equivalent to $1USD.
The fluctuations of the bitcoin also influence your earnings. Meaning your earnings can go up or down.
You can withdraw your money when you have accumulated 30 000 coins to your Doge wallet. Or 50000 coins to Bitcoin. Be aware that there is a payment processing time between 24-72 hours to access your funds.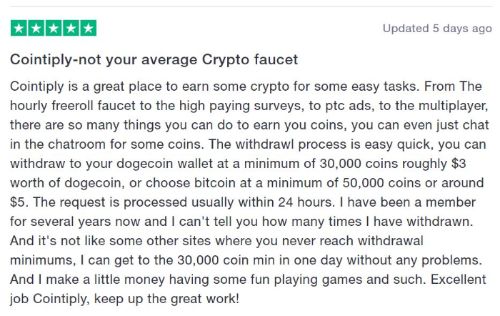 Cointiply has an outstanding Trustpilot review of 4.7 stars.
6. SurveyJunkie best GPT site for surveys
Who can join: 16 or older and reside in United States, Canada, or Australia
Get paid to: Do Surveys, share your online behavior
Paid Out options: Paypal for all countries and e-Giftcards
and bank transfer for US members.
Minimum payout: 300 points
Survey Junkey is one of the best GPT sites that offer surveys, and it is one of the highest GPT sites rated in Trustpilot with a review of 4.5 stars.
When you sign up for Survey Junkei, you make money by completing surveys and sharing your online behavior.
You receive invitations to participate in surveys, and according to your profile, you will be less or more active.
Take a look at the following video. She tried Survey Junkie for a week and here are her results.
Another way of earning on Survey Junkie is by sharing your behavior in the Pulse community. Suppose you choose to participate this way; you need to install a browser extension or the mobile app. The extension will allow you to share what you search online, the websites you visit, the ads you see, the content you interact with, and your online shopping activity.
7. Toluna
Who can join: 16 years of age or such other age as required by your geographic location.
Get paid to: Do surveys, games, referrals
Paid Out options: Paypal, gift cards
Minimum payout: 500 points
Toluna is a market research company that pays you to participate in their research by sharing your opinion on products or services. You get paid for your time based on a point system.
Everybody is welcome to become a member, and it is free to join.
You receive 500 welcome points when you sign up with them. Redeeming your points is easy using either PayPal or a voucher or a gift card.
You also earn for referring a friend. From every friend you invite, you receive 500 points.
8. TreasureTrooper most fun.
Who can join: You must be at least 13 years old
Get paid to: Games, surveys, shop
Paid Out options: PayPal
Minimum payout: $20 Bonus: Get $3 when you sign
TreasureTrooper is a unique platform, and it has a lot going on. It's fun and different from the rest of the GPT sites.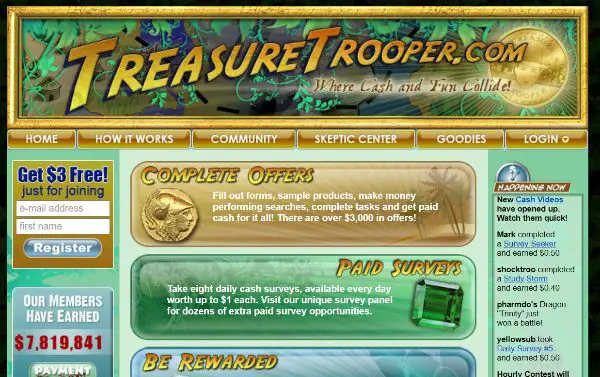 Even though the essence is the same, you also get options to participate in scavenger hunts and make money.
Additionally, you can earn virtual currency to buy Treasure Map Pieces. You will also hear terms like arrowheads or Dragon Scales that you can make and use to buy more features.
Cash offers are also in the game, and when you complete a request, you get paid. Surveys are also available, as well as cashback for your online purchases.
TreasureTrooper environment is more in line with teenagers. If you are in that age group, you will have a lot of fun while making money.
9. MyPoints best sign up bonus
Get paid to: Watch videos, shop online, surveys, daily goals, referring
Paid Out options: Paypal and Gift Cards
Minimum payout: $3 Signup bonus: $10
MyPoints is one of the oldest best-established GTP sites. They have been on the scene since 1996.
If you have ever wonder how can I get $10 fast? Let me tell you that just by signing up with MyPoints, you get a welcome bonus of $10. It can't get faster than that. That's how you make $10 instantly.
You have the option to earn points towards a gift card with several methods, including Surveys, watching videos, cashback from your purchases.
If you are from Canada, be aware that not all stores are available to you, and the exchange rate may apply.
You won't be short of opportunities to make money. From daily goals to Bingo and daily polls, you can get rewards for showing daily.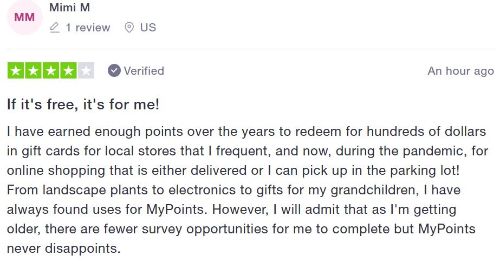 MyPoints is legit and free to join. It has a fantastic Trustpilot review of 4.4 stars.
10. TimeBucks the most diverse GPT site
Who can join: 16 years of age or older.
Get paid to: Post on TikTok, View Funny Slideshows, Play Games, Install Apps, Complete Captchas, Post on Instagram, Answer Surveys, Watch Videos, Install Free Apps, Follow people on Instagram, VotePolls, Referrals and more.
Paid Out options: Payeer, Bitcoin, Skrill, Neteller, AirTM, TangoCard, and Bank Transfer.
Minimum payout: $10
Timebucks is one of the most diverse of all GPT sites in terms of things you can do to get paid. They have a lot of options to keep you busy making money.
They have some premium offers that require account verification for you to use them. In the meantime, you can still start earning instantly with other offers that do not require authentification.
You can op to withdraw your funds using a wide variety of from which will depend mainly on the country you live in.
Timebucks has an excellent Trustpilot review of 4.2 stars.
11. YouGov Panel mainly surveys
Get paid to: Do online surveys, test product, and refer others
Paid Out options: PayPal cash, bank transfer, gift cards, and merchandise.
Minimum payout: $15
YouGov is a market research company that offers your rewards to complete mainly surveys. Although they do have others options to earn available like referrals, they are especially about surveys.
As a member of the YouGov Panel, you can shape the world's news with your opinion. That only is super rewarding. On top of that, you get to make money.
12. Gain.GG
Get paid to: Do online surveys, test product, and refer others
Paid Out options: Gift cards, Bitcoin, Litcoin, Ethereum
Minimum payout: $10
Earn.GG is one of a kind platform. It has hundress of task of offers to complete giving you greater chances to make more money.
It has a Trustpilot review of 4.3 starts which is good. Here you will earn coins that you can exchange for money or rewards. 1000 coins respesents $1.00USD.
You get paid to do surveys, watch videos, click ads and complete your daily tasks.
GPT sites that offer Minecraft
13. PointsPrizes best for Minecraft gift codes
Who can join: No geographical restriction
Get paid to: complete offer walls, do surveys, watch video ads.
Paid Out options: Paypal, Bitcoin, Minecraft gift codes
PointPrizes reward program offers as incentive free Minecraft Gift Codes.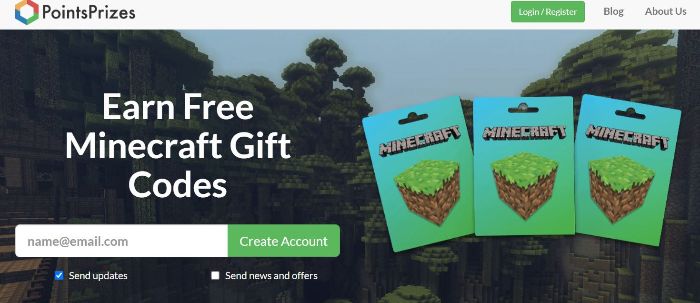 You earn points with PointPrizes, and then you can redeem them for Minecraft game cards. This way, you have access to the amazing universe of Minecraft.
This site can help you earn a free Minecraft Premium Account code from anywhere in the world.
To gain points, you need to start taking offers like surveys, watch videos, or interact with products amoung other jobs.
If you are interested in other gaming gift card prizes, they also offer Fortnite, Xbox, PlayStation, Steam, and more tasks.
PointsPrizes has the best customer reviews of all the GPT sites we have featured here, 4,7 stars.
14.

GrabPoints
Who can join: 18+ years and 13+ years with parental consent. Some regional restrictions
Get paid to: taking surveys, joining websites, visiting websites, watching videos, shopping, telephone surveys, and other actions.
Paid Out options: Minecraft codes, PayPal, Amazon, etc
Grabpoint is another killer site that will pay to watch videos, play games, click ads, and you can then trade your points for Minecraft codes.
It is as simple as it gets you to earn points, then you redeem it for your favorite rewards. They also have available other games.
You can earn points and make money online by watching videos, subscribing to youtube channels, liking videos, following a profile on Facebook, and so much more.
15.IDLE-EMPIRE -highest rated
Who can join: At least 13 years old.
Get paid to: paid surveys, watch videos or complete offers, referrals Paid Out options: Minecraft accounts, PayPal, Amazon, etc
IDLE-EMPIRE has an excellent reputation among its user and it has 4.7 Trustpilot review out of almost 9000 reviews. This proves the previous statement.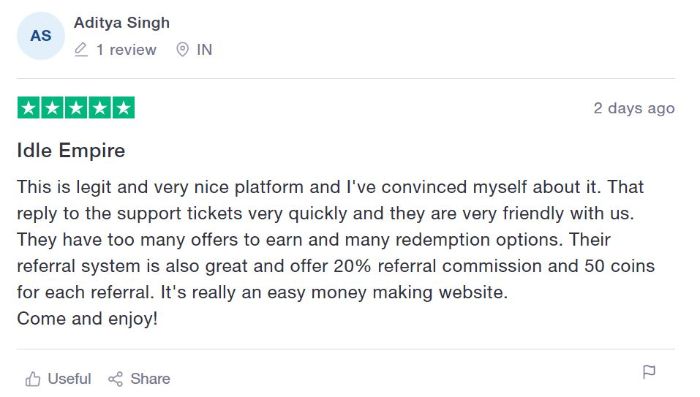 They have a large selection of rewards, including Minecraft accounts. In return, you need to start earning points that you can then exchange for your favorite rewards.
This is a relatively new GPT site and still has an incredible amount of happy members. They have pay out more than 1.2 million to its users since 2015.
More GPT sites
16. Kashkick
Kashkick is a relatively new GPT that is getting a lot of attention. You can get paid to watch videos, play games, do small online tasks, and do other interesting things.
It is not perfect but some users are having results with it. This Kashkick review will cover everything you need to know about this site.
Conclusion
There you have it the best GTP sites to start making money right away. Whatever platform you decide to join of the ones I have listed here, you won't make mistakes.
I have tested them all myself and can confidently say that you will be in good hands and all set to make money.
Good luck with your new endeavor. let me know in the comments if you think I should include another site on this list.
If you want to explore PTC sites vs Surveys vs GPT follow the link