Micro job sites have transformed the way people work. However, they are all not the same way. That is why I want to share with you the best paying micro job sites. I use some of them myself; the ones that I don't use, I have researched them thoughtfully.
Without further ado, let's jump into our subject.
What are Micro Jobs Sites?
Micro job sites are a new kind of digital crowdsourcing platform that connects Employers and Workers. They provide practical solutions to companies and businesses in need of outsourcing their jobs and projects. 
At the same time, micro job sites are an appealing alternative for job seekers to make extra income from anywhere in the world. 
Among the solutions that micro job sites provide include breaking down big tasks into smaller ones, significantly lowering the project's delivery time. 
This capability of dividing the task makes microtask websites super innovative, and it represents their name.
Although you can find a wide variety of tasks, the pioneers of the micro job concept focus on data entry and analysis, moderation of data, categorization, image or video tagging, transcription, product testing, research, surveys, and more.
Micro job sites are also referred to as microtask websites, micro gig sites. 
How do Micro Jobs Sites Work?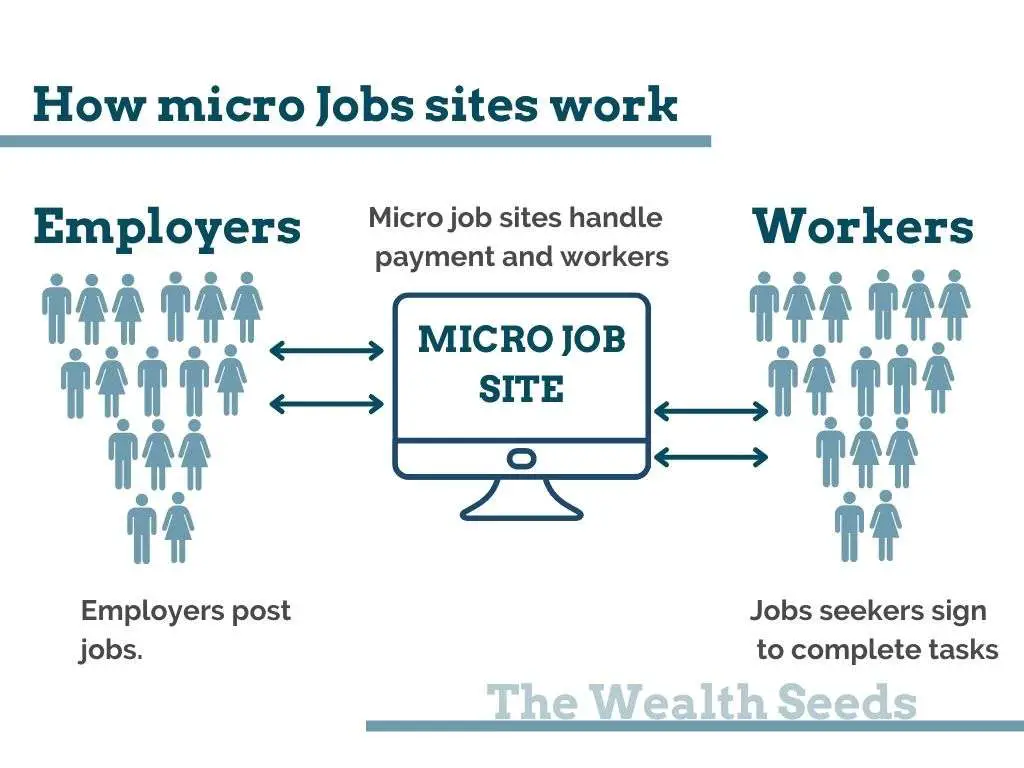 For taskers or workers: You register with your desire micro job platform or multiple sites and start accepting or applying for the tasks you want to perform. You can start earning right away
For employers: You offer jobs and set your requirements. You can select a specific tasker of your choice as well as select the region or country you want the worker to be from. 
All the responsibility for managing workers lies on your chosen micro job website, so you set your goals and relax until your job is done.
Different Types of Micro Jobs
There is a wide variety of micro-jobs. This list is to give you an idea of what to expect. But there is a lot more of it. Examples of micro-tasks include: 
Data entry jobs
Categorizing
Surveys
Writing emails
Transcribing
Tagging images
Writing reviews
Taking pictures
Testing products
Testing websites or apps and so much more
Are Micro Job Sites Legit and Safe?
Micro job sites are safe and legit. Thousand of people trust these sites to make a living and also to offer their jobs. There is no reason for them to trick you. However, that doesn't mean you shouldn't exercise precaution. 
Always double-check the site reviews to make sure it is legit. Looking for their profile on the BBB and Trustpilot is a good idea. But in general, don't share sensitive information that can put you at risk. 
Pros and Cons of Micro Jobs
Pros:
Work schedule flexibility. You get to set your schedule at your convenience. You work when you want without having to report to anyone or ask for consent. 
Micro job sites can help you transition from an employee to a business owner. How is that? After a while working on these sites you could decide to create your own agency to provide your services as a video editor or personal assistance, just to put an example. 
There is plenty of tasks and also plenty of micro job sites to keep you busy.
There is a lot of variety of jobs that require different expertise so anyone can find what they are looking for. 
You can work and earn from anywhere since most micro-tasks are online. You only need a computer an internet connection.
Cons: 
Low earning potential. You could be better of starting a low-income regular job, making it difficult to make a full-time living. There are exceptions, of course. 
Competition can be fearless, which makes it somewhat hard to score high-paying tasks. 
You don't get the benefits you would otherwise get with a job like sick leaves or pay vacation. You are on your own
Income instability. You will never know how much you are going to make beforehand. 
You will require a lot of time to make a decent income.
How do Micro Jobs Sites Pay?
Most micro job sites will pay you through Paypal so make sure you have an account there. Each site also has its own policies with regard to payment. 
How Much Do Micro Jobs Pay?
It depends on several factors, like what kind of task you are performing. 
For online tasks, you can earn from $0.01 up to $75 per task.
However, the average hourly rate is between $2 and $10.
For in-person tasks, you have better chances to make more money. You can earn up to $200 an hour in TaskRabbit; that's not the standard, though. 
Are micro-jobs worth it? 
I think micro jobs sites are worth it, but that is entirely up to your particular situation. If you need quick cash right away, go for it. Micro jobs can help you earn fast. If you also don't have many skills and are looking for an easy entry comfortable job, micro-jobs are your answer. 
They are also the answer for stay home moms who would like to make extra income or anyone with spare time on their hands wanting to earn some money or even make a living. 
10 top paying micro job sites
1.TaskRabbit best paying micro job site overall.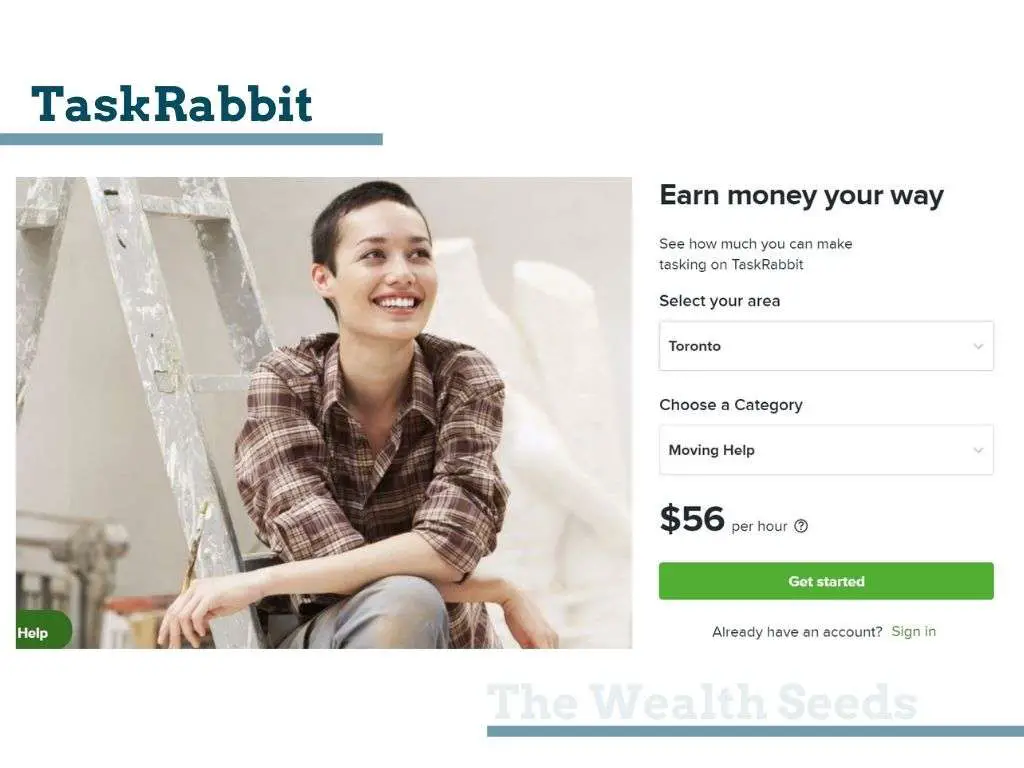 If you want to work outside the online work and get your hands working, Taskrabbit is an excellent micro job website that can secure you one of the best-paying salaries in the gigs industry. 
According to TaskRabbit's vice president of marketing, Jamie Viggiano, 10% to 15% of TaskRabbit contractors earn up to $7,000 per month. 
So depending on your levels of expertise and willingness to succeed, you can make this micro-jobs site a fantastic full-time living. 
TaskRabbit website is a middleman between you and your clients. And they charge a 20% fee for their service. But it gives you peace of mind that you will get paid for the tasks you complete. That's why I have listed it as one of the best paying micro job sites
2.LIONBRIDGE best micro job site for long term income.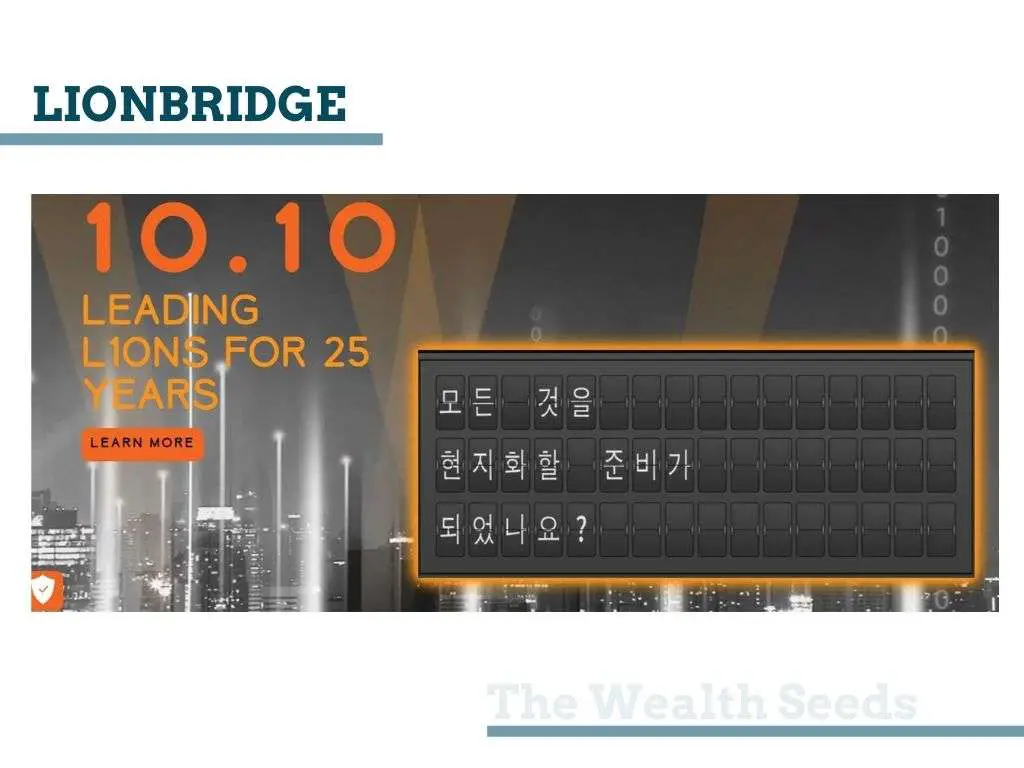 LIONBRIDGE is one of the best micro job sites, and it has a long track record of 25 years in business.
If you decide to go for one of their log projects, you can make big bucks.
Otherwise, you can expect to make up to $20 plus per hour.

Among the tasks they offer, you can find Social media evaluators, testing, and more.
3.Amazon Mechanical Turk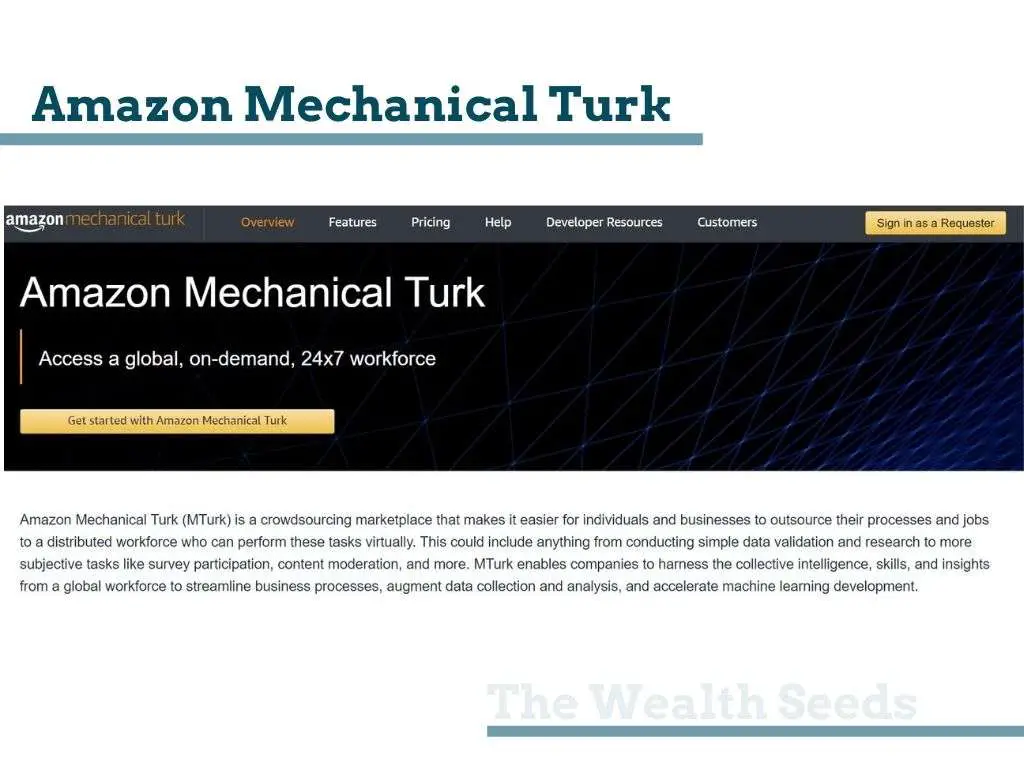 Amazon Mechanical Turk is one of the best paying micro job sites and one of the more popular as well so with that comes a lot of competition. 
But as soon as you register you can start working and earning. There is a lot of available tasks as well.
There are people who have reported making $150-$300 a week on Amazon Mechanical Turk, but that's a unicorn. You can earn on average from $6 to $12 an hour.
The micro-jobs on Amazon Mechanical Turk are called human-intelligence tasks(HIT). 
There is a healthy variety of HITs to choose from.
The tasks on Amazon Mechanical Turk are called HITs, or human-intelligence tasks, which are posted by people called "requesters."
Each HIT has a price that it pays to complete it as well as the time allotted to complete it. You can scroll through the list of work available (typically hundreds of thousands of HITs at any given time) and accept the ones you want to work on. Once you complete the work, you submit the HIT and await payment.
There are a large variety of HITs available to work on. For example surveys, audio/video transcriptions, categorization tasks data entry jobs,  youTube video ratings. 
After you have successfully completed a certain number of HITs you can apply for higher-paying tasks. In the end, this means that the more you work the greater your earning potential. 
4.Appen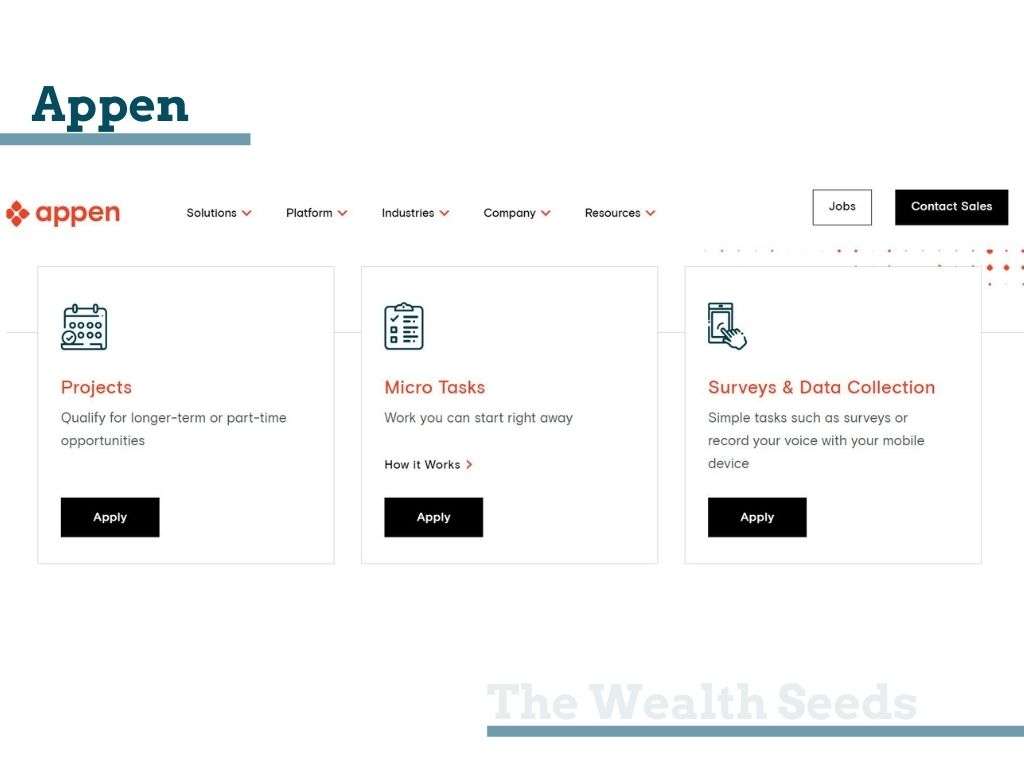 Appen is one of those websites that are work chequing to earn extra money from home completing small and simple tasks.
It is easy to join and you can start earning really fast. You can even work on multiple projects once you have proved your accuracy.
Appen is constantly adding new micro jobs and they are not always the same. But I will give you an idea of what you will find.
You may find micro jobs that involve reading a tweet or short social media post to help decide what it's about or what emotion it evokes.
Listening to short audio and write down what you hear.
Other simple micro jobs involve deciding if a picture or text is adequate for an audience
Or use the Appen image tool to draw boxes around objects in images.
See nothing complicated. Even without any skills, you can perform these tasks.
5.Scribie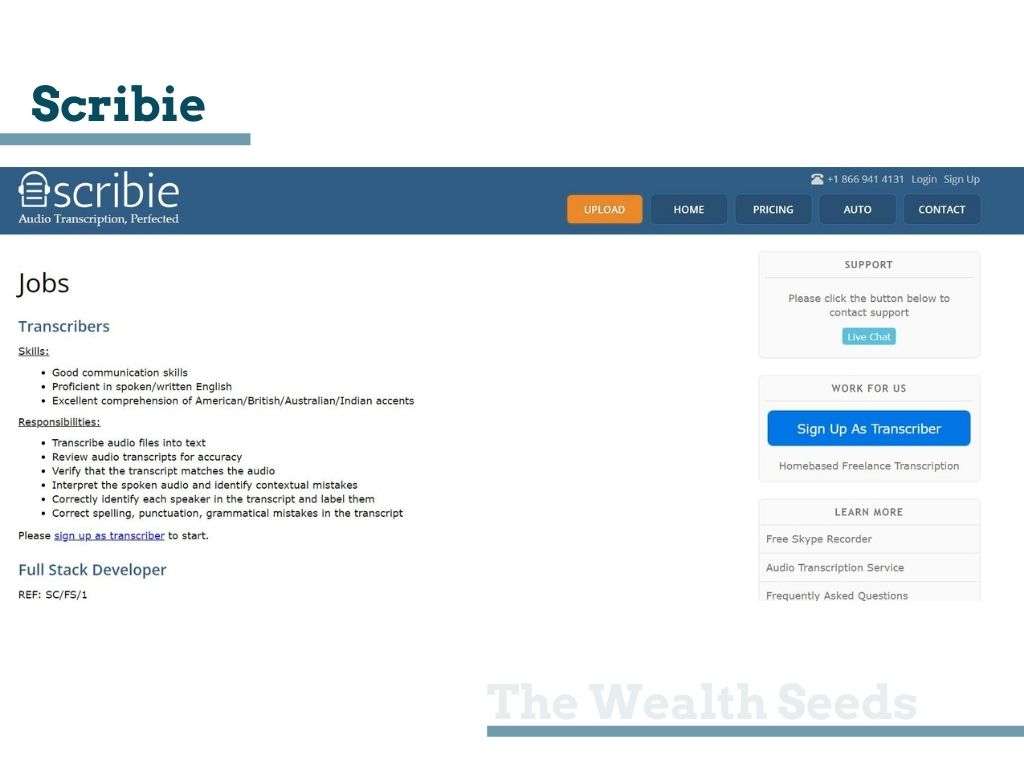 Scribie is a website where you can find one of the best paying rates of micro-job sites. If you are good at typing and are fluent in English you can consider joining Scribie. 
You get paid to transcribe audio into text. Then you will need to proofread and quality checks your work. Accuracy is key to success here that's why you will have to undertake a transcription test that will determine your eligibility to join Scribie
In terms of earning potential, you can make from $200 to $1000 a month based on your level of expertise, the type of task you complete, and the time you are actively working. 
Additionally, you can earn referral income of up to 2.5 % of the earnings of someone you refer or 5% of the order of a client you refer.   
6.Slicethepie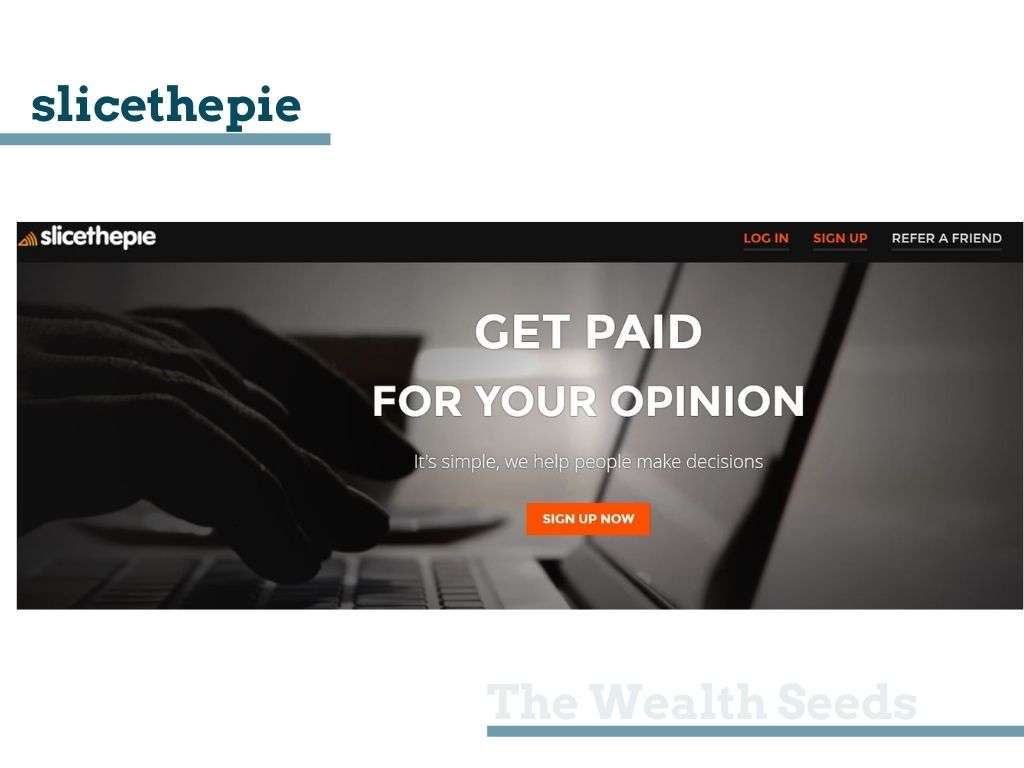 Slicethepie is a micro job website that will pay you to listen to music and write reviews of that music. It is not super easy to earn on Slice the pie but Is an additional venue you can use along with other websites to make the income from micro tasks worth it. 
If you want to learn more about SlicethePie HERE is everything you need to know about it.
7.UserTesting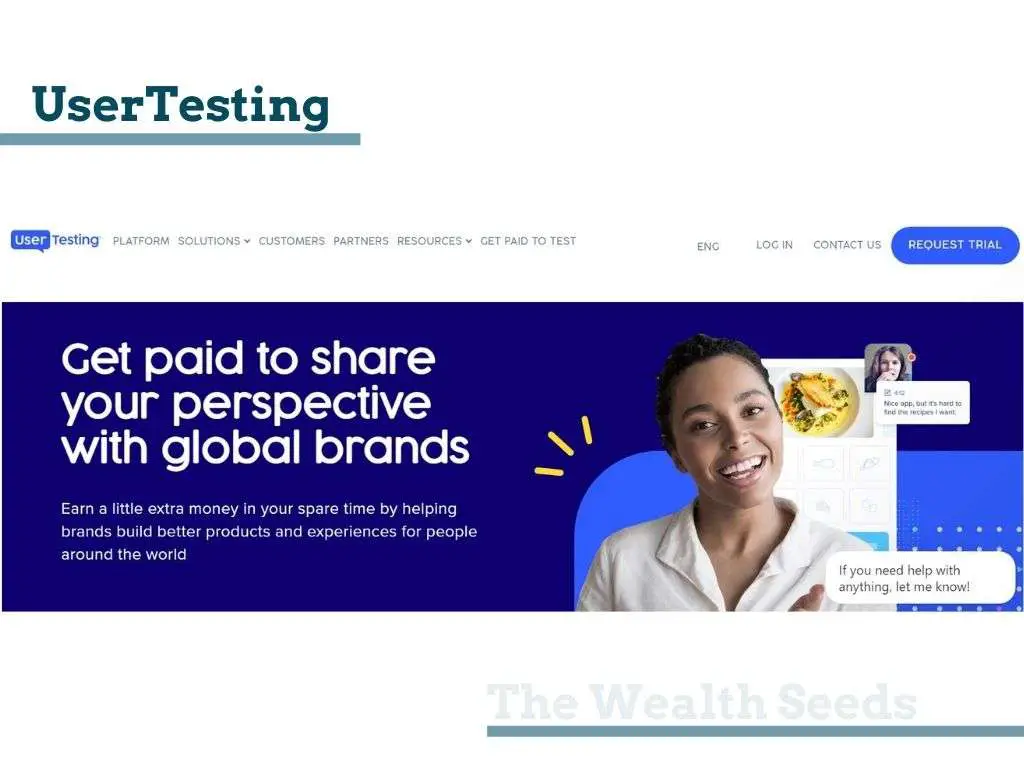 UserTesting will pay you to test apps websites or any other technology. Once you submit your application you will have to take a quick to qualify you as a tester. Even though you can join UserTesting from outside the USA you must be able to speak English fluently. 
They will match you with tests depending on the question they will ask you and your earning will be bound to your experiences on the platform.
You can earn $4 for every 5 min test, $10 for 20 min, and between $30 to  $120 for live interviews. 
8.Fancy Hands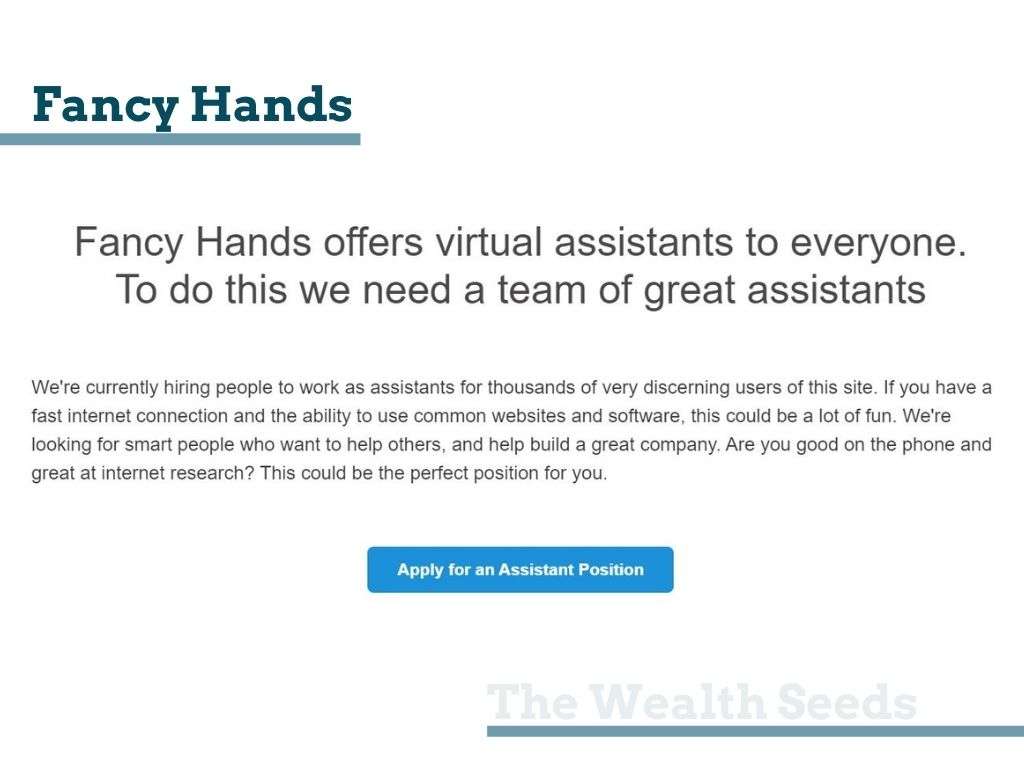 Fancy Hands is good for you if you what to sharpen your personal assistance skills and learn the ins and out of this job. As a personal assistant tasker, your duties will include anything from answering calls to booking a flight or sending emails. 
You can make anywhere from $3 to $4 per task. Even though you may think it is not enough, getting personal assistance experience at Fancy Hands can be the step in stone to a high-paying personal assistance career.
9.Teemwork.ai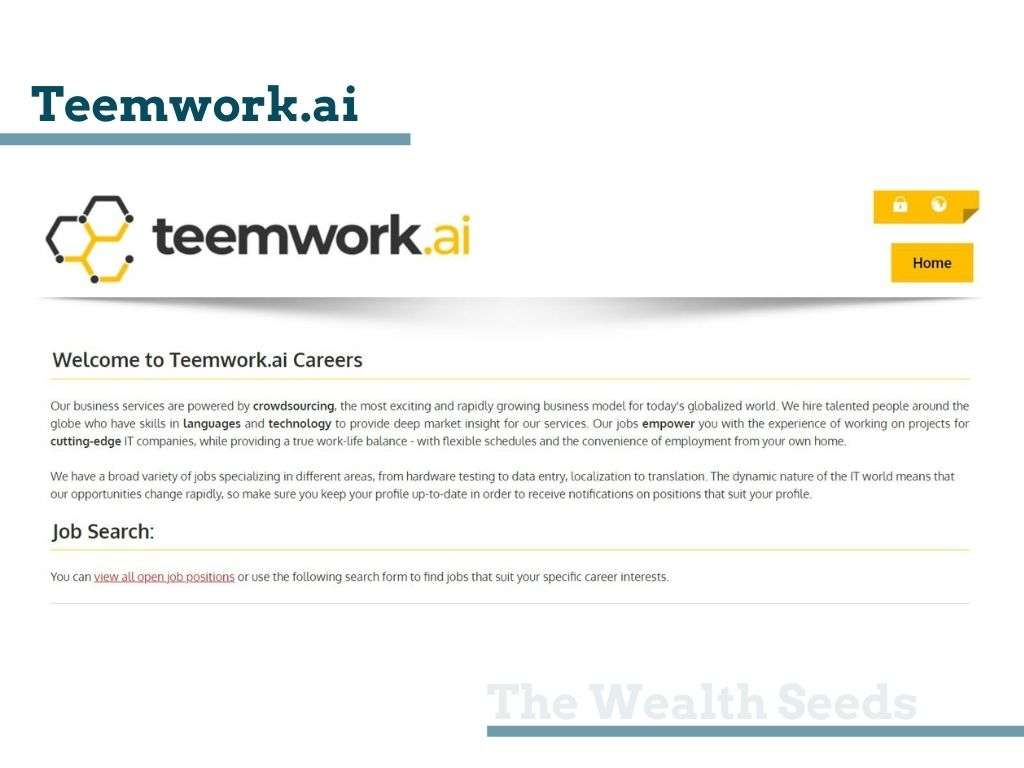 Teemwork.ai offers tasks mainly focus on IT and language skills like search engine evaluation, hardware testing, data entry, translation, and so much more.
You can expect to get paid between $10 to $16 per hour.
They have a lot of available jobs you can apply for right now from anywhere in the world. Be aware that your application can take some time in case you are in a hurry.
10.Clickworker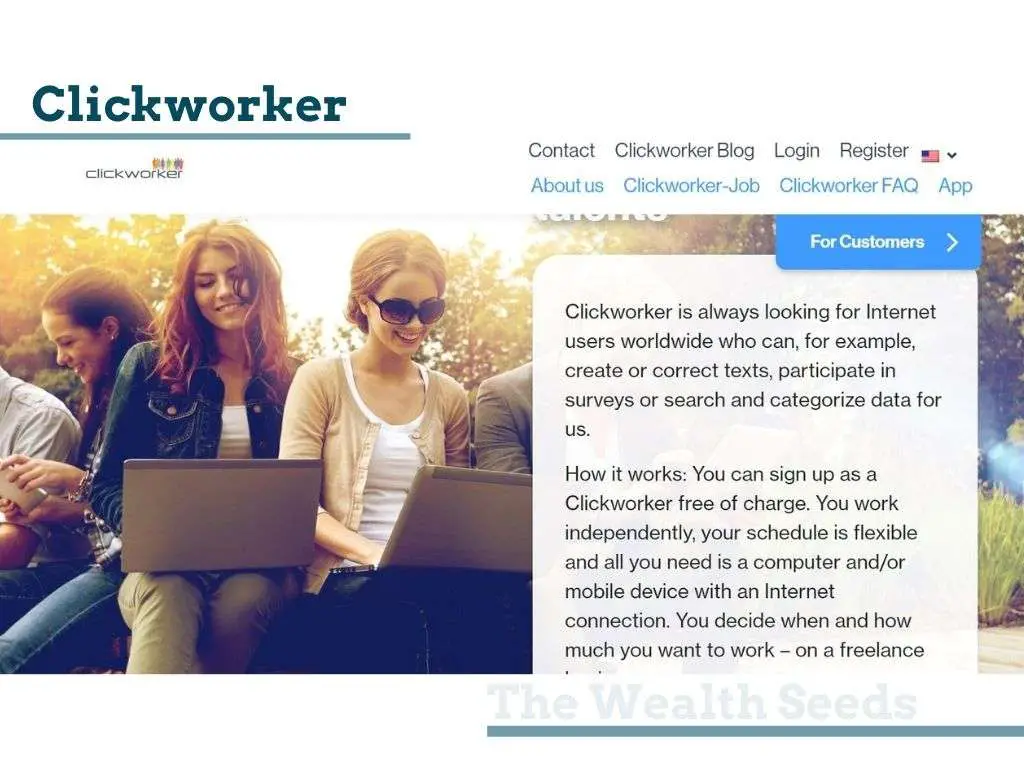 Clickworker is one of the best paying micro job sites. It works best if you download their app to your smartphone. What I like the most about Clickworker tasks is how simple they are and how little time you have to deploy to complete them. For example, you can get paid $2.5 for taking a picture of yourself wearing prescription glasses. 
There is a disadvantage though. Clickworker doesn't have that many micro job positions. The same tasks remain posted for a long period of time. And of course, you can't apply for the same micro job twice.
So Microworker is best if you use it parallelly with another micro job site. 
Clickworker also offers further micro job cooperation if you pass their assessment. You could have access to higher-paying micro jobs like data categorization, sentiment analysis, web research, and more.
The main drawback of this website is that you can go without new tasks for a lot of time. So there is not a lot of work here.
Final words on best paying micro job sites.
There you have a list of the best paying micro job sites. You can select to join multiple websites and take jobs from all. This will allow you to diversify your source of job and won't run the risk of missing job because your favorite site run out of task you can take.
Now go get it!! don't waste a single minute and start earning.