As you heard it, and as weird as it might sound, there is a market willing and ready to pay you for a pic of your feet. This post will cover everything you need to know to start making money selling foot pictures to foot fetish.
Let's see how to sell pictures of your feet
Can you make money selling pictures of your feet?
Yes, selling pictures of feet is a thing. There is a market for it, and I'll show you how to sell pictures of your feet.
You might have come to this post with some understanding of the matter because you heard or read someone was making money selling pic of their feet, and it is completely true. There are people selling pictures of their feet and making money out of it.
Check this girl's website https://ogfeet.com/, which is making a full-time living selling pictures of her feet.
And the certainty is that there are foot lovers out there, and they are paying for an exclusive pic of feet; that is a fact.
A simple search on the internet will show you clubs, private events, and Facebook groups dedicated to feet fetishists. That is a good indication that there is money to be made in this market.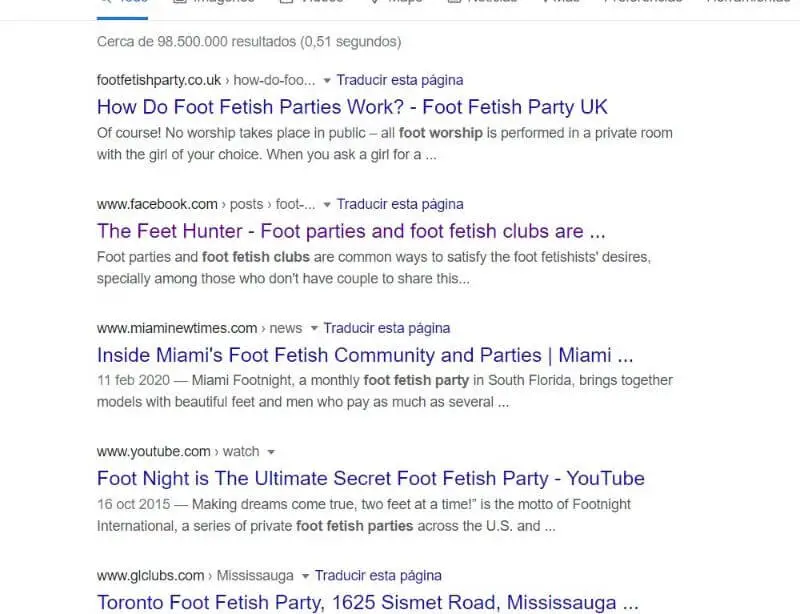 What is a feet fetish?
Foot fetishes are people who feel a sexual attraction to feet. This condition is also known as podophilia. There is nothing weird about it, and it is more common than you might think.
In fact, it is the most common form of sexual fetishism related to the body.
To give some perspective into the matter, some celebrities have openly stated being feet fetishists. Such is the case of Pharrell Williams, Ricky Martin, Britney Spears, and the list goes on.
Even the legendary Elvis Presley was a well-documented foot fetish case.
Who knows, you might end up with a celebrity having a crush on your feet!
According to sex therapist Ian Kerner, foot fetishism can even be healthy for long-term relationships.
And it is only a problem when couples define it as such. So, don't think you will be dealing with freaks or weird people.
This leads to the next question you might have.
Is it legit to sell pictures of your feet?
Nothing is prohibiting you from selling photos of your feet. In countries like Canada, the USA, Australia, or the UK, there is no law against selling your feet pic. Therefore, selling pictures of your feet is completely legal.
So much so that there are platforms that only sell feet pics.
The only thing that is illegal about selling your foot pictures is not paying taxes. Be aware of that. You have to pay taxes if you sell foot photos.
I would also check if your religion allows showing your feet, but this you might know already.
Know that we have covered some essential points; let us see how you can start making money selling photos of your feet.
Create your own website.
This is my preferred way to sell your picture, which is why I put it first. I will give you other alternatives, but I will encourage you to choose this option over any other one. At the end of the reading, you will have more than enough reasons to select this one.
Creating your own website will give you a better edge over using other people's platforms. In this way, you are in control of everything and set your own rules. Also, the profits are only yours, no middle man.
You have to start with the right mindset if you are going into business by yourself. Treat your website as a business, and you will succeed.
Another trait that will contribute to your success is how committed you are to succeed and how long. If you are looking for just a couple of bucks, then scroll down and lock for the other alternatives.
Suppose you are ready to make good money. Let's see how to go about it.
Now, you have the right mindset. It's time to determine if you will create a website yourself or outsource it.
Creating a website is super simple these days, and anyone can learn how to make it in matters of weeks or even days. Sometimes you just need to watch a couple of youtube tutorials, and you are all set.
Please use WordPress to create your website. WordPress is the world's most popular website builder. It powers more than 33% of all the websites on the internet. Not only is it easy to learn but also super powerful.
Just make sure you don't use a free hosting service. This will ruin your chances of monetizing your website using paid ads will be banished.
How much money can you make selling a pic of your feet on your website?
The sky's the limit, but you will have to be willing to put in the effort to make it work. The average price range for a foot pic is from $5 to $100. But the real prize is the one that the market is willing to pay.
What if you specialize in exclusive VIP clients that are willing and can pay the craziest price you can think of. That is absolutely possible, but you can only find out about it after you have started.
Don't worry; you will find a balance to make the price work. Shoot for something that is not too cheap, not too expensive, that you price your audience out.
You can try to test different prices, starting from the highest and lowest if no one is buying.
Now, In terms of monetizing your website, selling photos is not your only choice. For example, you can also supplement your earnings with affiliate marketing and advertising placement.
In the same way, you could also make a membership website and have your visitor paid to access and download your pictures.
I am sure you will learn a lot of valuable skills by creating your website. For example digital marketing, SEO, copywriting, and these skills will serve you well along the way.
If you think running your own online business, aka website is too much to handle, don't worry; you still have options to sell your feet pic. There are online platforms that allow you to connect with a foot fetish audience.
Have followers? Join onlyfans.com as a creator
There are many stories about girls that created an Instagram account and started getting request to post more pictures about their feet. If this is your case and you have a decent following, you could join Onlyfans.com
Joining Onlyfans.com will allow you to sell your feet pic and start monetizing your followers right away. It doesn't have to be only Instagram. You can invite your followers from Facebook and twitters as well.
How much can you make with Onlyfans?
How much you will make in Onlyfans.com will depend on how many followers do you have. For example, if you have 10 thousand fans and your monthly subscription price is $10, You could earn between $1,005 and $5,025 per month.
That is assuming that between 1% to 5% of your followers subscribe. These earnings don't include income from tips and Paid messages. So you could earn even more.
On the other hand, if you are starting from scratch, then you might consider Instafeet.
Join Instafeet. What is Instafeet, and how does it work?
Instafeet is a safe and legit platform that allows you to connect with your feet admirers and helps you in the process of selling your feet photos. In other words, Instafeet is the middleman between you and your ideal feet fetish client.
They are a subscription-only platform, which is an added value if you prefer privacy and don't want your feet' pictures to be seen all over the internet.
Instafeet is solely dedicated to the selling feet picture business, and anyone 18 and over can apply to be a creator for free and sell pictures of your feet.
Your request to join their network has to be approved, and they require you to have your feet well looked after before you apply and an ID to get paid to corroborate your age.
They process the transactions using PayPal, so if you don't have a Paypal account yet, you will need to open one.
The main advantage of Instafeet is that you won't have to create a platform to sell your pictures, and everything is done for you. As well as you will have a partner by your side while running your feet pic enterprise.
The huge drawback I see, on the other hand, is that Instafeet is overcrowded, and the balance between creators and subscribers has been compromised.
There are way more creators than there are subscribers, and the laters are the ones that bring profits, so do you see the problem?. Take a look at the current proportion in the picture down below. Right now, per each subscriber, there are 10.4 creators.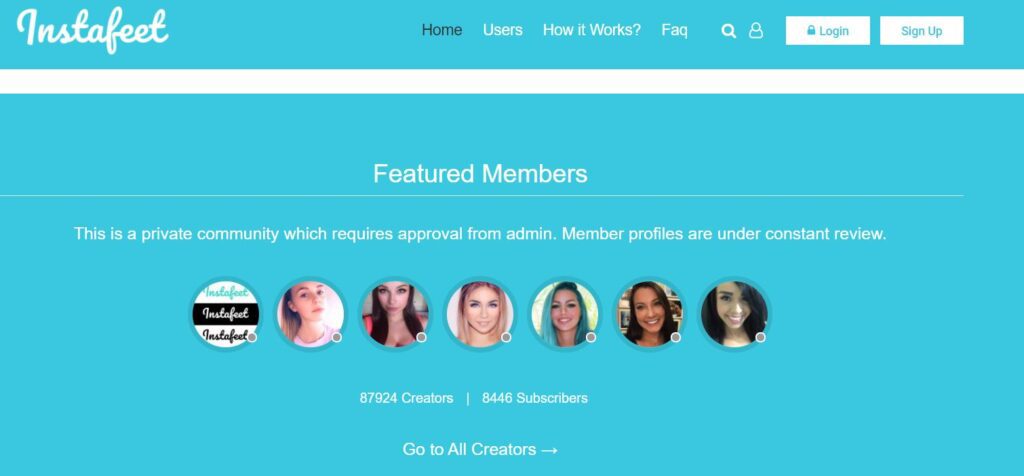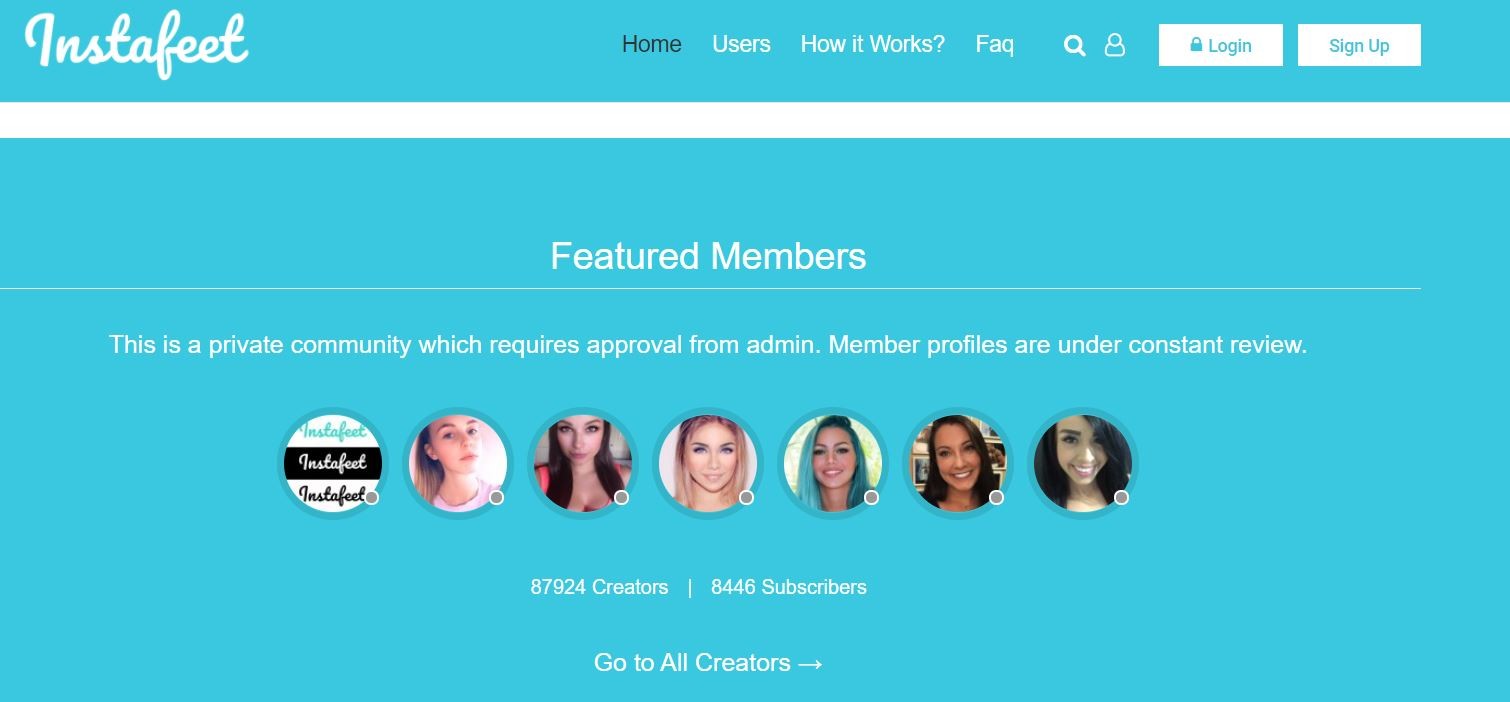 How much can you make on Instafeet selling pictures of your feet?
Well, I think I have answered this already, but assuming you have a healthy following, you can make money. I question, though, if, with that many creators, you will be able to stand out.
Instafeet recommends you set your price low so you can attract more subscribers.
For example, if you set your subscription price to $10 and have 5 subscribers, you can make $50 by doing almost nothing.
My suggestion here will be to join Instafeet if they are accepting new creators and try the platform. It doesn't hurt, it will give you an inside on what other creators are doing, and you can use it as a reference, but do not copy others, be yourself.
Let's check another way to make money selling pics to feet fetish.
Sell your feet picture on other platforms
Let's say you really don't want to cater to the feet fetish market and look for a more traditional approach. In this case, you can sell your pictures on shutterstock.com, Istock.com, Dreamstime.com, and the list goes on and on.
To join those platforms, you will need to know a little more photography and kind of know what you're doing with your camera. But you can become your own foot model in this way and get compensated for it.
You won't make as much money as selling to the foot fetish group, but still, you can make something on the side.
Take care of your feet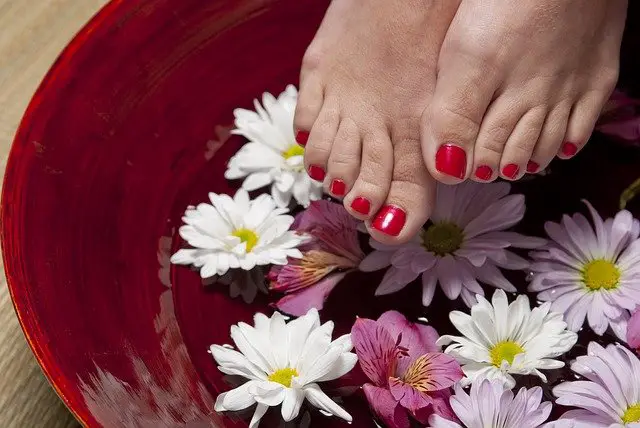 Just bear in mind that the protagonists here are your feet. It would help if you learned how to pamper them and take good care of them so that you can take flattering pictures of your feet.
Treating your feet well will make them prettier, healthier and help you better sell pictures of them.
Start by regularly applying moisturizer to your feet and toes if you tend to dry skin, especially the heels that can crack easily, and it doesn't look good when it happens. It is important that you also remove any hairs; plucking is best.
Make sure you always cut your toenails to the right length for your photo section. It would be best if you have your toenails coloured.
Find a colour that favors your skin and kind of feet. You can also use jewelry to enhance the overall appearance of your feet and make them look prettier.
As you might wear dark-tone clothing to look thinner, painting your toenails in a dark tone will make your toenail look smaller and thinner.
What makes a foot pretty depends on each person's perspective. Since there is no standard to measure the world's most beautiful feet, only a feet fetish can say what their ideal feet are. And that can be any kind of feet, just like some people like thin girls and other fat girls. The same happens with the feet appeal.
So don't be afraid to show off your feet just because you think they are not as pretty as you like them to be. Heard the feedback of your customers; they are the one that has the final word.
Don't worry much about the ideal size of feet since the size can be camouflaged in the pictures. Unless you have an object to compare sizes to, no one will be able to tell what size your foot is.
To capture your perfect feet shot, you will have to practice and practice a lot. However, don't get too hung up because no one is perfect initially; you get better as you take pictures of your feet.
Join FeetFinder
As they make money with feet subject has increased in popularity, and new platforms have emerged to help you sell pictures of your feet. Such is the case of Feetfinder.
They have gained a lot of traction, so it is a good idea to join them as well to expand your reach.
Remember to create a memorable username. This post will give you a ton of Feetfinder username ideas to make your profile stand out.
Conclusion
So, are you ready to sell pictures of your feet? Let me know what method you think will work best for you. Do not overthink and start taking action. Once you start, you will uncover new roads and opportunities.
If you want to know other ways to make money, I will leave the links here.
Extra money from home Make money as a kid
Make money gaming Ways to make money in college Best PTC sites 2021