So you love gaming and have decided to make some money out of your passion. You are in the right place because I will share with you exactly how to make money gaming.
Make money gaming with

Twitch Affiliate Program
Twitch is a video live streaming service primarily focused on video game live streaming, including broadcasts of esports competitions and other capabilities but mainly gaming.
The platform has 4 million broadcasters each month and 17.5 million daily users on average and counting. It is only increasing in popularity, making it the leading streaming platform by far.
Their community gathers streamers and watchers. The first user plays and transmits while playing, whereas the latest watch, the streamers play. 
Make money gaming on Twitch by joining their affiliate program once you have joined the platform and are a current streamer that has complied with the following requirements:
Once you have reached the previous requirements, they will invite you to join the program, and it is at this point when you will start making money.
How do you make money with the Twitch affiliate program?
 Earn money on twitch collecting Bits
Now that you are inside the program, you can enable Bits to Cheer on your channel so viewers and fans can support you.
Bits are virtual goods like animated gem emotes that viewers buy to cheer players. When your channel gets cheers, you received a share of the revenue. 
Earn money on Twitch with subscriptions 
You can also make money on Twitch under the affiliate program by allowing subscriptions from your viewers.
In addition, you will have access to all subscription options $4.99, $9.99, $24,99, and the Prime free subscription. 
On top of all that, you also get one global subscriber Emote for all subscribers and the option of adding two additional for $9.99 and 24.99 subscribers. 
Make money on Twitch selling games
You can also earn a profit from selling games or in-game items that originated in your channel.
For example, When you play any game on stream that is for sale or has in-game items for purchase on twitch, and your viewers buy the game or item, you receive a 5% commission for the sale. That simple it is just making money gaming. 
Make money gaming with

Twitch partner program
After you have had a taste of the affiliate program and you know you are all commented to gaming. 
Note that you are not limited to games on twitch. You can be a content creator just like in other video streaming platforms like youtube or Facebook; however, since we are focusing on gaming, I won't cover the different modalities, but it is generally the same idea.
Requirements for the Twitch Partner Program
To become a Twitch partner program, you have to complete their Path to partner process. You will be able to track your progress towards achieving the partnership's requirements within the Path to Partner. Those requirements are: 
Once you have achieved the requirements over 30 consecutive days, you become eligible to be a partner and apply.  
Ways to make money with the partner program
As a partner, you will have more opportunities to make money than the affiliate program offers.
For example, you will have a share of the ad revenues played on your channel plus the subscriptions, bits, and games sales. You will also have access to functionalities and tools to help you grow.
Become a game tester
You don't have to have a higher degree or be a hardware or software designer to work be part of the team that creates the games. 
There are opportunities available to avid gamers who want to live off their passion for video games to join the creator's team testing game.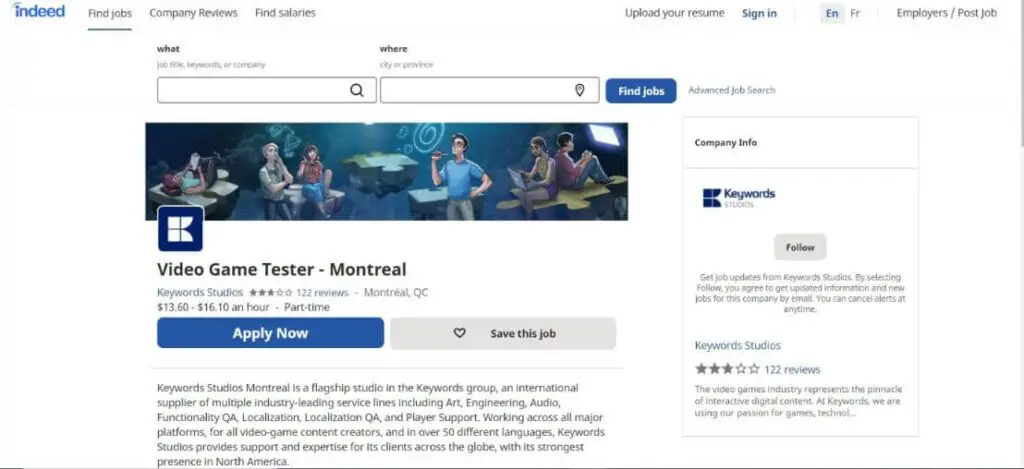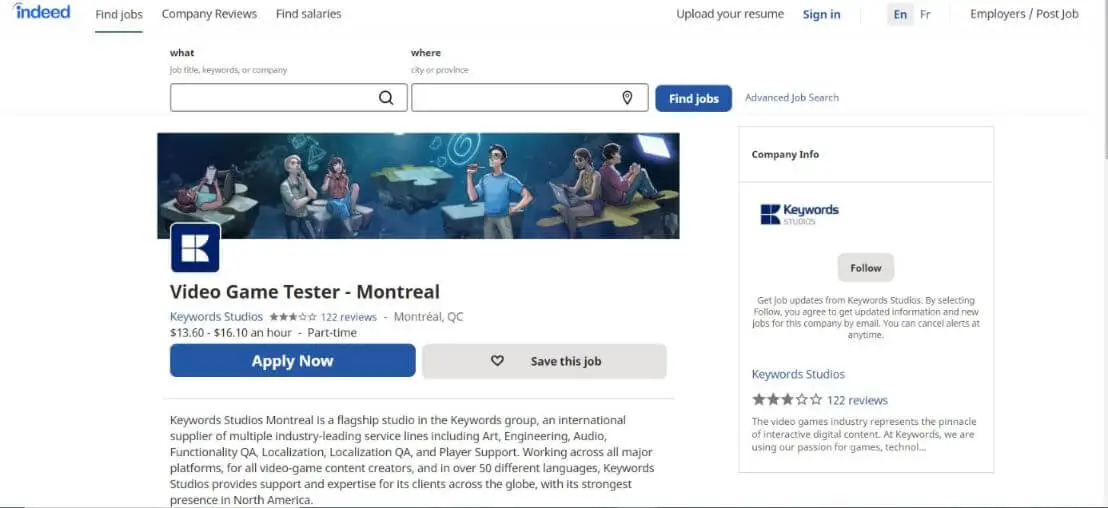 If you head to indeed.com and look for game tester jobs, you will find positions available, as well as salaries and requirements. 
The average salary of a game tester in Canada is $15.38 an hour. Salary information comes from 181 data points collected directly from employees, users, and past and present job advertisements in the past 36 months, according to Indeed in November 2020.
Before you decide to enroll in this career path, give it a try first and make a conscious decision that you want to spend your days in front of a screen. Game testing can be really demanding and not that rewarding, giving the effort you have to put in.
Create a gaming blog
Creating a blog or website to cover subjects related to the gaming industry or around a game or games you love can be profitable and by far one of the best ways to make money with your gaming passion.
The gaming industry is booming. While it used to attract mainly teenagers and young adults, according to a study from Google Uk, half of the UK population played video games last year 2019. 
The same research shows that there has been a rise in the use of video games as a new way to socialize due to the pandemic. More people are entering to play and spending more time playing an average of 10 hours a week compared to 8 hours a decade ago.  
Another interesting finding is that Global gaming content sales exceed both music and video combined while experiencing faster growth. Do you need any more proof of these being a profitable industry to start a business around? I don't. 
How to make money blogging
So how do you make money with a blog about gaming? There are several ways you can monetize a blog or website, 
Affiliate marketing
This is how you make money with affiliate marketing is in a nutshell: you write a piece of content around a subject related to a game or software or something that someone else is selling in the gaming industry. You insert a link in your post that will direct your reader to the seller's page, and If the buy, you make a commission on the sale.
One of the pros of affiliate marketing is that when your reader clicks on your affiliate link, they don't have to buy right away. There is a time window they have to complete the sale, and you still make money. That is what cookies are for; they place a piece of software in your reader's browsers to track where and when they come from. 
For example, this is an affiliate link; if you buy from here, I will make a small commission at no cost to you. I only recommend products that I've used and trust.
Ad revenues
Once you have reached a certain number of monthly readers, you can join an advertising program like Google Adsense or Mediavine. 
These companies will place ads on your website based on your audience, and you will get paid based on how many views you get. 
How much you get paid depends on many factors, but this is by far the easiest way to make money blogging since you need constant traffic and acceptable content. You can make from $10 to $10000 and more.
Sponsorship
Working with brands and game producers to advertised and promote their products. You will make money based on how established you are and the audience you can reach. 
Create and sell your own products
In addition to all that, you can sell and promote your products. Like a t-shirt, coffee cups, and anything you can think of that your audience will be willing to pay for.
The beauty to cater to the gaming industry is that this is a passionate audience. If you serve them well, you can reap great rewards.
As a reminder, you will have to put in the time, effort, and willingness to learn what it takes to grow a successful online business around gaming. But it will be worthy.
Become a game designer or developer.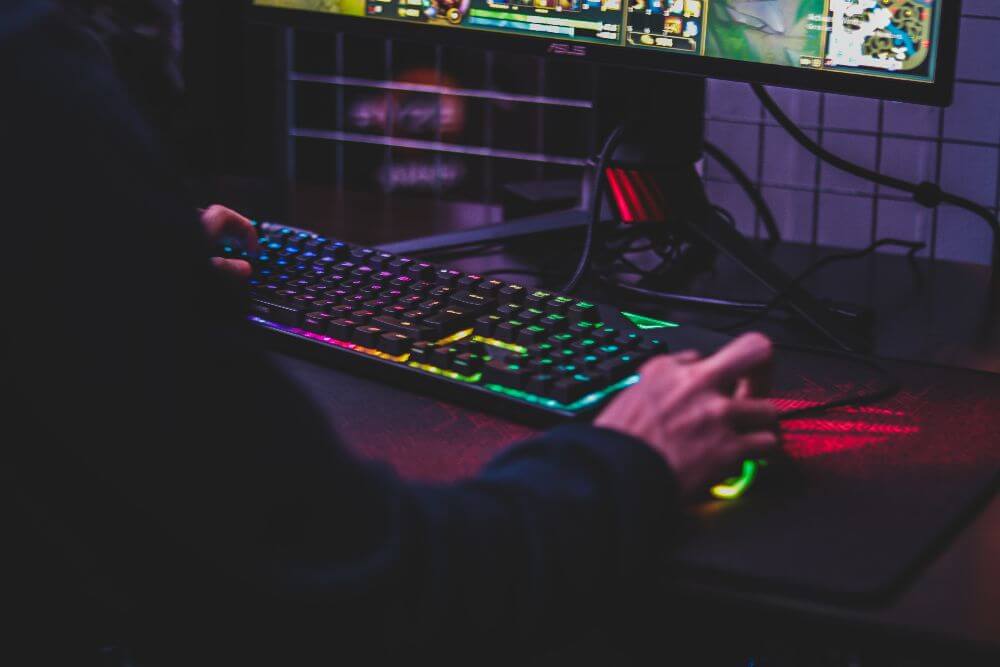 If you are genuinely passionate about gaming, why not enter the industry by becoming a game designer or developer and making that career path.
We have seen so far how profitable the gaming industry is. I can tell my friend opportunities are abundant out there for those willing to take a step further.
According to neuvoo.ca, the average Game Developer salary in Canada is $100,000 per year or $51.28 per hour. Entry-level positions start at $52,040 per year, while most experienced workers make up to $135,038 per year. 
You will need a bachelor's degree in computer science or software engineering to start with. Software development or computer science is a profitable career and in high demand. If you decide this is the road you want to take, your effort will be rewarded.
Later on, if you decide you no longer want to continue in the gaming industry, you can easily change your path without seeing your income cut or too much resistance.
Youtube Let's Plays
By becoming a  youtube promotional partner, you can make money with your video games through ad revenues.
Let's plays sections are videos documenting the playthrough of a video game, usually including commentary or a camera view of the gamer, in this case, you. You need to follow certain rules so that your videos don't get penalized for copyright infringement.  
You have to create videos that are, in some way, unique and educative. However, that doesn't warrant you won be hit with copywriting claims; dig deeper into the subject before you decide gaming on youtube is for you.
You can make money gaming after becoming a youtube partner and monetizing your channel with ads or using affiliate links in your bio. Also, you can accept paid sponsorships from gaming brands.
This course will help you set your Youtube game channel for success.
Sell gaming PC parts.
I am sure you know how much a gaming pc costs, and maybe you even customized your own PC to turn it into a super Gaming Machine. Okay, I know this isn't gaming, but you can still take advantage of what you already know.
If you know about hardware or are willing to learn what it takes to assemble a good pc gaming, you can make a profitable business selling PC part.
You will need some capital to start by you can start as small as you like. For sure, if you are an expert on the subject, you know to spot a deal.
After you make your first sales you can start buying wholesales and make better margins.
Become a professional Esport player
I am sure that since you love gaming, becoming a professional player has crossed your mind at some point. The truth is that it is possible as long as you commit to succeed and work hard to your way into the international gaming arenas. 
Professional gamers are going after major cash prices; for instance, the international Dota2 Championship that will be held on August 14, 2021, has a price poll of  $ 40,018,195 so far. The first position will take home $18,208,279.
If you decide to take this road, be prepared to live up to the challenge. You will train like any other major league player, and you should be ready to spend years of hard work and dedication.
if you want to dig deeper into the subject, this article from Intel will set you in the right direction to a gaming career,
Install AppStation and start making money
Another option for you to make money playing video games is to install AppStation on your phone. The more you play, the more rewards your earn, which then translates into money.
Appstation is a legit app available in the google store to download for free. It was first released in 2018 and since then has had more than 5 million downloads. It also has a review of 4.1 stars on the google store. If you have ever wonder – how can I make $20 right now? This app is then for you.
It is easy to install and has a user-friendly interface. All the games are free to play, and you make money for every second you spend playing. That is an effective way to make money playing video games.
You won't get rich using the app, but you can earn some pocket money playing your favorite video game on the side.
Become a Roblox developer
Roblox is a gaming platform that has exploded in popularity among young kids. They offer different ways to earn money gaming. If you are serious about it and want to become a Roblox developer, you can make a lot of money on Roblox.
A good way to start is also reselling other creators' items. You can give it a go to see if the platform is for you.
Conclusion
As you can see, there is an abundance of opportunities to make money if you still want to know of other ways to make extra cash. that is what I do here. Check my latest post on how to make money.

Which way of making money gaming do you think will be best for you?
More ways to make money: Best PTC sites – Survey for money – make money fast –
work from home jobs with no phone