If you are looking to make extra cash in Canada by selling your used stuff and Kijiji is not working for you, you should check the following list of sites like Kijiji.
Kijiji is a powerful marketplace for Canadian but can limit your market reach. By powerful, I mean it is popular among Canadians. And who doesn't know what Kijiji is?
I was like you once looking for alternatives to Kijiji because it can take some time for people to reply to inquiries when you are buying. And if you are selling happens the same.
That's why I decided to give another platform a chance. I still use Kijiji, but my new favorite is the Facebook marketplace.
Anyway, let's jump into our list of sites like Kijiji.
Sites like Kijiji
1. Facebook Marketplace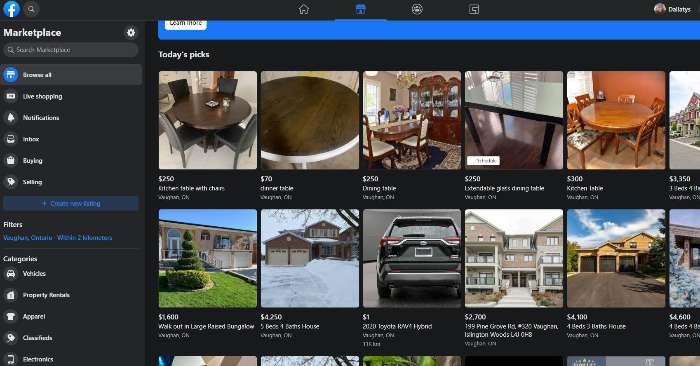 As you might expect, you need a Facebook account to access this platform. Unlike other sites like Kijiji, you can add a shop to any page you own and administer.
Having a business profile means that you can involve or hire people like editors and writers to create content on your page and build a better brand presence at the same time.
Every Fb user can also access the Facebook Marketplace from the link in the home feed. Here you can create a simple ad.
But you will not benefit from all the features that an online shop has, including choosing a checkout method or managing returns.
Facebook doesn't interfere with any transaction. It is up to you as seller or buyer to arrange payment. As a security measure, try to meet the people you are dealing with in a public area and make sure you test whatever you are buying. You play nice too 😉
2. eBay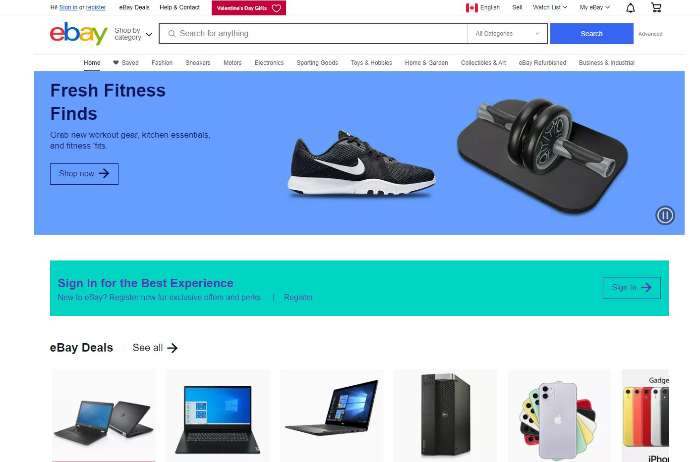 There are thousands of sites like Kijiji, but eBay is for sure the biggest one. Technically, Kijiji and eBay are the same company-The former became an eBay subsidiary in 2005. But eBay lets you build your online store, duplicate your listings, or copy another seller's ad to sell that same item as well.
After you create an account, you can start selling your products. But at first, you will get a monthly selling limit of around one or two thousand dollars-it constantly changes. As your volumes increase and customers leave positive feedback, you will be able to list more items and increase revenues.
3. Groupon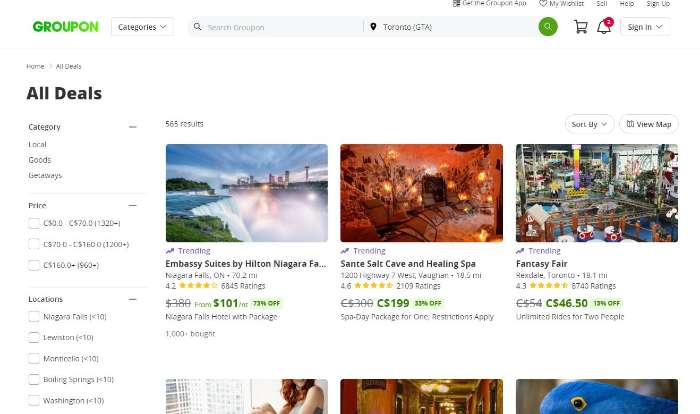 Groupon is a site for placing offers that attract people only based on price. Like on other sites like Kijiji, the ads compete on price but usually try to involve more people at once to lower the cost per item.
In other words, Groupon is a platform for selling stocks items and services. Or old goods that are still available in large quantities.
Customers can only buy a deal if they meet the purchase criteria, as Groupon also enforces some limitations. For example, offers available to new clients only or one purchase per person.
But the platform will sponsor your ad depending on your campaign budget. Because you see, Groupon takes a cut of every sale you make. And you can decide how much money Groupon gets to a degree.
4. Letgo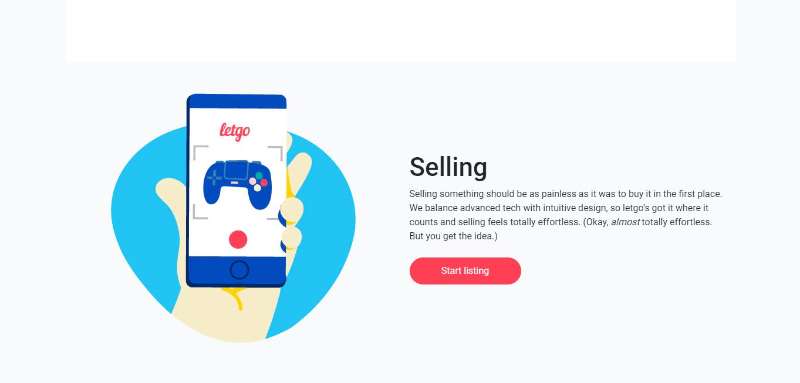 Letgo's mission is to make selling as painless as possible. In practice, you can create posts, and potential customers message you. So, by now, you probably think that it is no different from other sites like Kijiji, eBay, and so on. Well, not exactly!
Although it is mainly available in Norway, Spain, and Turkey, Letgo also has an English page. Its perks include posting unlimited pictures and auto-deleting plagiarised posts for better customer protection.
5. Geebo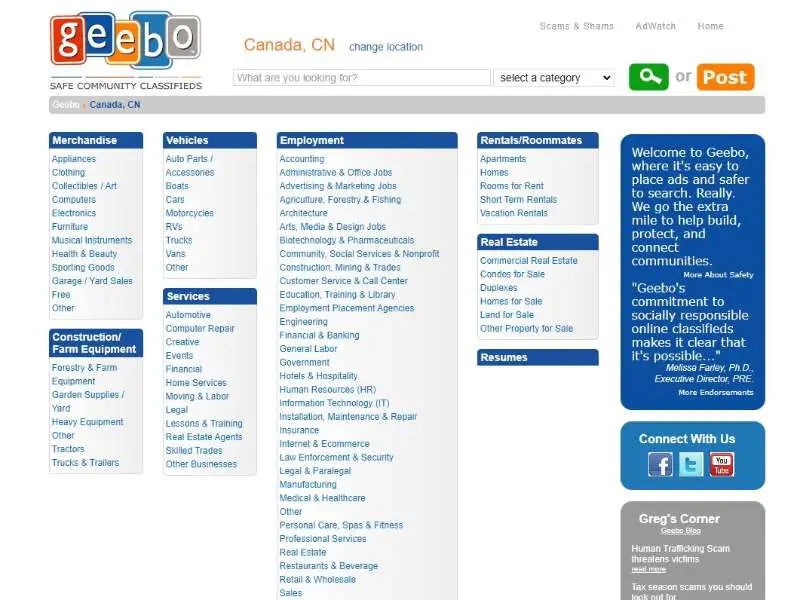 Geebo lets everyone create free classified ads without registration. It is only available to sell products and services to US citizens. But it also includes categories like real estate and rental/roommates ads.
This site makes contacting the seller as simple as possible through pop-up windows that ask for the potential buyer's email address. Then, the system forwards the message to your inbox. Geebo protects your data and makes the transaction as smooth as spam-free.
6. Craigslist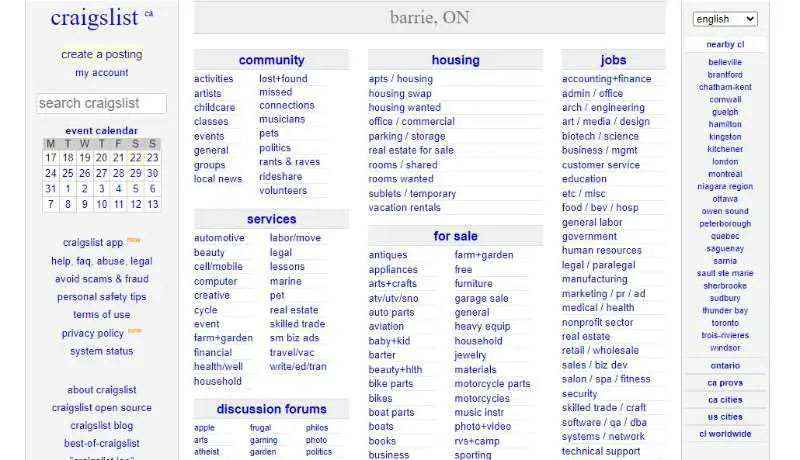 Craigslist made history offering a digital place for people to sell their used items without paying any fee. Unlike most sites like Kijiji, Craigslist is all about selling locally. That is why you find dedicated pages for each location.
Most legitimate buyers will buy and pick the item themselves. I say this because Craigslist is also known as the ideal scammer's world. If the buyer does not pay with cash in person, the chances are that the buyer will try to reverse the purchase afterward by calling in fraudulent activity with bitter consequences for the seller.
7. Oodle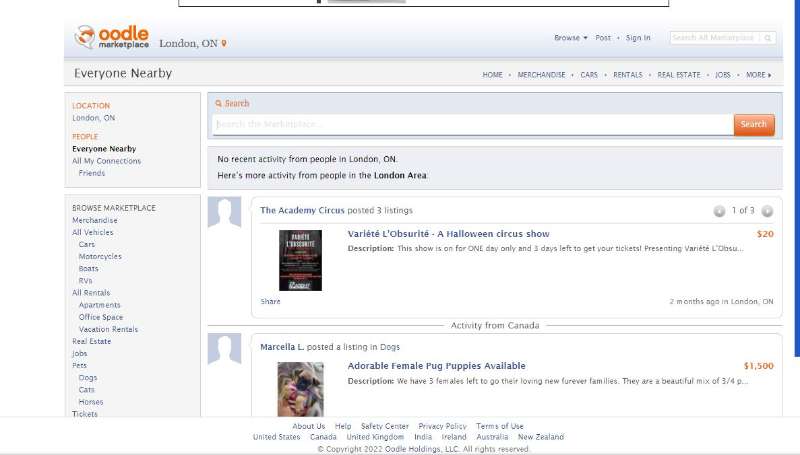 Oodle is one of the oldest sites like Kijiji. Since 2008, this site gathered countless ads from the US, Canada, India, Ireland, New Zealand, and the UK to form a big online market with over 15 million monthly unique users.
Oodle lets you sell merchandise, vehicles, pets, and services with ease, thanks to its clean design. The site also offers job listings and tickets for several sports and entertainment events. Above all, it is free to use and easy to navigate.
8. VarageSale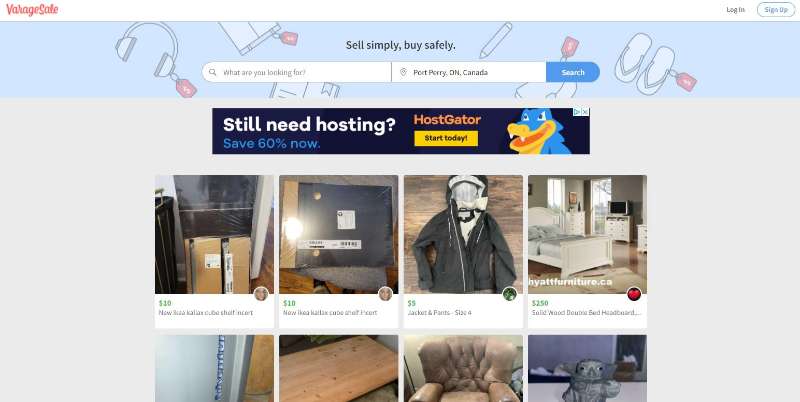 Tami Zuckerman, a kindergarten teacher, started VarageSale in 2012. And later, VerticalScope acquired the business in 2017. Since then, the designers have enhanced the site's appearance. But VarageSale still provides a simple platform to list second-hand items and sell them to US citizens. So not that much has changed after all.
Before using VarageSale, signing up is necessary. You can either choose to sign up with Facebook or an email. The site posted a safety pledge to help buyers and sellers make safe transactions.
9. Etsy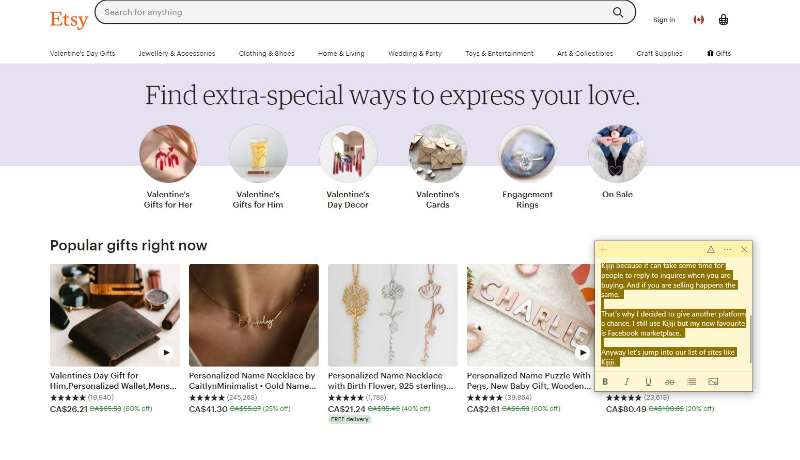 Unlike other sites like Kijiji, Etsy aims to involve creative sellers that make their own products. Most sellers specialize in specific techniques to sell unique, hand-crafted items.
Of course, you can sell digital goods as well. Shops are unlimited with the number of listings they can have. Plus, you can see how many listings share similar products and gauge the competition.
Etsy is the ideal platform to sell to specific niches. But picking a niche does not limit your activity as long as the item falls into a different category. By the same token, sellers should focus on their SEO (search engine optimization) to help potential buyers find their products. Some products can show up on Google and other search engines if the content is relevant.
10. Lespac.com
Lespac.com resembles other sites like Kijiji, but it is in French. The sites focuses on ads for people living in Canada (Gatineau, Laval, Longueuil, Québec, and Sherbrooke.) This site also comes with its app, available on the Android and Apple stores.
Professional sellers can list more products for a monthly fee while everyone can, at least, post one ad for free as private citizens. Limitations depend on the category you choose. But the site is intuitive and will guide you step by step.
11. BackpageClassifieds.com
Backpage used to be a dating ad network? This was it! But in 2018, the US Department of Justice seized the original Backpage.com site. The website listed sections for jobs and gigs, selling things, and so on. Plus, it had an adult ad section where you could find strippers, escorts, and so on. They were legal services at first, but soon the listings went out of hands.
Backpage's founders were charged with pimping charges as the news on TV sparked political debates and several arrests.
Today, you can find another site called backpageclassifieds.com that offers the same capabilities, and you can also place ads. I wanted to tell you their story first so you know what was happening with this site. It doesn't hear to try but keep an open eye. It is better to deal only with trusted websites.
12. BuyBackworld
Buyback World is another site like Kijiji. However, it offers a few perks that Kijiji lacks. For example, you can sell gift cards online for instant cash.
On the other hand, Kijiji is not a site to do such transactions safely.
Last thoughts on sites like Kijiji.
There you have it, 11 sites like Kijiji to make extra cash in Canada selling stuff. You now have access to a broader marketplace and reach heaven more potential clients.
Have fun, and don't wait for a second. Start selling today!!
You may be interested in how to make 2000 by tomorrow Check it out