If you have a gift card lying around and don't know what to do with it. Keep reading; I will show you how you can sell your gift card online and get a direct deposit instantly.
Every year, $3 billion worth of gift cards go unused. Chances are that one of us has contributed to that staggering number.
Can you imagine how much can be done with so much wasted money? It is time to change that!
So let's get started.
How to sell gift cards for instant cash
Selling your new or used gift card for cash is easier than you think. There are a plethora of sites that will trade your card and will make an instant cash deposit. 
However, if you prefer to take the matter into your hands and do it yourself, you will find some creative ways here to do it your way. 
There are some points you will need to consider. Especially, you need to pay close attention not to get scammed as the gift card world tends to attract scammers. And you don't want to deal with one of those. 
The easiest way to sell your gift card is by dealing with well-established gift card exchange websites. They have everything in place to make your transaction smoothly.
This post will cover the most reputable and the ones that will give you the most for your balance. I have used some myself, so your bet will be safe.
How to avoid getting scammed when selling your gift card online.
The first thing you should do to avoid being scammed is to acknowledge that scams happen. Once you realize it could happen to you, you will be more alert to the signs that will uncover a scam.
Some gift card exchanges ask you to email them your card. Since anyone can find and use a gift card because they don't have pin protection, you have to be alert to whom you email your gift card.
If there is little to no reference from an exchange website, I will stay away from them. Don't fall into the trap of saving some pennies and running the risk of losing your money.
Use one of the well-known sites on this list, and you will be safe.
Can I redeem a low-balance gift card for cash instantly?
Some websites will allow you to redeem low balances of already used gift cards, Whereas others require a minimum balance to accept the transaction to sell your gift card online for instant deposit.
Can you return a gift card?
The easier way to cash out your gift card is to return it to the provider. However, sometimes it is easier said than done.
If you haven't used the gift card, you should check first with the provider to see if they will return your money.
Some retailers like Target will accept the card back, provided you have the receipt and haven't used the gift card. Keep that in mind for when you are going to gift someone else. You should give them the receipt in case they want the cash instead.
Highest-Paying Places to Sell Gift Cards Online for instant cash
I showed you the most trusted sites to sell your gift card; let's now compare their return and how much you can make with each one of them. And of course, find the winner for the highest paying place to sell your gift card.
If your gift card is Amex, you should also check this post: How to cash out your American Express Gift Card
Where can I sell gift cards for PayPal cash?
Most of the gift card exchange sites mentioned here will deposit to PayPal with only some exceptions. PayPal is one of the preferred payment options online. And businesses know that. That is why it offers as a way to withdraw your payments.
Is reselling gift cards legal?
Selling your gift cards online or online is entirely legal. If you are doing business reselling gift cards, however, you will need to establish a legal entity(like a corporation or LLC). 
Why? Because you will be conducting business, you must pay taxes on your profit. It is illegal if you don't declare the income you generate from commercial activity. 
On the contrary, if you are only exchanging a gift car you receive for your birthday, it is completely legal to do so. 
Best sites to sell gift cards online for instant payment.
The first three websites will help you sell your gift cards for instant cash. And you will be safe to work with them without being at risk of getting scammed.
Gift Cards are a common target for scammers, so I want you to pay close attention to the sites you choose.
However, if you are unsatisfied with the top-selling gift card websites, you can safely choose from one of the followings.
You can keep looking for additional sites to sell your gift cards or look at alternative ways to get cash for them.
1.CardCash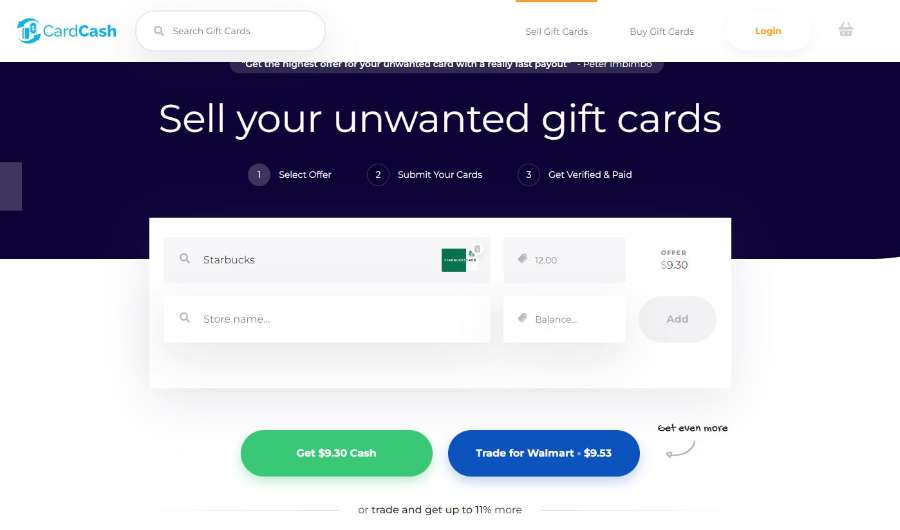 CardCash will allow you to sell your gift card online and buy gift cards. They have served more than 50 million people like you since they started.
They are a socially responsible company that values its employees by incentivizing their education and offering good benefits. I am bringing this up because it might be of interest to you to know that you will deal with a company that doesn't care only about profits but also about making an impact on society. Which, to me, is an added value.
Its mission is not to let anyone pay the total amount for anything. To fulfill their purpose, they turn unused gift cards into huge discounts.
CardCash runs a gift card discount. When you subscribe, you get a notification of the event. That will keep you in the loop and take advantage of their discounts.
Now to our point, how does it selling your gift card to CardCash work? That card you have been saving because you don't go to the store and won't use it, CardCash will turn it into cash for you.
The best part is that you can sell your gift card without mailing it, with only some exceptions.
More about CardCash
You won't get the total dollar amount on your gift card. For instance, I have $12 left on a gift card from Starbucks. In return, CardCash offers me $9.30. You have the option to exchange it for a different store gift card or get cash.
To cash out, you can select from a mailed check, ACH Payment, or Paypal and get a direct deposit instantly. If none of these options works for you, you can choose a gift card from your favorite store.
If you select a gift card from another store instead of cash, you get more for your money. It has to do with the fact that there are fees that need to be paid when it comes to banks and Paypal.
Lastly, if you ever need to buy a gift card for someone else, CardCash is a way to save on your purchase. The fees they charge when people sell translate into savings for people buying.
Key benefits of CardCash
Socially responsible company
Second highest paying gift card exchange
2. Raise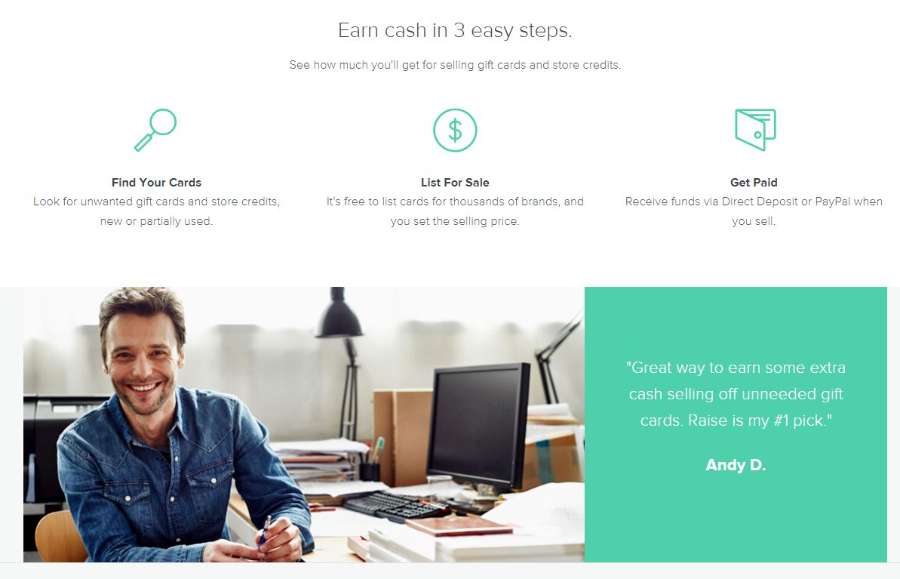 Raise is the most popular website to sell your gift card online for cash instantly and also buy gift cards. It has been in business since 2013, meaning they have been around for quite some time.
The raise selling process is not as straightforward as CardCash. Firstly you will need to create an account and verify it. Once you complete a listing form, they can ask for information like your ID or a gift card picture.
The purpose of this scrutiny process is to make sure that their marketplace is free of scams.
You may also have to wait a hold time some brands impose on their gift cards.
It could take 24 to 72 hours for the listing of your card to be active—quite a process!!. However, if you are not in a hurry to sell your gift card and get an instant deposit, Raise has some pros.
What pross? They offer cards from over 1400 retail stores. Also, you can expect to know the exact amount they will charge you for selling your gift card with their flat commission rate.
Not enough to get your attention? They also have a referral program that offers $5 for you and $5 for your referee.
You can also download the Raise app if you don't want to use your PC or laptop.
Key Features of Raise
Highest paying give card exchange
Most popular give card exchange platform.
Earn $5 when you refer your friends
3. GiftCash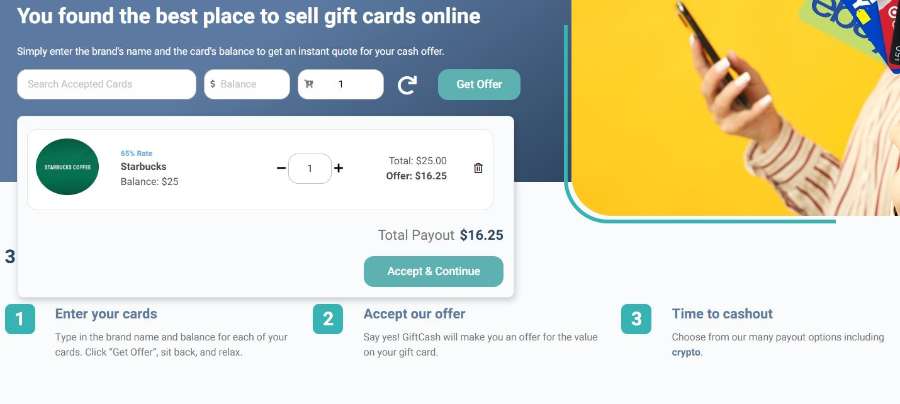 GiftCash is another place where you can sell your gift card online for an instant cash deposit.
However, GiftCash is only available in the USA and Canada, so you can skip this website if you are not living in any of these countries.
They only accept 40 different gift cards brand from the selling part. So you will need to check first if they take your credit card.
If you want to buy a gift card from GiftCas after you have to sell yours, they have over 150 retailers to choose from.
It could make sense to you to rebuy a gift card from them because you earn cashback rewards that apply to your next purchase.
There is a minimum of $25 and a maximum of $2000 to the value of the card you can sell. Some exceptions were the minimum is $100 for iTunes, Air Canada, ad Petco.
You can benefit from their bulk program and get more from your money if you sell in bulk.
Although it might look like a small place, they offer some benefits that make them stand out from its competitors.
While you look if your card is available, you can also use their tool to check how much your gift valance is.
Key features of GiftCash
Geographical restricted to USA and Canada
Huge variaty of retailers
4. ClipKard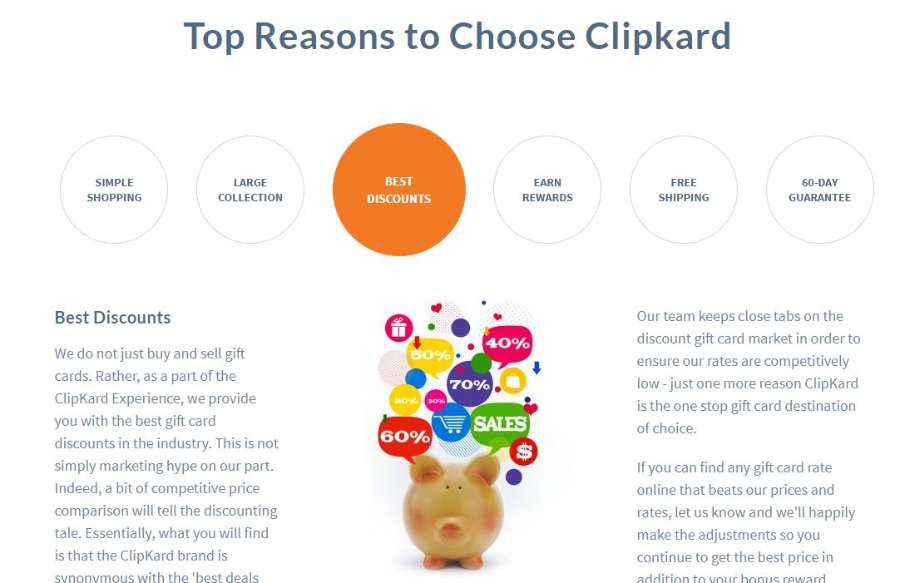 ClipKard is the fastest-growing website for gift card exchange online. To start, you must register and fill out a brief form to input your gift card detail.
The company will send you an offer based on the card's value and retail brand.
After you receive an offer, you need to ship them your gift card. Shipping costs will apply unless you opt for USPS First Class mail. In the last case, ClipKard will assume the cost of shipping.
Once they receive the gift card, you can expect payment within one business day if you select PayPal. If you prefer to check instead, it will take up to 7 days.
For every transaction you complete on ClipKard, you will earn reward points which will translate into a future $10 discount once you accumulate 1000 points.
The biggest perk of ClipKard is their 60-day guarantee on the total value of your cards if you are not satisfied with their service.
Key features of ClipKard
You need to ship your gift card to them
Earn rewards toward your next sell or purchase.
60 day guaratntee program
5. CardSell
CardSell is an app available for Apple devices to trade your gift card for cash. At the moment, it is not available for Android.
The selling process is quick and easy. Simply enter your gift card details to get an instant offer price. Within 48 hours, you'll receive payment through PayPal.
CardSell is one of the fastest methods to sell gift card online instantly, but the payout price may not be as high as other options.
Key Features or Cardsell
App only available to Apple devices
6. BuyBackWorld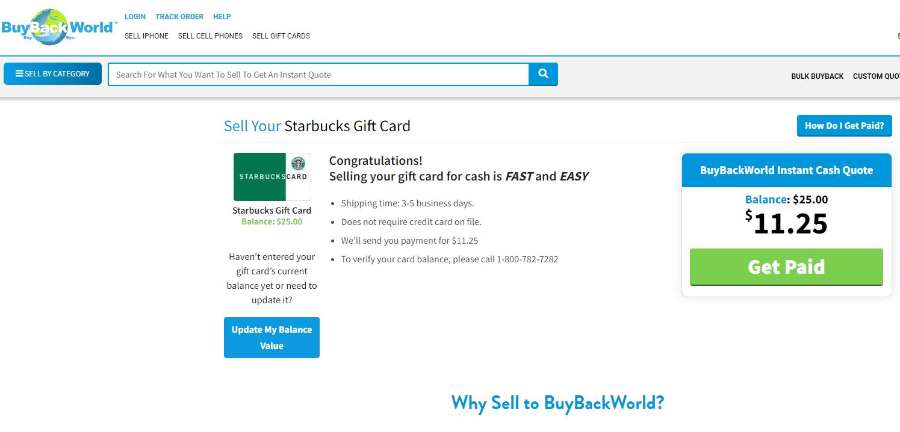 BuyBackworld has a lot to offer to the online marketplace, and one of them is trading your gift card for cash. It is not the most profitable option. For the same $25 Starbucks, you can see you will only get $11.25.
Selling your gift card in BuyBackworld is simple. Firstly you will need to get a quote for your card. Then is time to ship them your gift card using their prepaid shipping label. Free of charge to you.
Once they receive your mailed gift card and check the card valance, you will receive a payment.
There is a minimum value they accept, which depends on your card merchant. You can get up to 90% of the value of the balance of your gift card. BuyBackworld has a lot to offer to the online marketplace, and one of them is trading your gift card for cash.
There are different payment options available. You can select what works best for you, either PayPal, a Direct deposit PrePaid Debit card, or a gift card from BuyBackWorld.
Your sales payment will arrive within two business days after everything is clear.
Key Features of BuyBackWorld
You will need to ship your gift card
7. Prepaid2cash
Prepaid2Cash is a totally free application to trade your gift card for cash. You can receive your payment via MasterCard, Visa, or American Express. It is Only available in the USA.
They accept gift cards and prepaid cards. You need to download the app to get started. Once your card is verified, you will receive payment instantly. It takes only 15 minutes for your funds to hit your bank.
Key Features of Prepaid2cash
Available only in the USA
8. GameFlip
GameFlip could sound like an alien on this list, but I couldn't leave it out. Although you can't sell any gift cards on their platform, if video games and related subjects are your things, you will find this site useful.
For example, you can sell your unused Xbox, app store, or google play app on GameFlip.
To withdraw your money, you will need a digital wallet. They accept Skrill or Bitcoin. The fees are clearly outlined. They will charge you 8% on all your listings.
Key features of GameFlip
Ideal to sell your iTune gift card
How to sell your gift card online and receive payment in Bitcoin
Of the sites listed here, Gameflip allows you to withdraw to Bitcoin. There is no preset feature. That is why you need to apply for it.
The process is simple. However, before sending your application, you must have sold at least 20 items on the Gameflip marketplace.
Top Gift Card Exchanges Compared
| | | | |
| --- | --- | --- | --- |
| Website | $25 Walmart gift card | $25 Starbucks gift card | $25 Itunes gift card |
| CardCash | $21.50 | $19.38 | $18.75 |
| Raise | $21.25 | $20.36 | no accepted |
| GiftCash | $21.50 | $16.25 | no accepted |
| ClipKard | $17.84025 | $15.29 | no accepted |
| GameFlip | $22.49 | $14.62 | $21.89 |
| BuyBackWorld | $17.50 | $11.25 | no accepted |
How much money your gift card can earn.
And the winner goes to!!! Raise. Raise is the highest-paying gift card exchange, followed by CardCash.
If you have an iTunes gift card, your best option is GameFlip. You will get the most out of your money.
Other ways to sell your gift cards online for instant deposit.
Now, some options are available if you want to take the matter into your own hands. Let me be clear here. I don't recommend you sell your gift cars by yourself. There is no point in running the risk of losing your money when there are professionals who take care of it.
However, I understand your inclination to do it yourself.
Sell your gift card on the Facebook marketplace.
You can advertise your unused gift card on the Facebook marketplace. To ensure your transaction is successful, you should meet with the buyer and clarify things.
Check your balance in front of each other and only handle the gift card when you receive the cash. Something like, you give me, I give you situation.
In the end, you will have to offer some advantages for the buyer, like making some discount. Otherwise, who would buy something for the same retail value if they could get a gift card anywhere they go?
I won't mention sites like Kijiji because you can't verify buyers' identities as you would do on Facebook.
Ask friends and families.
This is the first thing I would do. Ask a friend if they might be interested in buying your gift card. Something as simple as that could save you money and be even easier than the other options available.
Last thoughts on selling your gift card Online and get Direct Deposit Instantly.
There you have it. I have covered all you need to know to sell your gift car online and get a direct deposit instantly.
The main idea is to use one reputable gift card exchange website that will reduce the chances of getting scammed and losing your money.

Some sites are only available to the USA and Canada, but most have no geographical restrictions.
You might be tempted to DIY the selling.
That is why I provided some ideas to do it safely. However, I only recommend you ask friends and family instead of going on Facebook or eBay.
Topics you might be interested in :
Get free money for signing up.