If you have tried Sociaty6 or Redbubble without success and are looking for alternatives to these print-on-demand sites stay around. I am about to show you 15 sites like Sociaty6 and Redbubble to turn your luck around and finally make those sales.
Or simply you are looking for features you couldn't find to love in Sociaty6 or Redbubble. The good news is that your print-on-demand drop shipping business won't stop for a lack of good POD sites. There is plenty of these sites and each one has its own strength and weakness.
This time will be up to up which one will be the best fit for your business. From a huge variety of products to fine art, the following sites make a fantastic substitute for either Sociaty6 or Redbubble. Or simple an additional partners to your dropshipping business.
Let's dive right in!!.
The best sites like Society6 and Redbubble
1. Printful


Printful is a site similar to society6 and Redbubble where you can make your designs and upload them. Then sell them as physical products and prints on backpacks, t-shirts, mugs, or any product that can be customized and people are looking for.
On Printful, there is no need to stock an inventory. They take care of all the logistics of fulfilling an order when you make a sale through their website.
Printful prints the design on the t-shirt, or any other product of customer's choice and takes care of the shipping and all the logistic.
They ship the customer's order with your branded logo, giving them the impression that they have directly bought from you.
There is no monthly fee and no sign-up fee for opening an account. After you sign up, you can create your store, upload your designs, and start selling.
Even though Printful does not have as many goods as its rivals, it is the go-to site for most print-on-demand businesses.
Moreover, the quality of its products has fantastic reviews. You need to rely heavily on this since you want your clients to return for more.
You will be delighted to learn that the printing won't wash off because the shirts are sturdy, and your customers will be pleased when they receive their shirts on time.
Although no printing or dropshipping company is perfect, the positive reviews of Printful outweigh any negative aspects compared with its competitors.
2. Zazzle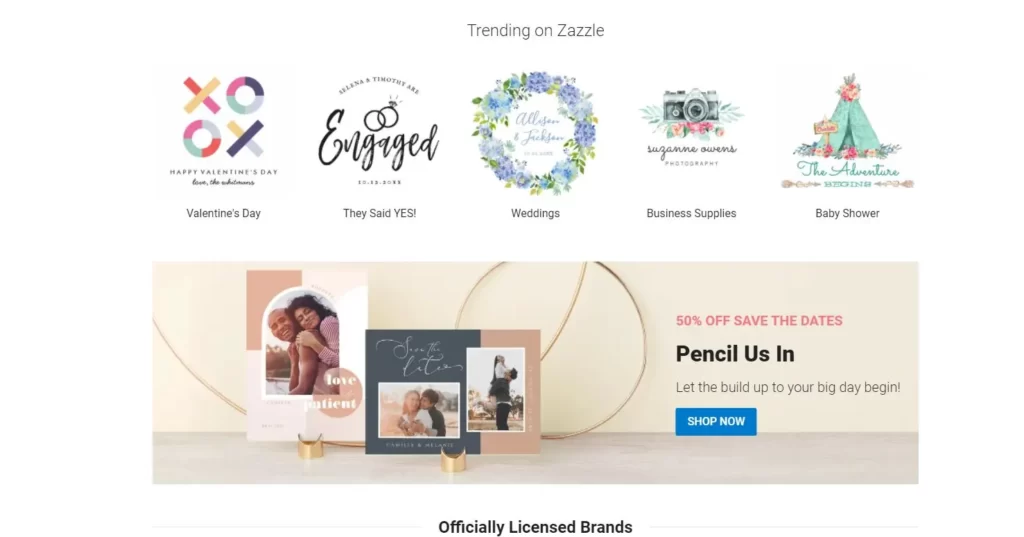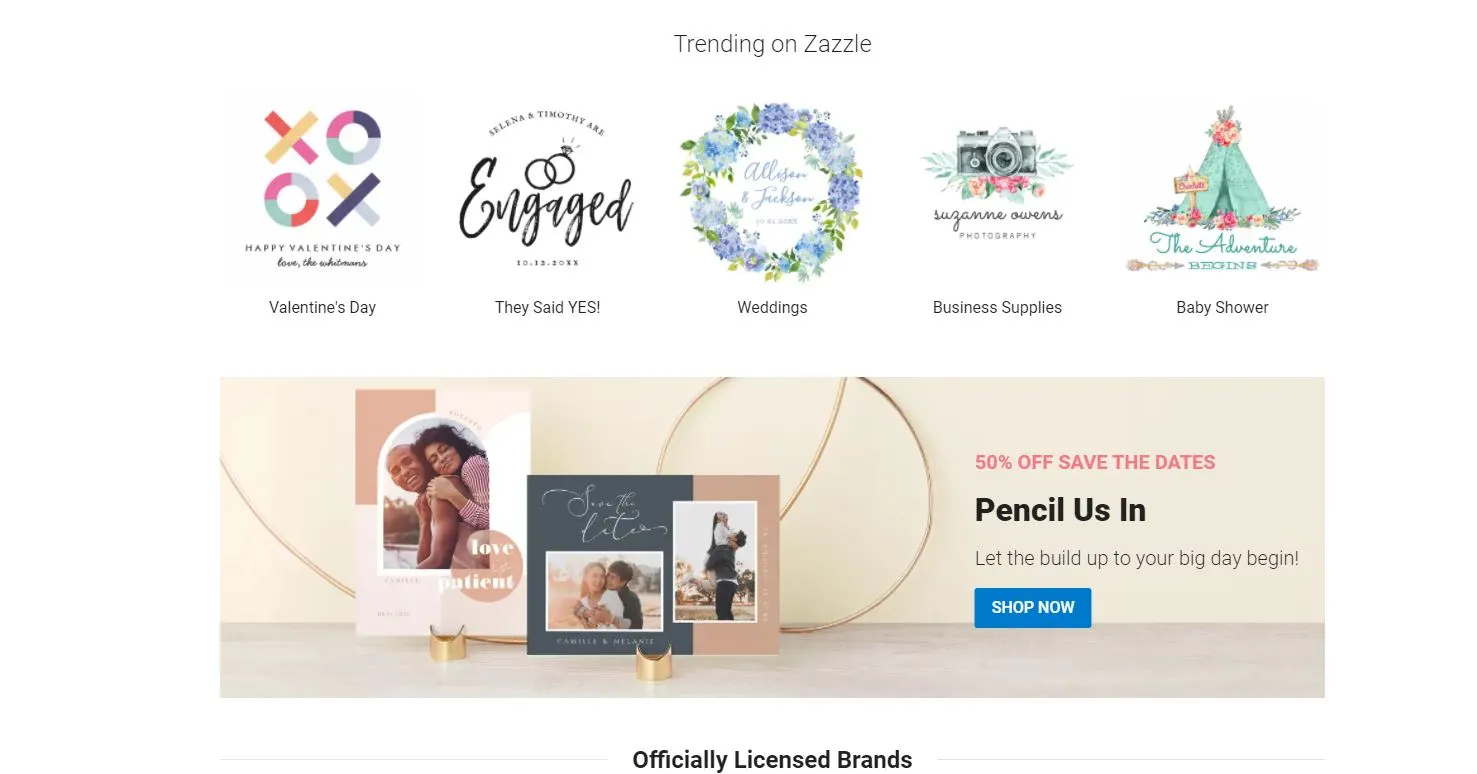 There are many products type on Zazzle through which you can take a start like caps, t-shirts, flip-flops, tumblers, coffee mugs, water bottles, rubber stamps, teapots, wine bags, binders, iPhone cases, tote bags, luggage tags, hoodies, and much more.
With such an extensive range of products, you can create an entire wardrobe that you can sell with your brand logo and design without stocking any product.
Zazzle offers a wide variety of templates for different events. But its service of photocarding is a bit limited.
However, Zazzle is a solid photo card service with unique designs and card selections for holiday template options. Zazzle outsources the printing tasks, and hence the quality of the print depends on the printer that handles your job.
You don't have to pay any upfront fee or sign up fee. You only need to upload your designs and sell them. The royalty rate at Zazzle is $5, and you can select your royalty rate, which you can set up to 99 percent.
While considering shipping charges and tax, Zazzle's pricing is reasonably decent.
Individual products can be pricey as compared to the bulk due to shipping.
What makes Zazzle stand out is that you are not required to order according to the minimum number of packets; hence you can order the exact number of cards you need.
It provides 12 different card options depending on your card design. A wide range of products, flexible markup, and high-profit margin make Dazzle stand out.
3. Teespring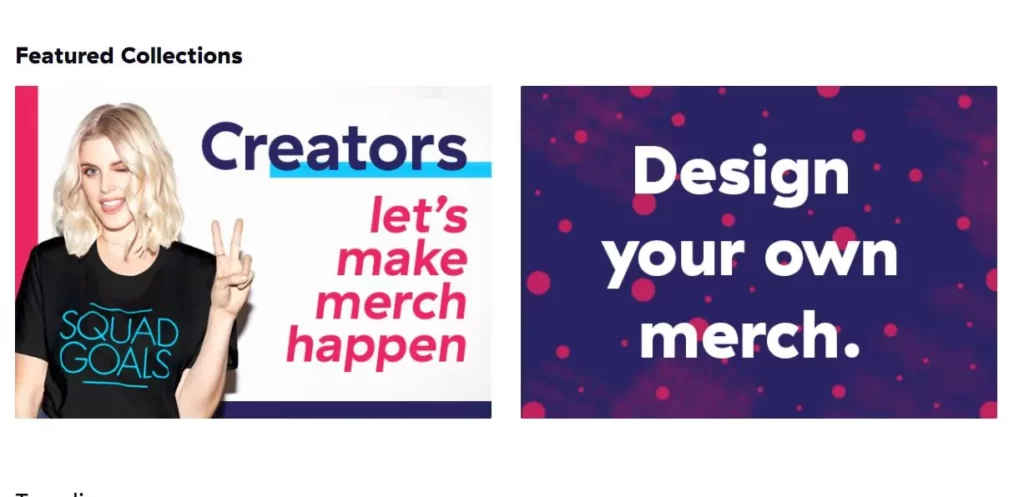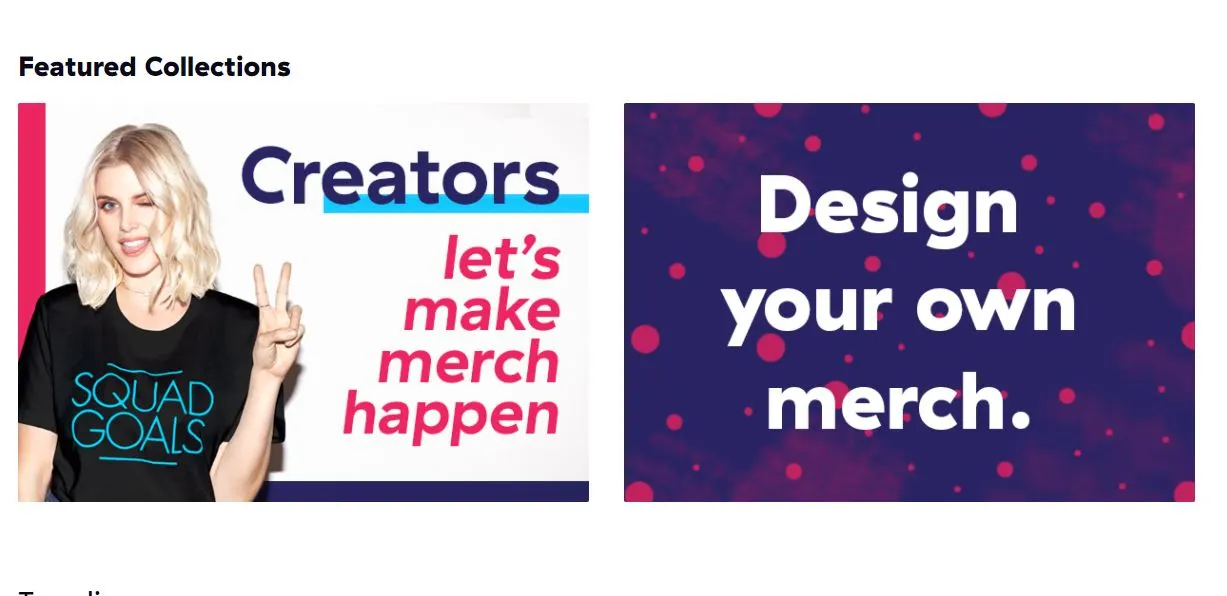 Teespring is a print-on-demand service famous for t-shirts, but it also allows you to make designs for beach towels, stickers, mugs, and other products. This simple online tool helps creators to make cool designs.
Like Sociaty6 and Redbubble, you are not required to store inventory. However, you need to market your product on your own. Teespring site provides you with the design link you promote with your social circle.
Like Redbubble, Teespring allows you to set your products' pricing and profit margin through a transparent base price.
Teespring focuses more on T-shirt printing and production. Teespring is among the best print-on-demand websites.
4. CafePress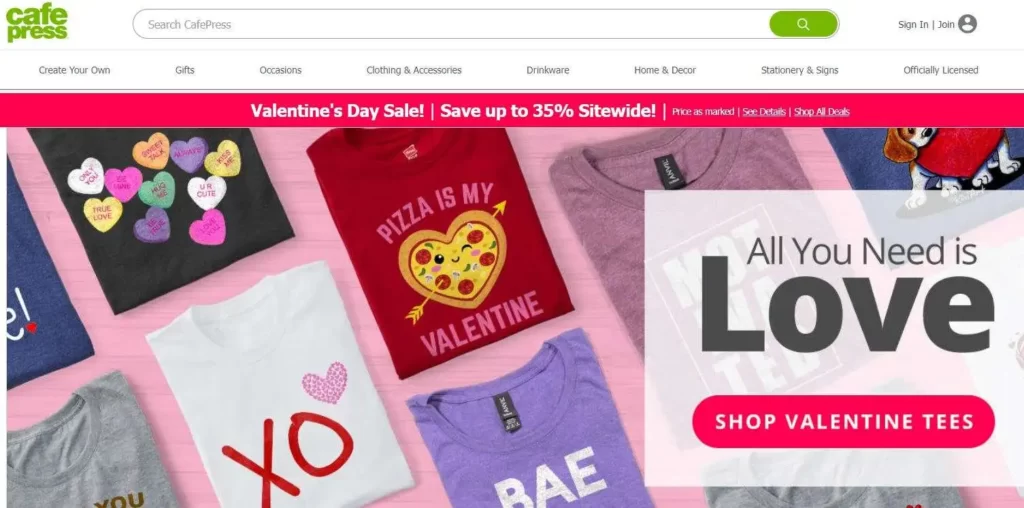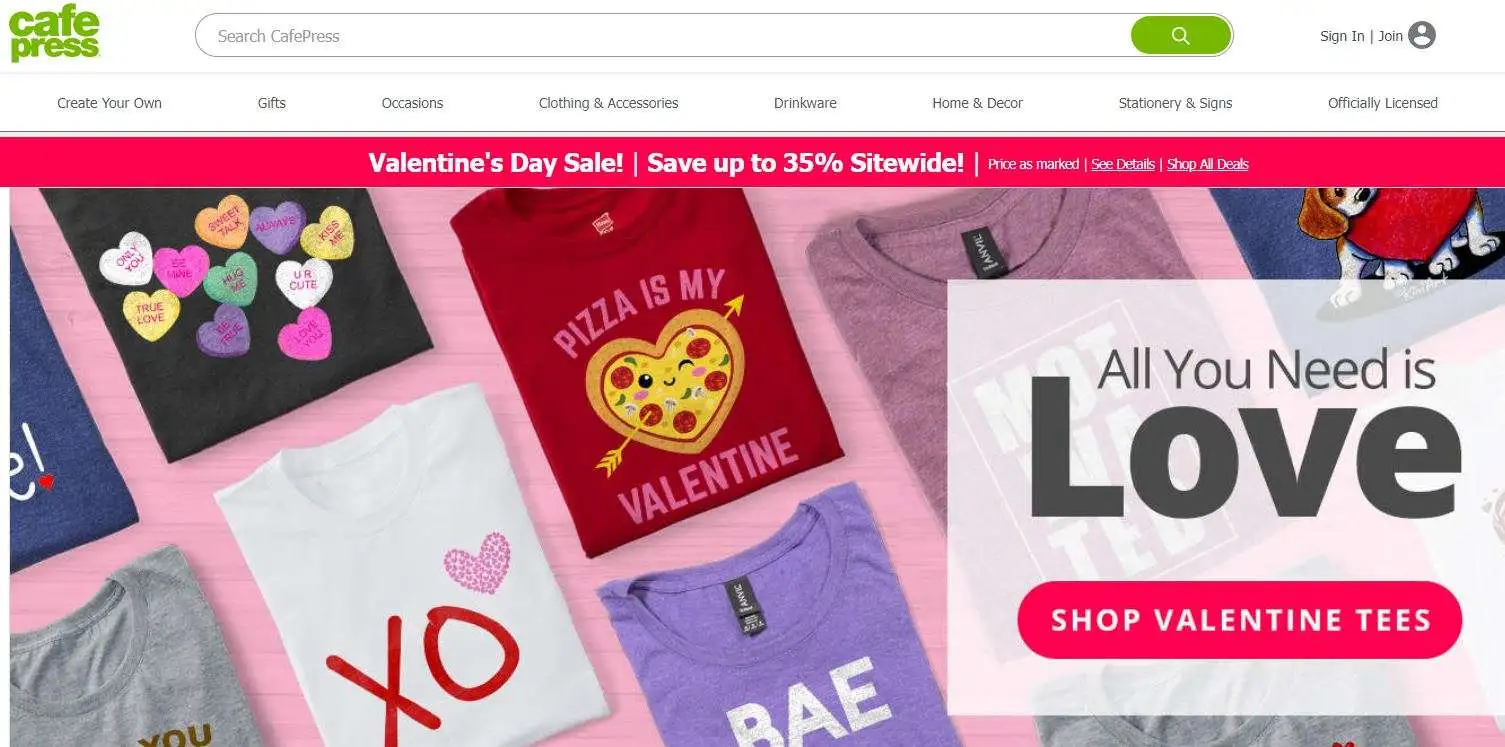 Cafepress is a site just like Society6 and Redbubble. It began in 1999 and is one of the oldest alternatives in the print-on-demand business. Even though CafePress is old, it's far from obsolete.
It provides you with a wide variety of products to sell your print-on-demand designs. This is why it has many visitors, i.e1.5 million.
Cafepress separates the sales that you gain through your shop from the deals that you get through the marketplace of Cafepress. The breakdown of the profit from these types of sales is as follows:
In the case of direct sales, you gain profit based on the markup price of the product.
When it comes to marketplace sales, you earn 10% of the product price on the marketplace. In addition, it also pays you a bonus if your monthly sale exceeds $100.
Opening a store on CafePress is free. You decide your markup profit on your own after factoring in the shipping and manufacturing cost.
The competition level and the bonus price on the sales through Cafepress make it stand out.
5. TeeFury
TeeFury works a bit different from its counter print on demand sites but, in essence, the same idea. The goal of TeeFury is to provide new t-shirt designs to pop-culture lovers.
Anyone can submit his design, but only the best one is selected for selling. The chosen t-shirt is sold for only one day, and then the subsequent design comes in the TeeFury gallery.
The price of each t-shirt is $12, and the artist gets a commission of $1 for every sale. If many customers like a design, it is sold again. On second-time sale, the cost of article and artist commission multiplies by two, i.e.$18 and $2, respectively.
With more than a million visitors in a day, successful Teefury artists earn hundreds of dollars from one design.
On the TeeFury site, your design gets a chance to be in the limelight for only 24 hours afterward, your design moves to a gallery. However, you can earn a handsome amount due to its huge traffic.
6. Printify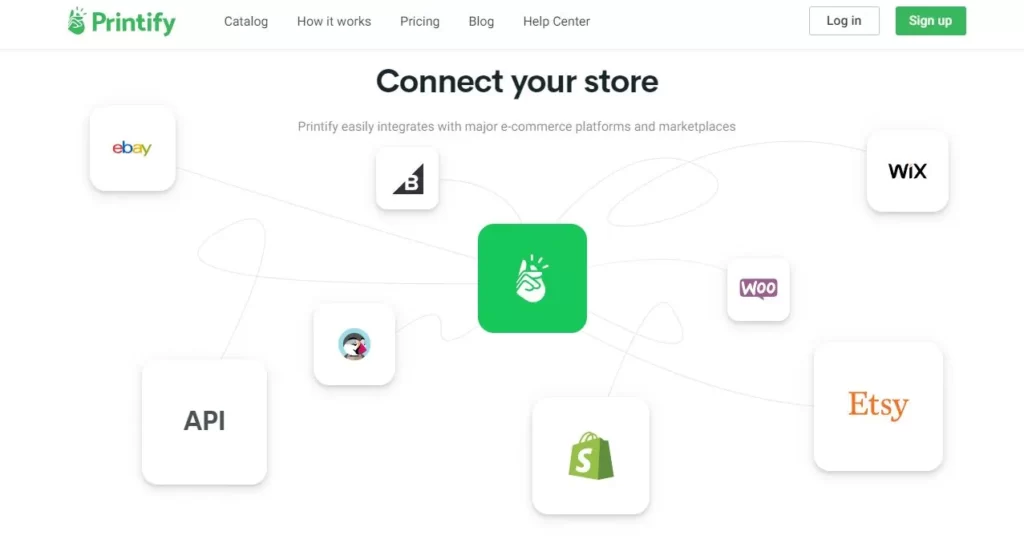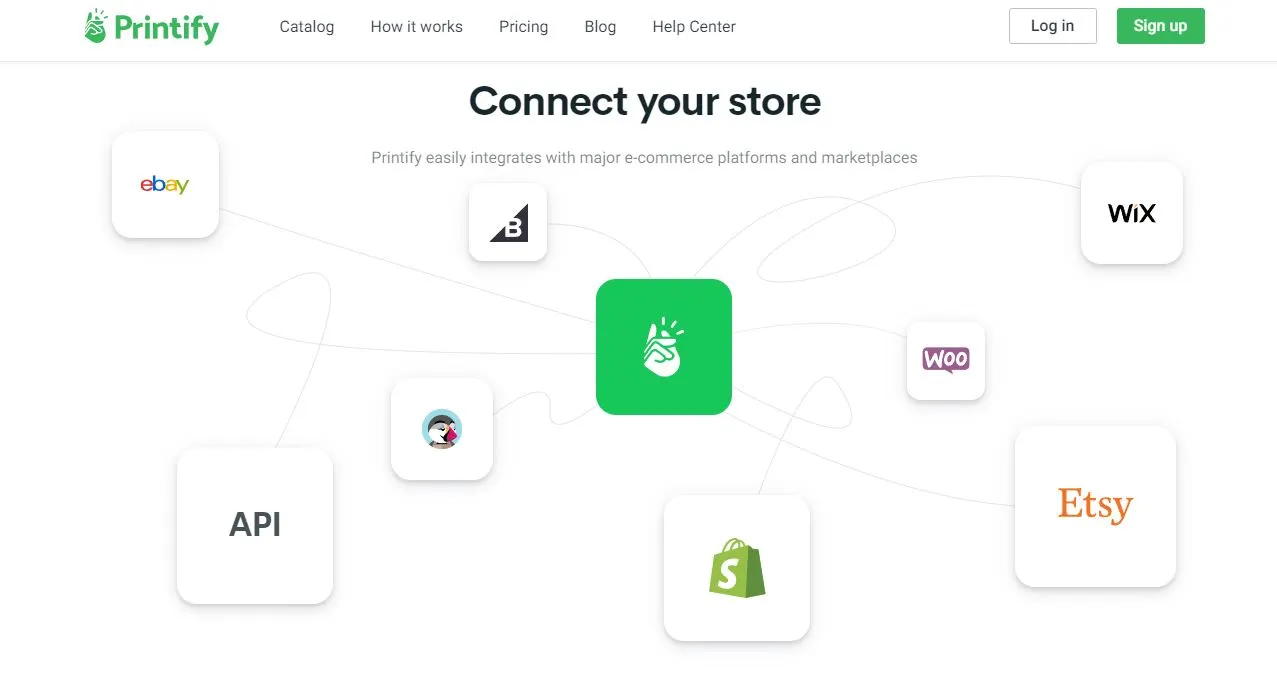 Printify provides you with a fantastic way to start your eCommerce business by selling your t-shirts without investing in any inventory, similarly to Sociaty6 and Redbubble.
In addition, to make sure that your product looks great, you can order a sample of your product before selling it.
Printify is a POD site that integrates with Shopify, and you can sell different products through your Shopify app. In addition, you can also incorporate your Printify with Etsy and Woocommerce.
Its ability to integrate with the eCommerce platforms like Shopify, BigCommerce WooCommerce, Prestashop, etc., makes Printify stand out from its competitors.
7.SunFrog
Sunfrog is a print-on-demand site to create and upload your design in a personal catalog. It also provides you with a social link to market your product through social media, and you can even run ads.
Sunfrog provides you with unique templates that help you create your customized design. It prevents you from the hassle of starting from scratch.
In addition, it also provides you an opportunity to market the designs that are already available on the Sunfrog site. On every sale you bring to the existing designs, you earn an upfront profit of 30% as a commission and a 40% commission per sale if the design is yours.
Moreover, it also provides you an opportunity to promote your products through email marketing campaigns.
You can enjoy tremendous benefits in terms of profit margin and product volume. Its attractive remuneration package makes it stand out.
8.FineArtAmerica
FineartAmerica is another excellent print-on-demand site like Sociaty6 and Redbubble focusing on apparel and bags, working as an independent artist? FineartAmerica allows you to sell your fine art prints and designs effortlessly.
Whether you own an art gallery or are a photographer, you can use the POD platform to sell your design or product to anyone without saving any inventory. With it, you can offer a wide range of products that include metal prints, bed sheets, coffee mugs, tote bags, greeting cards, phone cases, battery chargers, posters, and much more.
It even allows you to sell digital downloads of your creation. You can get a license for every design or article you create, upload and sell.
FineartAmerica allows you to sell commission-free original paintings. However, you have to manage shipping and handling charges.
What makes FineartAmerica stand out is supporting the sale of digital downloads. Buyers can get their design with just one click instead of waiting for days.
9. SELLFY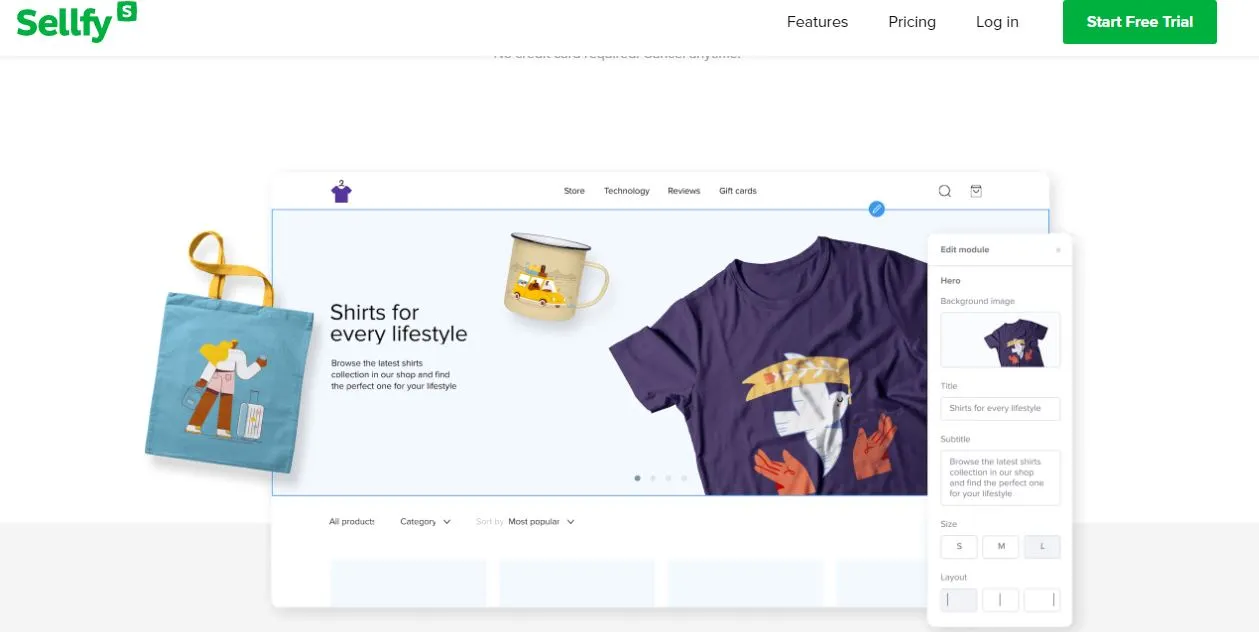 Sellfy is a Sociaty6 and Redbubble alternative that allows you to set up your eCommerce platform in just 5 minutes. This print-on-demand marketplace provides you with an opportunity to have more control over your storefront and the way to make and sell your designs.
You just need to use a drag and drop editor to create your store and edit your storefront.
With the help of Sellfy, you can sell digital downloads, physical products, POD products, and subscriptions. You can create and sell print-on-demand products through the Sellfy storefront, including apparel, bags, mugs, stickers, posters, and phone cases.
The process of uploading the products is exactly like that on other sites like Society6 and Redbubble. Hence, you can quickly launch your products.
Sellfy allows you to sell up to 10 products through its free plan, where you don't have to pay a transaction fee. However, if you want to unlock more features, you can purchase paid plans that cost you $29 per month. This helps you scale your business.
10. DESIGNS BY HUMANS
Most print-on-demand stores provide you with a quick startup, consisting of a few steps, including setting up the store, uploading the product, and getting to work without any hassle. However, Design by Humans gives you a premium feeling as you need to apply before opening a store.
If you are looking to create a design in the apparel niche, this is the one to go for, as you will not find the same depth in any other POD marketplace.
Another refreshing thing about designs by humans is that they have mentioned clear royalties.
Here artists don't compete for the price as rates are fixed in stone. Hence, here the competition is with the designs.
While T-shirts let you earn $3, you can make $4.5 from Hoodies, $4 from phone cases, $2.5 from mugs, $3 from long tees, and $0.50 from stickers.
11. MERCH BY AMAZON
Making money online through amazon comes with several options. Amazon has also started its print-on-demand business by creating Amazon Merch. This allows you to sell your designs or products just like Amazon products, and hence without packing or shipping a single product, you can reach out to millions of customers around the globe.

Amazon is the most competitive site for selling products online. To join Amazon Merch, you need to request an invitation to join.
It can be a very lucrative way to earn royalties from your designs if you get accepted.
What makes it stand out? Of all the sites like Society6 and Redbubble, Amazon Merch has the highest sales because of its huge audience.
12. DISPLATE
Displate is highly popular among users who look for sites like Redbubble and Society6. The reason is that Displate provides you an opportunity to sell your designs on high-quality metals prints. People can purchase and hang your creative metal piece in their living rooms.
You only have to open a Displate shop online, upload your artwork, set some price, and Displate does the rest.
The Displate has incredible potential when it comes to royalties. If the display marketplace has derived your sale, you earn according to the size of your art piece.
For small size, you earn $4, $8 for medium size, and $13 for large size print. However, if you generate sales on your own, you make 50% of the sale price.
This can be your ultimate print-on-demand site if you own a huge social media following.
Displate is highly competitive as it offers unreal designs and proves to be a great alternative if you are looking for sites like Society6 and Redbubble.
13. THREADLESS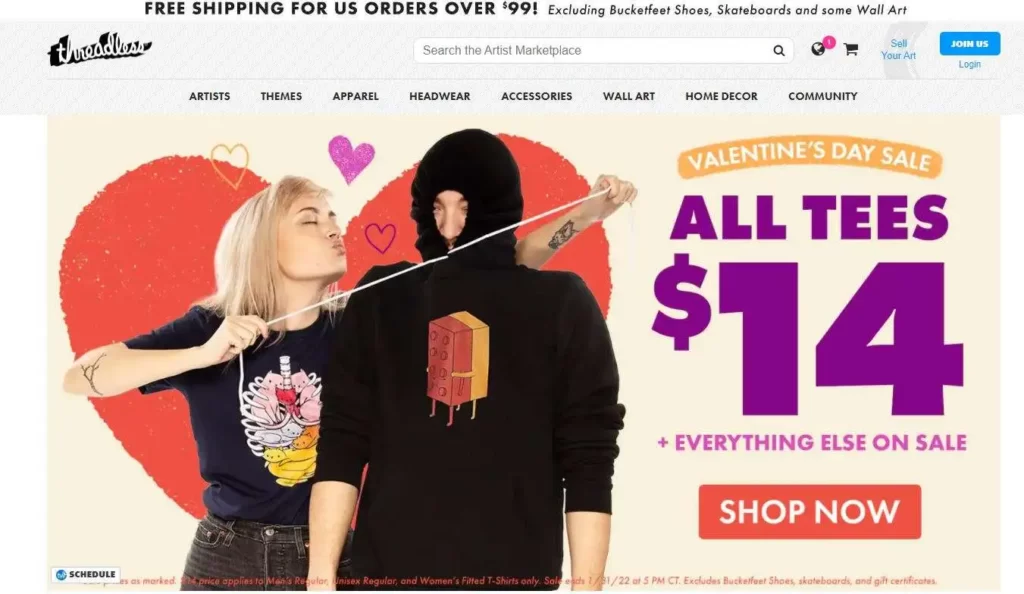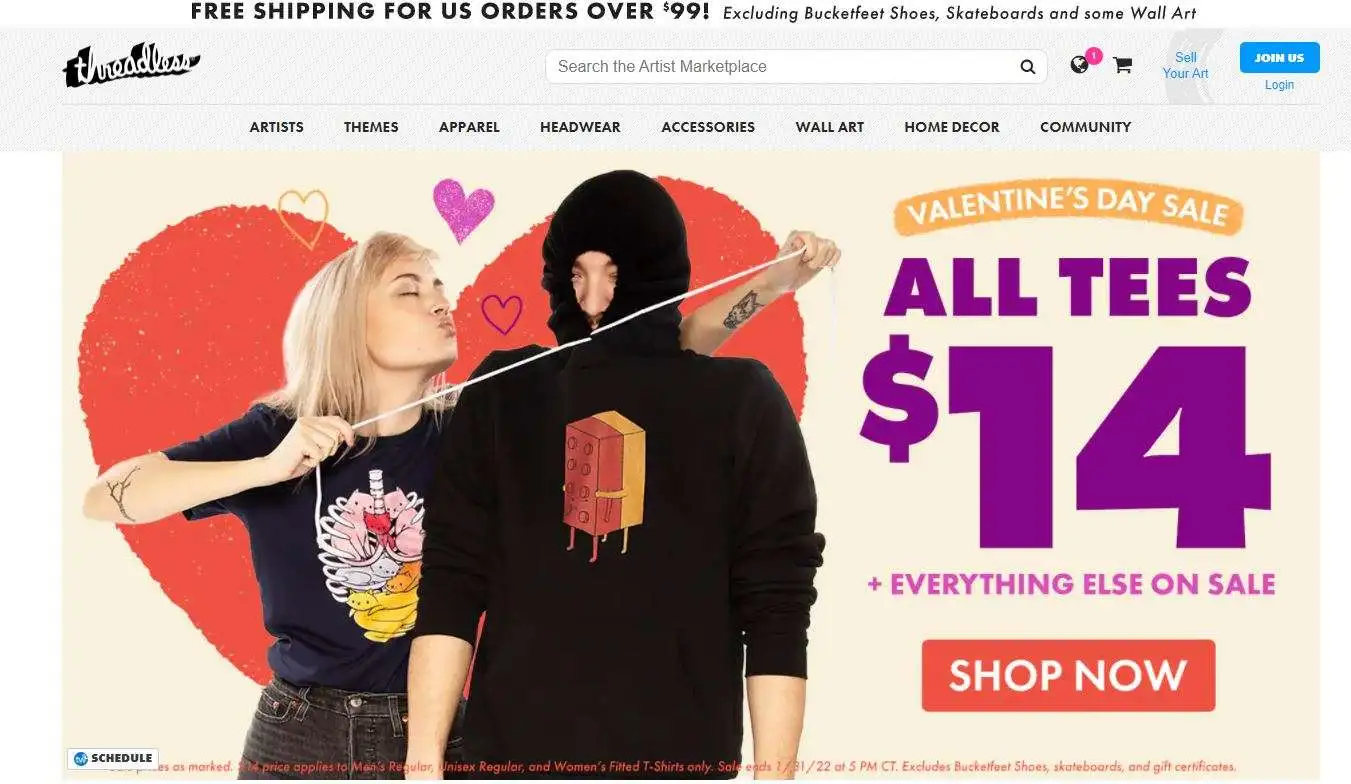 With a robust print-on-demand catalog and more than 200,000 artists, Threadless is a fantastic way to sell your designs without taking the stress of manufacturing and fulfillment. Threadless makes it one of the best sites like society6 and Redbubble
You may think it to be a copy of the print-on-demand sites. A fantastic feature of Threadless is that it provides you the control to customize your storefront according to your brand vision.
I think that even though this may appear to be just another POD marketplace on paper, it is a great way to create your little corner of the internet!
Each product has a base cost, and you can sell products at whatever cost you want and earn your upfront profit accordingly.
If you have any problem selling your designs through any other POD site, Threadless will help you out.
14. TEEPUBLIC
Want to look for some print-on-demand site that can help you earn more than most of the POD marketplaces? Teepublic is the way for you to go.
Teepublic, as the name suggests, is the site for selling t-shirts and apparel for women, kids, and men.
You may find many POD marketplaces that provide cost-effective solutions as a trick to attract customers. You may feel Teepublic services are a bit expensive. However, this helps you to earn more from your sales. You can design and upload more than 70 products here.
Furthermore, designs also get a discount for 72 hours after they are released, so they can be used to promote fresh releases and to drive sales through social media.
15. Spring
Spring is a print-on-demand service famous for t-shirts, but it also allows you to make designs for beach towels, stickers, mugs, and other products. This simple online tool helps creators to make cool designs.
Like any other POD, you are not required to store inventory. However, you need to market your product on your own. The spring site provides you with the design link you promote with your social circle.
Like Redbubble, Spring also allows you to set your pricing for the products and select your profit margin through a transparent base price.
Spring focuses more on T-shirt printing and production. Spring POD site is considered one of the best POD websites, just like society6 and Redbubble. Even beginner sellers can use it to sell their art pieces.
Last thoughts on Sites like Sociaty6 and Redbubble
There you have a vast list of sites like Society6 and Redbubble to start your print-on-demand empire. They all offer great features and services to run a successful business.
It is now up to you to decide the best option for you. Remember that despite these sites having millions of monthly visitors, you need to take care of your store's marketing. Your success will depend on many factors, but marketing is the number one key
Good luck and Happy Selling!!.