Have you heard of Redbubble before? If not, let me introduce you to one of the best online platforms to make money in 2021. Here you will learn how to make money on Redbubble from cero to complete income step by step.
Readbubble is an online print-on-demand marketplace where creative people like you can make extra cash. You personalize a product with your design, and when someone buys, Redbubbles takes care of printing your design onto the product and then shipping the final product to the buyer—making the process as passive as it could be for you.
Readbubble's business model is a mixture of dropshipping and print on demand. What makes this platform different than another print on demand is that you don't need to leave the Redbubble to set up your store. They have all the infrastructure to help you run your print on demand – dropshipping business. This is great since you just need to worry about what your truly: enjoy-creating great designs.
The other significant difference is that Redbubble is conceived for artist and have all the rules in place to protect your talent and copyrighted work. If you are an artist, you will thrive at Redbubble
This is the essence of Redbbuble; now, let's dive deeper into how you can make money on the platform.
How to set up your Redbubble stores for success
To make money on Redbubble, you need to become a merchant and start selling your designs. The first thing you need to do is sign up with an artist profile and set up your shop. I will guide you through the process.
Head to Redbubble and hit the sign up bottom which will bring you to the screen you see down below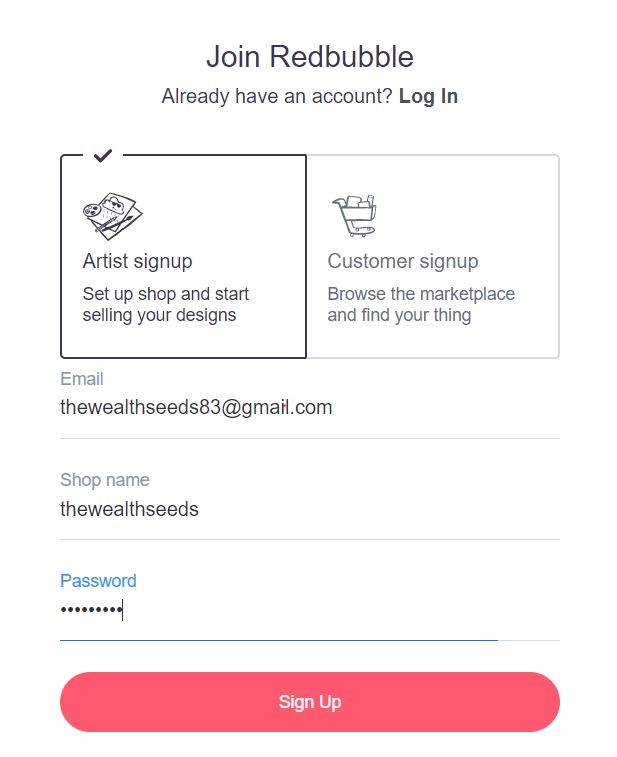 Make sure you select artist sign up. Enter your email and store name, and password.
How to select your store name.
You might not have come up with your store name yet, but that's ok. Let's see what you can do to come up with a good store name.
When selecting your store name, consider what message do you want to send to your customers. Does your name represent your values and design? Before settling with a name, make sure it is available in Redbubble and if you want to expand beyond the platform and create your own domain, make sure it is available.
Conduct a brainstorming session with friends and families to help you decide on the name and get suggestions.
Make sure your name is unique and easy to pronounce and remember. Additionally, make the name short and relevant.
You could also use a name generator. There is a lot of good one out there that can help you develop a creative and unique store name. Check this article for additional resources.
And remember, don't spend too much time on this step. You can always change it later if you see your name does not resonate with your audience, or you end up changing products, or simply it does not represents your brand anymore. I went through something similar without major implications.
Now that you have your store name hit that pink sign up the bottom to access Redbubble and start creating your store.
Creating a redbubble store
The next screen you will see when you register will get you through the creation process of the store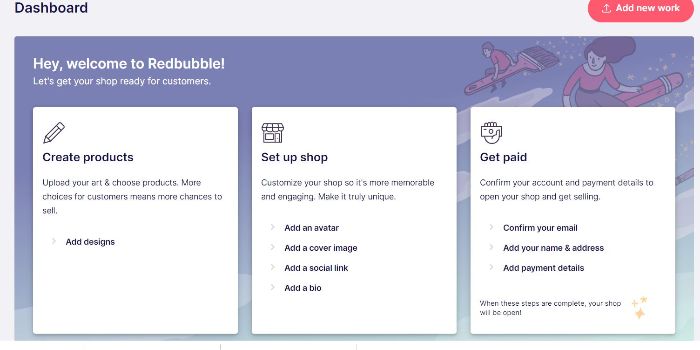 You need to upload your design now and select the products you are going to print them on.
Redbubble has over 80 different products you can select from to print your design on, like clothing, phone cases, wall art, baby accessories; you name it. Once you have decided what products to sell, it time to give your store a touch on your personality and start branding.

Once your store is loaded with products and showcases your brand, it's time to start selling!.
You can take an active role in the sales process and start promoting your store, or you can sit back and wait for the sales to happen. Either way, there is some stuff you should consider to increase your sales. After all, if you will be doing business on Redbubble, you better make the most out of it and make as much money as you can. I will cover this later.
Once a sale is completed and printed, Redbubble mails the order to your client. You don't have to worry about shipping or warehouse. Remember this, if someone cancels their order before it ships, you don't get paid for that sale.
You will need a verified Paypal account to get paid or set a bank account if you live in Australia, the US, or the UK.
Their official pay cycle begins every 15th of the month. You are paid for every shipped sale you made once you have earned $20. So the minimum payout is $20.
Decide to make money on Redbubble and put these principles into practice
Redbubble gathers more than 399,000 artists and millions of stocked images. Therefore you must find ways to stand out in front of your competitors if you want to make substantial money from your Redbubble efforts.
They offer resources to help you stand out; however, be creative and find ways to make your store pop up when someone is searching for your products.
For example, the following image is the result of a query about phone cases. If you were selling that product and your product was on that list, how can you improve your design to increase your probability of someone clicking on your product? See why your design needs to shine.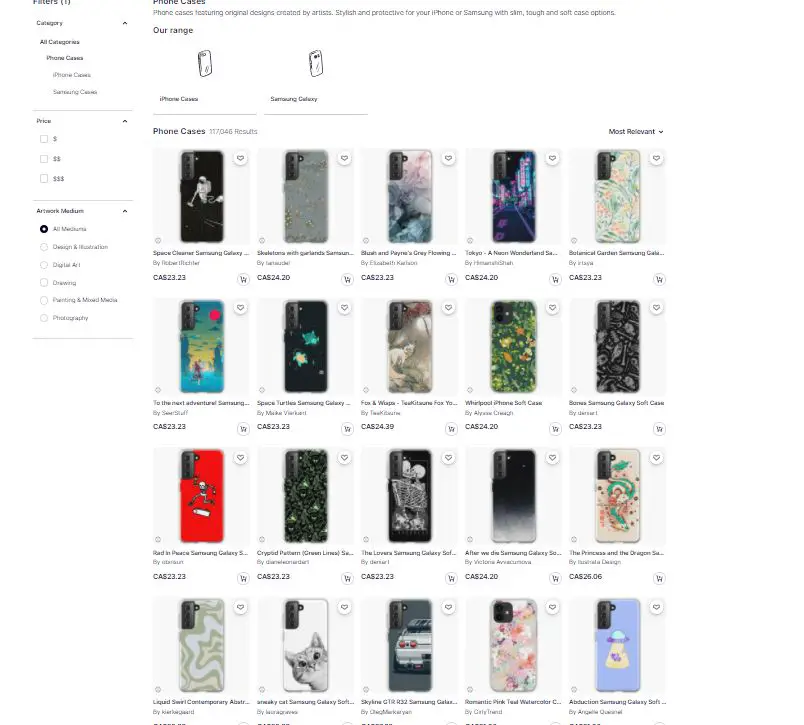 When you upload your art and select the product, do a search like this to get an idea of the designs that come up. Consider tweaking your design so it is eye-catching and stands over the other ones. That could help you increase sales. Be bold, and don't be afraid to be different. You are an artist;- You know what I am talking about. Turning your hobby into a money matching machine is possible.
Increase your chances of being featured
Being featured on Redbubble will give you a tone of exposure to potential clients and for sure will influence your profits. Although there is not a magic formula that guarantees being featured, there are some approaches you can take that will get you closer.
Use your tags wisely; they are one of the most important things you need to get right. When you create your product, make sure you are setting the right amount of tags. Create about 15 relevant tags, and don't overdo it. You don't want to appear spammy. It will hurt you rather than help.
Pay Attention to Product Formatting. Don't just upload the same size image design to all your product. Adjusting your design to fit each product will make your product look fantastic and professional, improving your chances of getting featured.
Offering a variety of products will also increase your odds of getting featured. You don't need to include 60 products, but the more, the better.
Staying active and uploading new designs regularly will bring Redbubble talent hunting crews your way, helping get discovered.
Stay on top of the trends and make your designs accordingly. For example, if you know major events are happening like the Black Lives Matter movement or the new presidential elections, consider designing to satisfy that trend.
Google trend can be a great tool to add to your trend hunting endeavors. Take a look at the picture where I search for the term black life, and it showed that it was a trend. Of course, always stay relevant to your theme and niche. This is only an example.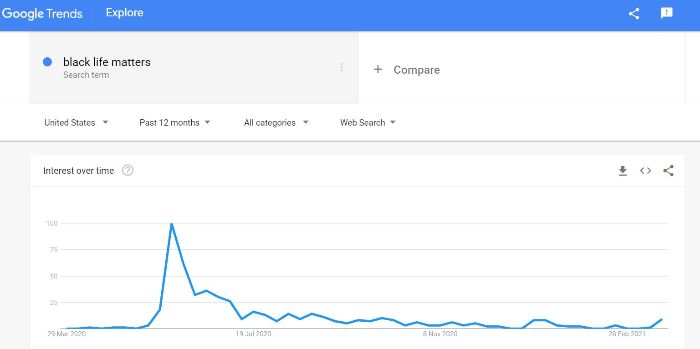 Promote, promote, promote to make more money on Redbubble.
If you genuinely want to make money on Redbubble, this is probably your most important task. You need to promote your work heavily. Please don't leave it to luck what you can have the power to create for yourself.
You can start promoting several ways, although you can think of more creative ways to do it.
Pinterest is a great channel to start promoting your art. Create a business account and create pins linking to your store. Be consistent in creating pins and show Pinterest some love. It will love you back. Check this article for further details about how to make the best out of Pinterest.
Spread the word and start telling everybody about your excellent products and design. Use social media like Facebook and Instagram to reach even more people.
Link your store to your blog. If you don't have a blog, you might consider starting one and start doing content marketing to bring traffic to your store and consequently make more money.
You might think it is too much to take, but I promise you it is not. Creating a blog in 10 minutes without any coding skills is possible.
Consider creating pay-per-click campaigns to promote your art using promotional images to expand your reach even further. Just consider your ROI(Return on investment). To make sure it is profitable for you, after all, you are trying to make money on Redbubble.
What sells most on Redbubble.
According to Lisa, pop art with a twist is what sells most on Redbubble. She has tried different techniques before and found them to be effective.
However, the best way to find what sells best is to try different things and strategies. People don't openly say what is working and what is not for them because they want to protect their income. But keep in mind that Rebdubble clients go there looking for art; that's what you have to give them.
Does it cost money to sell on Redbubble?
Selling on Redbubble is free. It doesn't cost you a dime. However, keep in mind that you only get paid a percentage of the sale you make.
How it works: Each merchandise has a base price the Redbubbles set for you. Then you add your price on top of that base price. The results are what the client will pay. You made the margin you add.
Let's say you sell stickers that have a base margin of $5. If you want to make $2 per sticker; then the retail price will be $7.
Conclusion
To sum up, you can make money on Redbubble if you put the time and effort into developing your business. Stay positive, and don't stop learning and implementing new strategies that will increase your earning. But more importantly, think about your audience first, give them as much value as you possibly can. They will reward you greatly.
Related Post
Is Postmates worth it? Learn how to make money delivering food