There is so much information about making money online that it can get confusing sometimes. That's why I want to help you determine what route to take. PTC sites vs Surveys vs GPT sites!! What is your best bet to earn money online?.
When I started looking into making money online, the first thing I heard was about surveys.
I signed for many surveys websites and still get a lot of invitations to fill surveys.
Then I discovered an even easier way to earn, a less time-consuming way to make online.
I found the PTC sites. It was a bit of a hassle to find legitimate PTC websites where you could click ads regularly.
PTC sites are less abundant than surveys sites. And you can find some scammers because the online world attracts a lot of them.
But nothing you can spot if you know where to look into.
But that wasn't all; after looking for ways to increase my earnings, I heard about GPT websites that pay you to complete small tasks.
People claimed I could do so much better in terms of income.
Everything sounds confusing, but it is not. Are these websites really worth it, though.?
Let's go deeper into the matter to discover the main difference between each time of sites, its weakness, and its strengths.
PTC Sites vs Surveys vs GPT sites concepts
PTC sites
What are PTC sites? In essence, PTC sites are digital platforms that pay you to click ads.
That is mainly what you will do when you join a PTC website. As its name suggests, get PTC stands for Paid TO Click, and what you click are advertisements.
If you want to go deeper into the ins and out of the PTC sites. Follow this link to discover the best PTC sites.
PTC sites are a network of advertisers that promote their client's content to people like you looking to make extra money online.
Getting Paid to Click ads is easy to start making money online because the PTC site's requirements are pretty flexible.
There is no extra skill required to start other than the PC you need to access the sites and the internet connection.
It can get boring to watch and watch ads. However, every time you click and watch, you earn money.
Some sites pay you up to $0.4 per click, which is the highest payment I have seen in the PTC world.
Survey sites
Surveys sites will pay you to take surveys. When you register with the survey website of your choice, they will profile you.
You will have to complete a survey related to your personal information like age, marital status, or age, just to put an example.
Based on the data you provide, you will receive invitations to complete surveys.
So the money you make with surveys will be directly related to whether or not businesses are looking to survey people with your profile.
Businesses use surveys to test new products or get feedback from the market.
If you are a target surveyor, you get to make money. Some surveys can pay up to $100.
But as you can see, your earning potential is directly tied to your background and surveys availabilities.
Despite the fact that online surveys have exploded this gig is still paying low and there is somewhat scarcity to fill surveys on a day-to-day basis.
GPT sites
GPT means Get Paid To. And this concept involves a lot of websites that pay you to do different tasks.
Mainly any site that pays you to do anything is a GPT site.
Therefore surveys and PTC sites are also GPT sites. These sites adopted those acronyms to collect under an easy-to-understand concept of what they do.
There are so many ways to make money online with GPT sites that you will be surprised to hear that you can even get paid to walk! that is fantastic.
That variety of sites also brings about different earning potential. The tasks you need to perform will be directly related to the amount of money you make.
From sites that pay to do small tasks to those that pay you to test AI, your possibilities to earn are endless!!.
What makes PTC, Surveys and GPT similar
| | | | |
| --- | --- | --- | --- |
| SIMILAR FEATURES | PTC Sites | Survey Sites | GPT sites |
| Low earnings | Yes | Yes | Yes |
| cash out ways | Yes | Yes | Yes |
| No entry barrier | Yes | Yes | Yes |
Regarding similar features between PTC, Surveys, and GPT, I would say that the low-income potential is identical for the 3 of them.
You won't earn much with any of these online money-making opportunities.
I am honest and don't want to create false expectations for you. You will be better of working a minimum wage salary than doing any of the three tasks discussed here.
They all tree opportunities require little to no skills and effort, so you get paid accordingly.
You can make your beer money, if you are ok with it, then great!!. But my purpose in life is the advice of that. You can do so much better!!
The next feature they have in common is the way they pay. They all use thresholds to withdraw your money, and you can get paid either to Paypal or any other digital wallet or with gift cards.
One thing is sure; they will pay you if you are dealing with a legitimate site.
Comparing Earning potential between PTC Sites, Surveys and GPT sites.
Learning how much money you can make with these sites will give you a better edge on which option is best.
After all, you turn your main objective will be to make money online.
Surveys sites
The Different ways to earn
As we mentioned already, PTC sites pay to click ads, surveys sites to fill surveys, and GPT sites involve many activities, from surfing the web to writing or testing sites.
There is usually a reach hold you have to reach to withdraw your earnings.
You can see some sites that allow you to withdraw your money as soon as you earn $5 and others with higher cash-out limits.
But there is no difference there to create a comparison between PTC, Surveys, or GPT sites.
When it is time to cash out your money, you can either withdraw to Paypal or op to receive a gift card from one of the participating stores available.
Even though each site is different, they work similarly when cashing out.
I did notice with PTC sites, it is more common to cash out or earn bitcoins. So if you like bitcoins, you could do so.
So when it comes to ways of earning and paying, the three types of sites are pretty similar.
Nothing makes one better than the other one in this arena.
PTC sites vs Surveys vs GPTs main differences table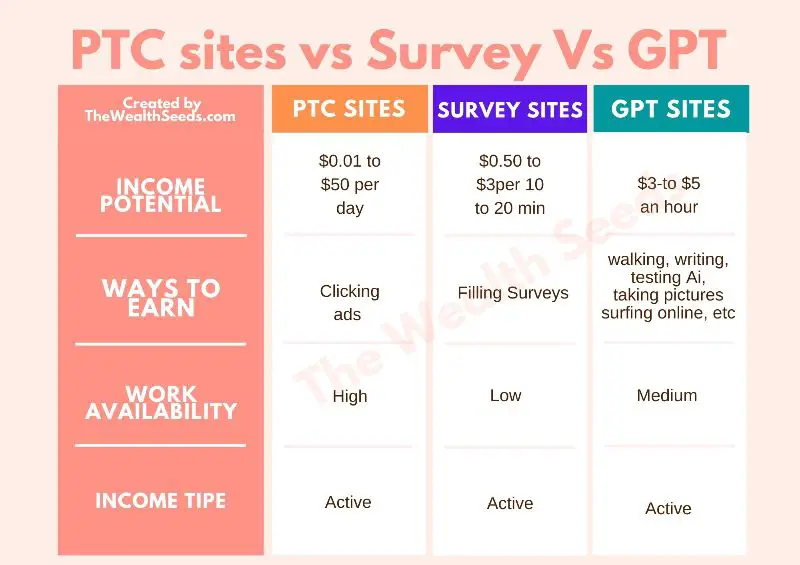 A final thought on PTC sites vs Surveys vs GPT sites
Now that you have a clear picture of what each of these sites models does and pay you, it is time to conclude.
After all, you want my opinion on the matter, as I promise you when you start reading.
If I had to choose between any sites, I would go with the PTC sites. You can most less predict what you can make, and there are always ads to click.
But that is if I didn't have any other options to make money online.
Al three of them are good to get your feet into the water and give you the certainty that making money online is possible.
However, for me, none of them are an option. It takes a lot of time to make pennies. You could, too, make better use of your time.
For example, you could start doing freelance jobs on Fiverr or Upwork. A more skillful type of job will pay you more eventually.
Neither Surveys, PTC, or GPT sites require special skills, and you could do so much better than that.
Even if you think you don't have markable skills, you can learn something new that could insanely increase your future income.
I was in the same position you are now back in 2020 when I decided to create this blog. Looking for ways to make money online.
Back then I knew that there were good opportunities and I discovered that in fact there are lots of great ways to earn a living online, None of that involves clicking ads, filling surveys, or completing tasks.
I encourage you to be open and willing to learn new things and you will find your way to wealth online. My purpose is to help you see those opportunities and take action. Are you ready?