So you want to get paid for the time you spend playing games on your phone!!. The good news is, that is possible nowadays. Today I bring you a selection of the best game apps that will pay you real money to your Paypal account, and they are all free to join.
Do game apps really pay you?
Yes, game apps really pay you. You might be wondering why would someone pay you to play games?. Game apps developers and owners make money when you play. They split their earnings with you, and that's why they can pay you.
Once you start using the game apps, you will realize how many ads are there on the app. Those ads make your earnings possible. So, it is unlikely that you find a free game app that doesn't have ads. Ads are the main money streams of this type of business.
How much can you earn playing games on an app?
I am afraid you won't make a lot of money. As I told you earlier, game apps make money with ads. On average they get paid $0.10 to $0.30 per ad view, and they pay you a fraction of what they make.
Game apps that pay you use a system like PTC sites. Although when you use PTC sites, you know that you go there to click ads and you end up making a little more.
Are game apps worthy?
If you are looking for game apps to supplement your income or make significant money. They are not the answer to your problem. Game apps pay you real money but not enough to substitute your income.
But, if you want to make your time playing games on your phone some sort of productive, game apps will help you lighten the guilt for the time lost by earning some extra bucks while playing.
If you would like to make lots of money, there are other activities online you could consider. For example, you could start an online business.
What Game App Pays the Most?
What game apps pay you is rather standard. Yet, apps that offer a variety of ways to earn tend to increase your chances of earning more frequently.
So, Swagbuck is one of the game apps that pay the most. Also, their users are the ones that report the highest earnings.
Best game Apps That Pay You instantly to Paypal
The following game apps will pay you real money to Paypal. All have the best reputation and incredible reviews. These legit game apps are free to use. They don't require an in-app purchase. You sign up, play your favorite games and earn real money for your time to your Paypal account.
Without further ado let's dive into our list of game apps that pay you real money to Paypal.
1. Make Money: Cash Rewards & Gift Cards. Best rated overall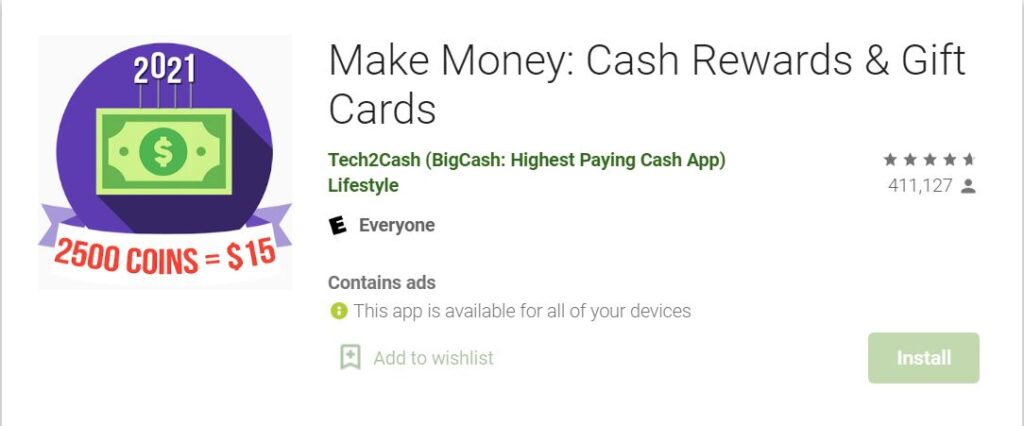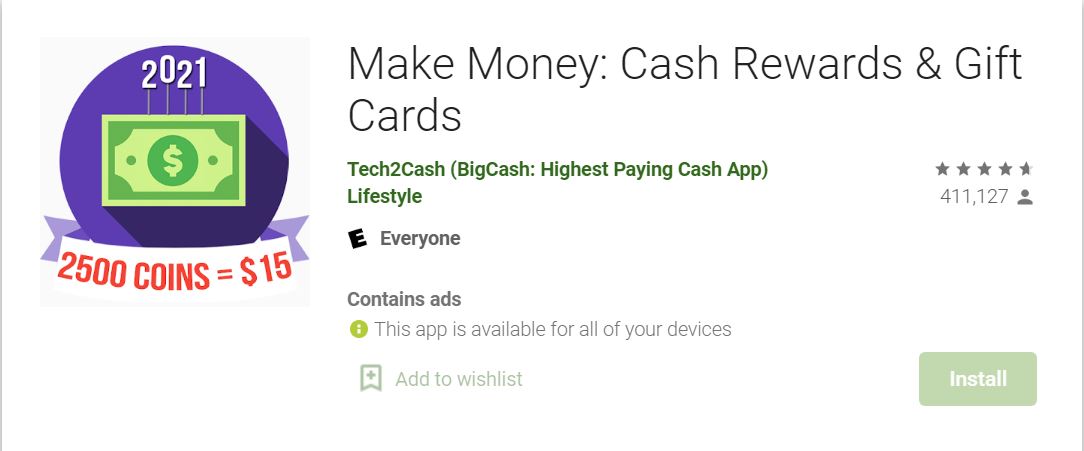 Make Money: Cash Rewards & Gift Cards by Tech2Cash offer several ways to make money including playing games. If you are interested you could also complete surveys or download apps and make extra cash.
Once you have collected 2500 coins you can exchange them for $15 Paypal money or gift cards.
Inviting friends is another convenient way to earn real money instantly with this game app. You earn 20% of your friends' earned coins for life.
The app has a fantastic review of 4.7 stars out of 411,127. This is quite an impressive performance for the industry of game apps that pay you.
Most reviews centered on the fact that it is actually simple and fast to earn. Also, they stress that there is a variety of options to earn coins to redeem for cash. They also say it doesn't take long to earn the required 2500 coins to cash out.
2. Swagbucks- Best Game apps pay you real money
Swagbucks is one of the most popular online money-making sites and apps. Helping people make money online since 2008.
If there is an app that has gained trust, and a good reputation amounts its users, that is Swagbucks. That's is why it is at the second-best app games that pay you real cash.
Choose from their game library and receive rewards for installing and playing games.
If you want to try other things apart from games to make money, you have other options. For example, you have available answer surveys, shop online, watch videos, and more.
They have over 22k reviews on Trustpilot with a 4.3-star rating.
One of the reviews by Dena reads:" I really love this app, but I have to give 3 stars because of the bigger payouts…But the games and thrill of the hunt make it worthy!!!"
Other reviews praise their good customer service and how easy it is to use. Also, it is one of the apps that reported the highest paying.
Right now if you download the app, you receive a $10 welcome bonus.
3. Inbox Dollars
InboxDollars is another game app that pays real money. This reward site has paid out to its members over 50 million since 2000.
The app is available in Google Play and the App Store.
Among the games you can play for money there are Solitaire, Sudoku, Mahjong, and others.
You can part-take in tournaments and get cash back rewards if you win. Right now, for signing up to the app, you get a $5 welcome gift.
InboxDollars has a Trustpilot review of 4.2 stars. Most people report it is an easy way to earn extra money.
The bad reviews are mainly around it could take some time to receive your payout. Some users complain it takes up to 3 days to receive your money, whereas other apps pay you instantly. Other than that, it is a safe and legit way to make money online.
4. Mistplay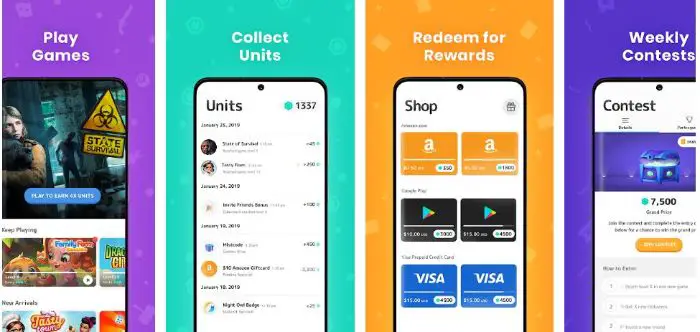 Mistplay is a reward game app that will pay you to play. It was launched in 2016, and since then, it has paid its members more than $9M in rewards.
They have a decent variety of games for you to choose from and earn rewards.
The app is well maintained and updated every so often to correct any bugs that users report.
Mistplay has a Google Play review of 4.1 stars, from a total of 206,249 reviews which is pretty awesome.
A lot of people have been using the app for years. They report they are satisfied and have been paid out consistently.
5. GAMEE Prizes. Play Free Games, WIN REAL CASH!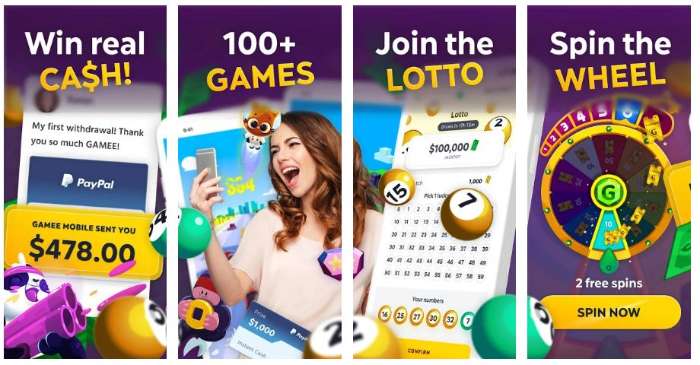 GAMEE is a free game app that will pay you real money by playing free video games, without having to buy anything.
They have a huge selection of over 70 games in the app. There are lots of options to make money with GAMEE. Spin the wheel of fortune, daily chances to win extra cash, or lucky games where you could win $100 every 4 hours are your main choices to earn cash. Cash-out to your Paypal account.
Additionally, they have a monthly giveaway of $5000 and the draws happen every Sunday. You could also compete on the daily ticket leaderboards. As you can see you won't be short of options to win real money.
You also earn by inviting your friends, so the more you bring the more you make.
With over 308,130 reviews on Google Play, GAMEE has a 4.3 stars review, which is fantastic.
Keep in mind that you will see a lot of ads on the games. But that's how they make money and can pay you to play.
6. Lucktastic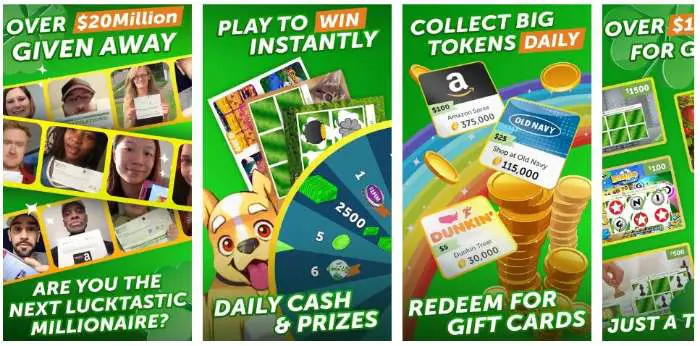 If you like to test your luck, you are going to love Lucktastic. Like the scratch games sold at the lottery stations, the Lucktastic game app works the same way and will pay you real money. You scratch, and if you match the pictures, you win.
They offer other opportunities to win cash like sweepstakes and contests.
Their special contests include chances to a 1 million, a new car, or get anything you want from Amazon.
Lucktastic has paid more than $10M in prices to their members. And the best part, it is completely free.
Their review on google play is 3.9 stars out of 347,440 reviewers.
There is a mixture of bad and excellent reviews. The bad reviews stay that it could take time to make some decent money. Or that the Walmart gift cards vanish when you are about to win them.
The good reviews focus on the fact that you can play scratch without having to pay for it and could actually win. Such is the case of Jenifer Hummer who's husband won $100 cash on the app.
It could take time to make real money, so if you go for the fun you won't have trouble with that.
7. Rolling Luck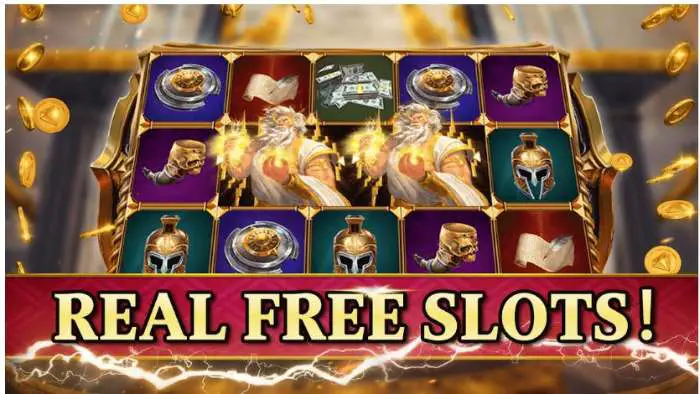 Rolling Luck is a free slot game app where you can earn money. It cost you nothing to join or play, and you get the same experience as the traditional Slots.
It has a review of 4.6 stars on Google Play. Most of the bad reviews say that there is little variety of slots to play and that there are way too many ads.
The good part, people say that the graphics are good, and it is easy to use. You can deposit your earnings in your Paypal account.
8. Spin for Cash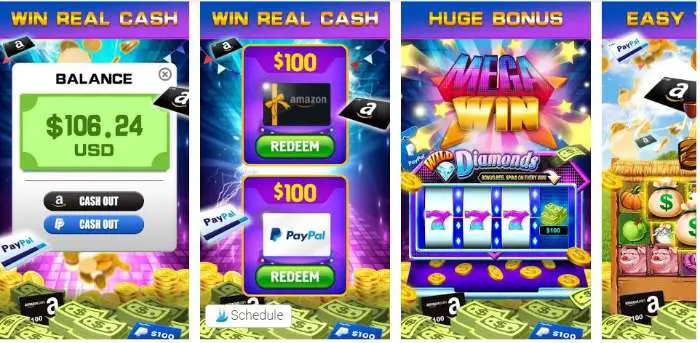 Spin for Cash is another game app that will pay you real money for playing the slot machines.
It is free to join, and there is no in-app purchase. You just play and wait to win.
It has a fantastic review of 4.5 stars. Most people say they love the app and its special effects. But, I saw a significant number of reviews complaining that they have been sitting at a $99.99 valance for more than 2 months. This makes it impossible to earn the cent that would allow them to reach $100 and cash out.
Keep that in mind if you decide to start. I included it on the list because after all has a good review. If you enjoy playing slot games, give it a go and decide for yourself.
8. Math Cash
If you need to sharpen your math skills and at the same time earn cash for it, you are going to love Math Cash.
Math Cash is a guilt-free game app that lets you earn, learn and play at the same time. Perfect for teens to make money online and employ your time learning and earning.
It has a really good review of 4.4 stars, and people report they have cashed out their earnings.
9. Play and Win! by Givvy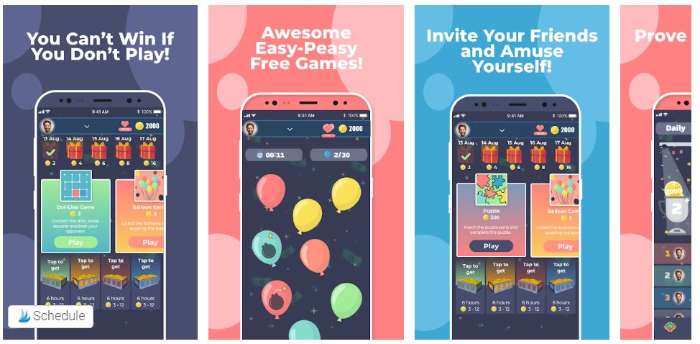 Play and Win is a dedicated game app that will pay you real money to play puzzle games, Balloon game Bubbles, Dot-line, and other fun games.
Additionally, you will have other ways to earn like for example, surveys, earn points for being online, log in to the app daily, compete with others, and refer friends.
The reviews are favorable. Also, people have reported making money fairly quickly with this app.
If you love challenges, one of the most frequent comments I saw was that some games can be really hard to win.
10. JustPlay
JustPlay is another good game app that will pay you real money, real fast.
You can cash out every 24 hours, which means you don't have to wait to get your money in your Paypal account. You could also opt for gift cards or donate your earnings to charities.
According to Karen Farmer, one of the loyal members, the games are so good that you can become addicted to them.
The app has been downloaded more than 500,00 times. The Justplay app has a review of 4.2 stars.
11. Bubble Cash
This is a bonus app for iPhone users. Bubble Cash is a fun, free-to-download game app that will add up to your arsenal of free real money-making apps.
You can join tournaments and play with other contestants for a chance to win real cash. If you want to learn more about this legit app go to This Bubble Cash Review will help you out.
12.Cash'em All
Cash'em All is another game app that pays you real money.
Although it can take some time to add up a decent amount, it is proven to pay fast. You can earn more by referring friends and family.
It is also super fun and has a lot of games to play.
13.ClipClaps app
Clipclaps is a legit promising game app that will pay you real money. You can cash out as soon as you reach $0.1 in order to test that they will deposit the funds to your Paypal account.
For your second cashout, you will need to reach $10. It is a lengthy process to accumulate decent money, but it is possible.
14. Solitaire Cube
Solitaire Cube – Win Real Cash from Tether Studios, LLC is another excellent game app to win extra cash in your spare time.
This app has a free version where you can sharpen your skills. After you are confident you will win, you could try the pro league to earn real money against real people. There is an entry fee for the tournaments.
15. PlaySpot App
Yet another game app to add to your portfolio. PlaySpot is a legit app that pays its member and has great reviews.
You can find the usual games that you would find in any other game app. They also ad an art game if you like coloring and thing alike.
Conclusions
While putting this post together I discovered that some game apps promise to pay you real money to Paypal. But when you look at the latest reviews, there is a common thread among them. People say they have been using the apps for months without having been able to cash out.
I always pay close attention to reviews because they are true most of the time. Especially, when there are so many comments complaining about the same issue.
Be confident because I extensively researched all the game apps listed here. And they all will pay you. Moreover, they are all legit and free. I know that you will have fun using these apps. And that you will make some money along the way.
Related content:
18 Free apps that pay you instantly