So you are having second thoughts about whether or not to join Timebucks and are wondering if Timebucks is safe. This post will cover all you need to know about Timebuskcs.com to make an informed decision and discover the things that you need to be aware of.
I joined Timebucks approximately a year ago. Although I am not super active on the Timebucks website, I clearly understand what works and what doesn't.
So let's answer all your questions!!
TimeBucks Review
My First Impression Of TimeBucks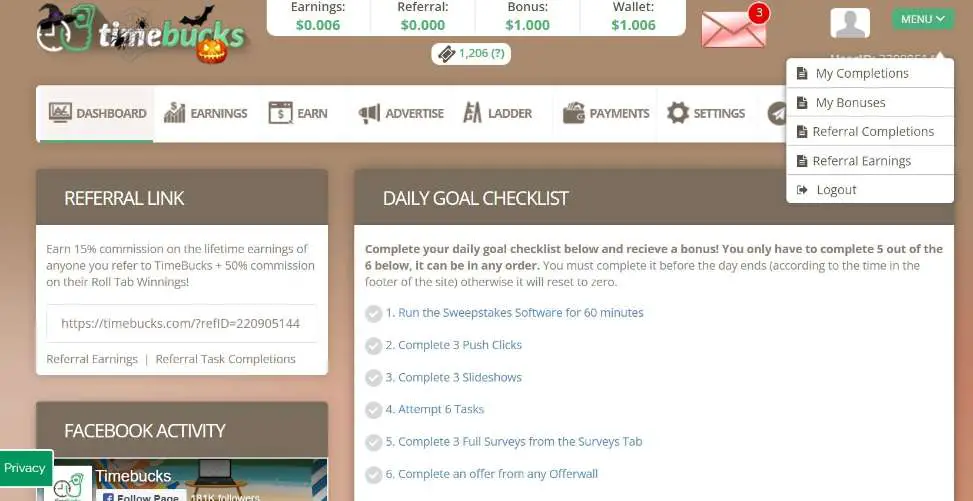 I did have my reserves when I decided to join Timebucks. I always feel apprehensive when giving my email to an exchange website. That is why I do my research first before signing in. And I must confess, I am glad I did.
Timebucks has an outsatign Trustpilot review of 4.3 start. Considering the popularity of the website, I find it quite remarkable. Trustpilot is a reliable source when you want to check any online business profile. They only accept honest reviews that the business owners haven't influenced, which makes Trustpilot my first step when investigating the legitimacy of a site.
Once I cleared my doubts, I signed up for Timebucks. At first glance, the Timebucks dashboard looks clean and easy to navigate. They did a great job designing the dashboard so anyone could find their way around. It gives anyone the impression that Timebucks is safe.
You get a welcome bonus when you sign up. The amount will depend on how much Timebucks will be offering when you sign up. Right now, you receive $1 free.
What is TimeBucks
Before continuing with my review, I should clear some things first in case this is the first time you have heard about Timebucks.
Timebucks is a legit GPT website, which stands for Getting Paid To website. Some people also refer to Timebucks as a reward site although, I prefer not to because Timebucks pays you real cash, no points, nor gift cards. You get paid real money for the tasks you complete like taking surveys, watching videos, installing free apps, playing games, taking selfies, clicking ads, web searches, and much more.
Timebucks is free to join, and with only a few exceptions, almost anyone around the world can join this platform.
Australian Clearing Pty Ltd. owns TimeBucks along with other similar websites in their portfolio.
Is TimeBucks Safe?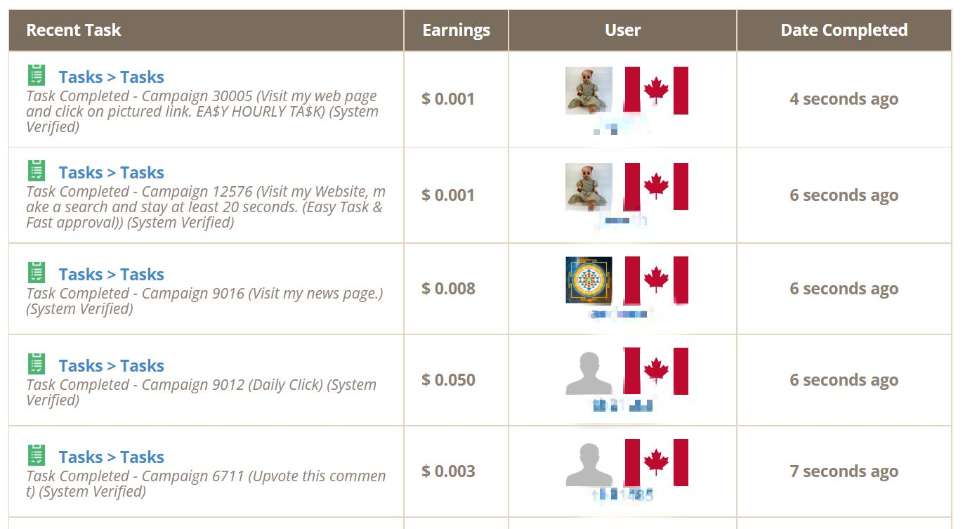 Yes, you can confidently join Timebucks because is safe. Timebucks is a legitimate trusted website where you can earn extra cash in exchange for your time to complete small tasks and fill surveys.
However, that doesn't mean you shouldn't take precautions to protect yourself. Although Timebucks is a genuine website and has been in business for some time, there is always some risk involved.
That's why I encourage you to take measures to protect your identity and sensitive personal information. Any online business is at risk of being hacked. Timebucks is not an exception.
Among the things you can do to protect yourself online include:
Create a strong password.
Consider a Password Management Program
Use a dedicated email for your money-making endeavors.
Don't use Timebucks as a bank account and withdraw your money as soon as you reach your minimum payout.
Don't overshare your info.
Keep your antivirus up to date.
Other than that, you are in good hands, and Timebucks takes the time to protect your personal information.
How Does TimeBucks Work?
TimeBucks pays you to perform small tasks. But you probably want to know what is in there for them. They are an intermediary between people looking to make money online offering their time and business owners looking for feedback on their products, for example.
When a website owner is looking to bring traffic to their website Timebucks helps them connect them with you. When you get paid to click an ad, you visit someone's website that could potentially turn you into a customer if their products or information is good for you.
It is a situation where everybody benefits in some way.
How to Sign Up to TimeBucks.com
Signing up for Timebucks is a piece of cake. You need to provide your email address and set a password. Once you register, you will receive a confirmation email. As soon as you complete your sign-up process, you can start completing tasks to earn money. Don't worry TimeBucks is safe to do so.
You will conveniently receive messages with Tips of the Day to help you maximize your earnings. So keep an eye on them.!!
Who can join TimeBucks
Anyone 16 years of age or older can join TimeBucks provided you are not from Iran, North Korea, Syria, Sudan, or Cuba. Unfortunately, if you live in any of those countries, you can't join TimeBucks.
They don't disclose the reasons why those countries are banned from the website. But one can assume that is political differences. You certainly know what I am talking about.
How do you make money on TimeBucks?
So finally!! The juicy part you have been waiting for!!. Earn money when you complete tasks. But also, there are a lot of ways to earn money on Timebucks. From filling surveys to clicking ads, you won't be short of options to make extra cash.
On top of the tasks, you can get paid to refer friends and family and earn 15% commission on the lifetime earnings of anyone you refer to TimeBucks plus 50% commission on their Roll-Tab Winnings.
When you are in your Dashboard, you can navigate through the different opportunities available to you to earn cash.
Ways to earn on Timebuck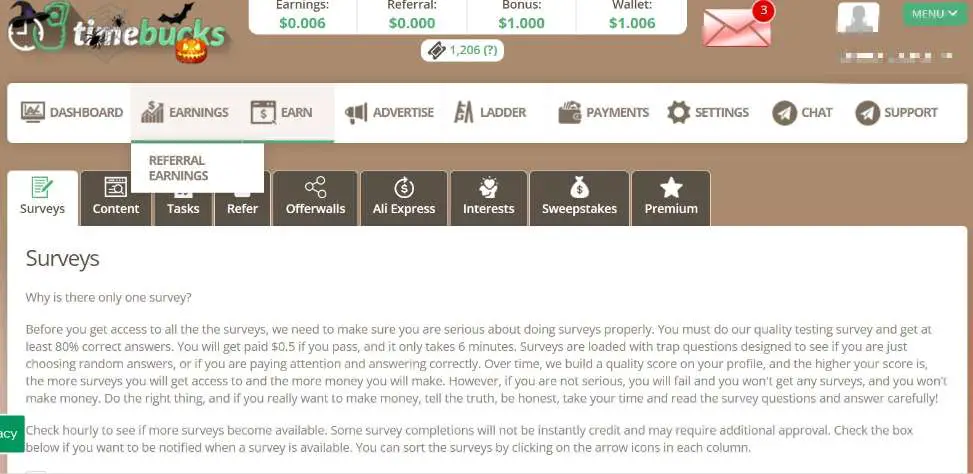 The following tasks are what you typically can find on TimeBucks.com that will allow you to earn money.
Filling surveys is one of the most popular activities on Timebucks. However, it is not one of the most profitable because you will get surveys based on your profile. Meaning that if you are in the age group or you have the characteristics the advertiser is looking for, you will get surveys; otherwise, it is a miss and hit.
They ask you to be honest about the info you provide. When you finish your survey profile, you will earn $0.5 to enter your personal information.
The other way to earn on TimeBucks is on The Push Clicks section, where you make per click ads. You will earn $0.0005 and $0.07 per click. But you can only do them once an hour.
This task will pay you to watch youtube videos. The current rate is $0.01 per video. Before completing this task, you must have completed two Daily Checklists from the Dashboard
assigned to you.
Earn cash to search for products you are interested in buying. You will land on the shopping website.
They will pay you $0.01 for each search you do. Timebucks only allows you to search every 30 min and a maximum of 20 searches per day.
This is another video-watching activity that will pay you $0.01. You can do 24 videos per day, but only once every hour. After the timer ends, you can do another video.
Under your offer wall tab, you will find current activities that you can do for extra cash. They are not always the same as they vary depending on the advertisers that have offers available. Don't forget to check them since there is an excellent chance to make more money.
If you frequently buy in AliExpress, you can earn cashback on your purchases. You can also earn commission by referring Ali Express items with a link you will get on Timebucks
You will make money with Interest when you send links to your friend about things they may be interested in. The links will take them to search engine results, and you will get earn money when they land on that page. You can earn up to $0.03, depending on your country of origin.
Timebucks runs weekly sweepstake prize giveaways with a total price of $500. The prize is divided into 30 winners, and the first position wins $250. The winners are selected in a draw each Friday every week.
Premium users increase their earning potential by 25%. It will cost you $4.95 per week. If you are active on the platform, it will be worth it for you. You will need a credit card to upgrade your membership.
How much money can you make with Timebucks?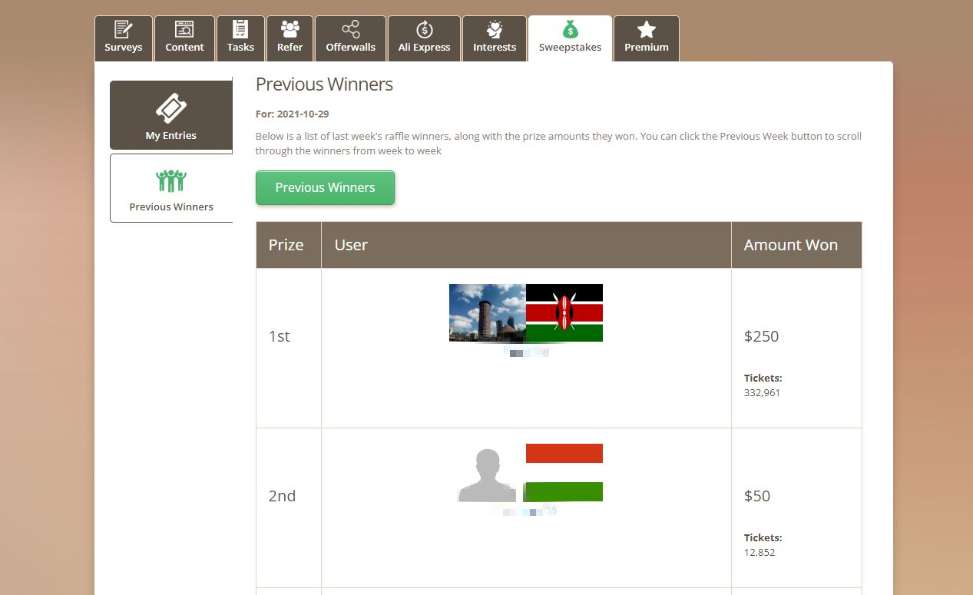 Your earnings will depend on several factors like the time you dedicate to complete tasks, the country you reside in, or what device you are using. It is possible to make $10-$20 daily if you are actively doing tasks and surveys on the site. That is on top of the referral money you can make, plus the chances you have to win the Sweepstake.
How do you get paid?
Once you earn your first $10, you will need to verify your identity to receive your payments. So your minimum payout is $10
You can withdraw your earnings with any of the following methods: Payeer, Bitcoin, Skrill, Neteller, AirTM, TangoCard, and Bank Transfer. They don't offer direct payment to Paypal.
The cut-off period is weekly on Tuesdays. Don't worry Timebucks is safe, so you won't have problem withdrawing your money.
Is Timebucks worth it?
This answer will depend on your particular situation. If you spend a lot of time surfing the web for free, Timebucks can help you make that time worth it. You can be online guilt-free since you know you will earn money for it.
If you have more profitable ways to spend your time, I recommend you deploy your efforts in activities that will generate better results.
If, on the contrary, you do enjoy answering surveys, go for it—There is great pleasure in enjoying the work you do.
Timebucks alternatives
There is an abundance of websites where you can safely earn extra cash and be rewarded for your time online.
My favorites are: Survey Junkie, Swagbucks, LifePoints
YouGov. I also regularly publish new sites that I find and make sure to research well. So sign up to my email list to stay on top of the latest online money-making opportunities.

My Final Opinion About TimeBucks.com
Timebucks is a safe, legit website you can use to earn extra cash. You won't get rich with this activity. But it can help you make beer money or pay your phone bill. You can even earn enough to buy a new pair of brand sneakers.
I believe there are far more profitable activities that can transform your financial situation. For example, you could start a blog. Timebucks could help you pay for your hosting, though.
I hope I have cleared all your doubts. But if you have any other questions, leave them in the comment below or email me.