Are you having second thoughts about the JustPlay app? I know, I have been there!!. This Justplay app review will answer all the questions you may have so you make an informed decision.
This is by far my favorite game app and you are about to discover why is that.
Let's dive in!!
What is JustPlay?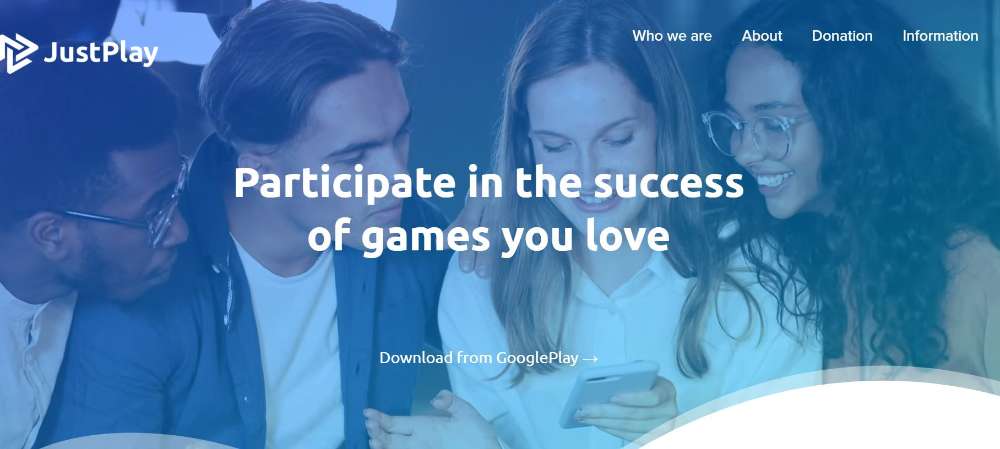 JustPlay is a socially responsible game app that allows you to earn rewards while playing unique and fun games. It is free to join and there is no in-app purchase.
This app breaks the mold of the online gaming arena by letting you donate your earning to great causes. That is what set this app apart from the competition. They will match every dollar you donate to charity. 
Their theme is Play, Earn Fairly, Donate.  If you want to make the world a better place, this app will contribute to your goal while having fun.
They have selected three charities to work with Clean Air Task Force, The Hunger Project, and Doctors Without Borders. 
They take their jobs seriously and give their customer great services. I was surprised to see how promptly they reply to any inquire
How do you make money on Justplay?
You don't need anything else to make money on JustPlay to make money than to play. That's your only money-making task.
You play, and you earn. If you wonder if that's way too good to be true, let me erase those doubts from your head.
When you spend your time avidly playing games on JustPlay, you will see some ads will interrupt your games. You most likely will click on one or more of those ads. Every time you see an ad, Justplay makes money. They share that money with you.
Do you see the relation? See how dependent they are on you? They need you to make money and if you want to play and earn, joining them is the way to do it.
They also have offers available that you can take to make more money. This is a better option to earn coins faster which you can then change into cash.
They add new games daily so you won't get bored of playing the same old games repeatedly.
How do you get paid?
One of the best features of JustPlay is the way they pay you.
Justplay has daily payouts and no minimum payout. This feature makes it stand out in front of other game apps that you need to reach a minimum amount of money to withdraw your money.
Withdraw your money to your PayPal account or select a gift card from one of your favorite stores, like Walmart or Amazon.
How much money can you make?
Justplay doesn't promise riches. You will make a fair amount of money to serve a greater good in exchange for your time.
You can make anything between $1 to $68 daily, depending on many factors. Like if there are enough offers to take and how much time do you spend playing.
This app really pays so that you will be in good hands.
Can you use it on a desktop?
JustPlay is a game app and it is not available on the Desktop. It is only available for Android devices in Google Play.
Is Justplay app legit?
JustPlay is a legit app. The best proof of that is how open its powers are about the app. Justplay is owned by a team of ad technology and gaming experts residing in Berlin, Germany.
They have an excellent online reputation and outstanding customer service. You can even find the owners on indeed and ask them to connect if you want to.
JustPlay app has a really good review on Google Play. The negative reviews are basically because the user found a bug on the app. You will notice how promptly Justplay Team answers the queries and gives solutions to the problems.
Who can join
Anyone 18 years or older can join JustPlay. They don't have geographical restrictions, so that you can join regardless of your place of origin.
Just download the app and start making money. This is a free app  that pays you instantly
Pros
Great customer service.
Fun games are added regularly.
Helps you change the world by donating to charities that have a big impact globally.
No geographical restriction.
Daily cash outs.
Cons
Has bugs sometimes.
Low earning potential.
earnings are bound to the time you spend playing.
Is The JustPlay App Worth It?
Is JustPlay App worth it?
Whether or not Just play is worth it will depend entirely upon you. Things like what country do you live in and what your aspirations are can help you answer that.
For example, if you live in Canada or the USA, I think you have better opportunities here to make a consistent decent income.
Even a minimum wage salary will give you better returns.
On the contrary, if you live in an underdeveloped country where you can feed your family with $10, then this might be worth it.
Let be clear here, the country you live in will have a massive impact on your earnings. If you click an ad in the south, you won't make the same money as in the north. Of course, unless you are in Australia or New Zealand. Do you get the point?
All in all, if you find yourself attached to your phone playing games anyway, the Justplay app is an excellent opportunity to stop feeling guilty for the waste of leisure time.
On the other hand, if you contribute to charity causes regularly and want to have a huge impact, this app will help you do that. In this case, it is well worth your time.
Last thought on JustPlay app
Ther you have it. This JustPlay app Review has covered everything you need to know to get started.
Did you get why is this my favorite app? I am sure you will enjoy it too if you decide to give it a go. Only the fact that you can play games guilt-free, and contribute to great causes erases all the questions you may have.
Good luck and have fun!! What charity organization would you choose? let me know in the comments.