So you have decided you want to get paid to test AI. A good thing for you is artificial intelligence is in its glorious moment. More than ever, companies need extra help to test the new technologies they are developing.
I am obsessed with new ways to earn extra income, and that's why I am always investigating these opportunities to bring them to my readers and, at the same time, make some extra cash.
Here I will cover 10 websites where you can sign up right now and start testing AI for money.
Without further ado, let's get started.
How to become an AI tester.
If this is the path you want to follow, let me tell you this, it is not complicated. If you can speak your heart out and have the equipment to get you started, you can start testing AI today and earn money training ai.
Most companies require you to have a PC, smartphone, webcam, and microphone.
You will have to undergo an initial assessment where you will have to answer some questions. It is not about how smart you are, but they want to know your group age, your whereabouts, and that sort of information. They need to make your tester profile which will later be what they use to send you testing tasks.
Another similar gig are micro jobs and most of the best paying micro job sites also offer AI testing or training.
How much can I earn testing AI?
On average, most testing websites companies will pay $10 per test. Tests typically last between 10 to 20 minutes.
However, there are testing platforms that offer life tests, and you can get paid up to $100 per hour, but that is not common.
What better use of your time than earning an additional $10 towards your savings or phone bill. Testing AI makes an excellent side hustle to earn extra money.
If you would prefer a more stable job where you can make $1000 a week, then this AI testing is not for you.
Is testing AI work legit.
Yes, companies pay you to test their new software, apps, or website products to get your feedback on performance so they can improve it and deliver a better product to the market.
Systems are becoming increasingly more complex, and businesses rely on testers to find flaws so they can fix them.
Also, AI software needs to be trained. Many sites offer tasks where you get paid to upload pictures based on your demographic. These pictures help with the face recognition software to give you an idea.
1. Testingtime
Testingtime is a Swedish company that offers AI testing for recruited users. They have over 910 000 user testers waiting to complete the tasks once they become available.
You won't make a lot of money here, but you will get paid to test AI on a regular basis.
The jobs you will get will depend on the answers you provide at the time you sign up. So make sure to make them as honest as possible so they can match your profile with the right task. And you can earn money training ai.
Once a study for test AI is available, you will receive an invitation to participate. You can select what time best suits you to complete the test.
Not all the tests are online, so you may have to go to a physical location to complete the test.
The previous video will give you a better inside of how your experience with Testingtime will be.
2.Testerwork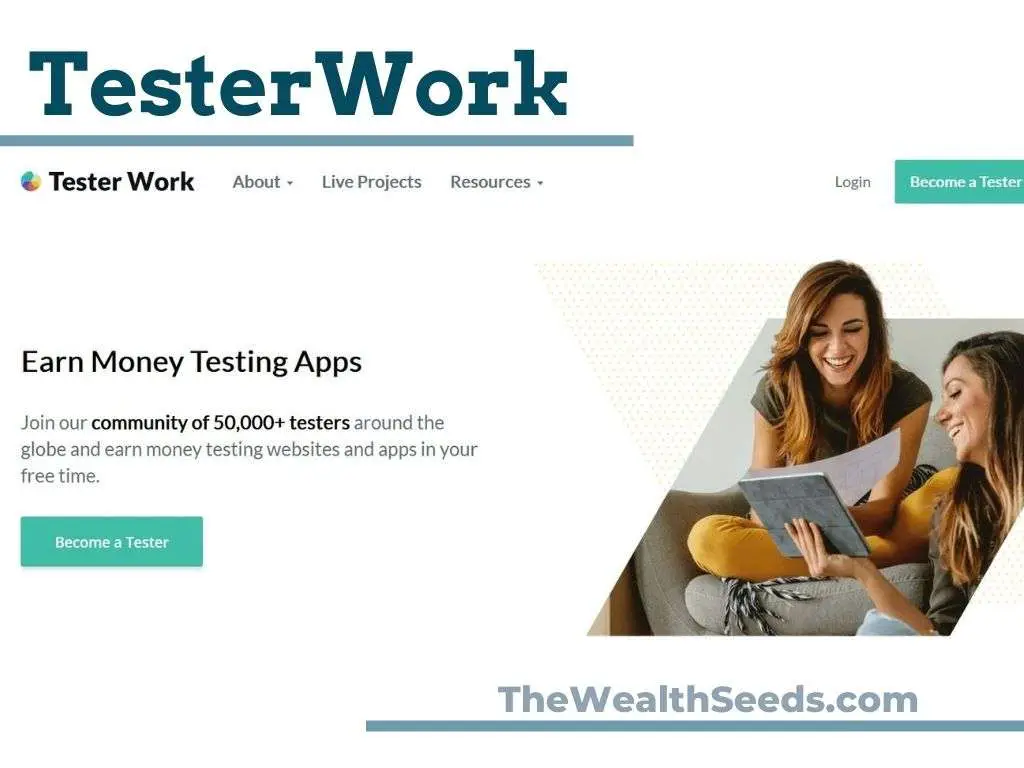 TesterWork is available to testers all over the world that want o get paid to test AI. They have a growing community of 50000 active testers.
If you decide to join them, you will complete an assessment during the registration process. These questions will allow Tester Work to match the test available to your profile.
You will receive daily invitations to test apps, websites, or games that run in cycles. Once you complete a test, you will get paid and earn money training ai.
They are a very enthusiastic company, and I bet you will have fun testing once you join their community. Tester Work runs an event they call Testathon, where top testers worldwide gather to meet and learn from each other.
3.Userlytics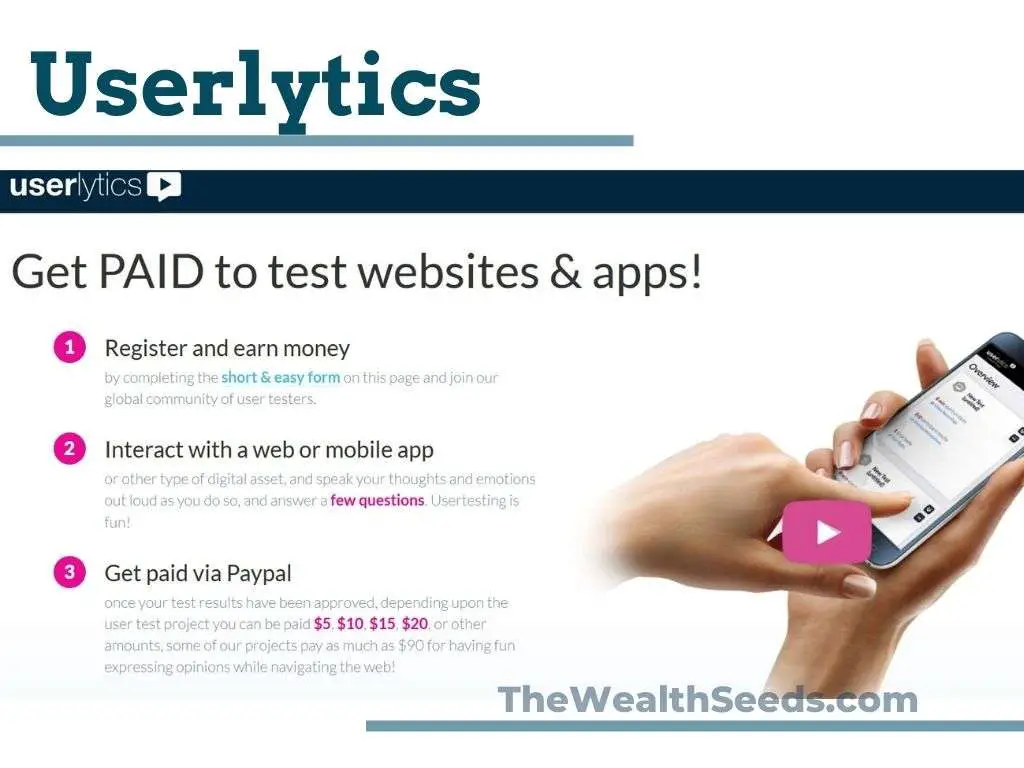 Userlytics is another website where you can get paid to test AI. They are available to users all over the world.
You will need a desktop that uses Mac with OSX 10.13 or higher or a PC with Windows 7 or up. And a browser program like Chrome, Firefox, or any other alike.
In terms of hardware, you will need a microphone and a webcam.
You will need a mobile phone using Android 5.0 or higher or iPhone with iOs 11 or above for the tests that require a phone.
Most of your working routine will consist of completing tasks and instructions to test websites or mobile apps and viewing videos, and you will have your critical feedback about the AI you test.
You can get paid anything from $5 to $90 while testing AI.
4. Testbirds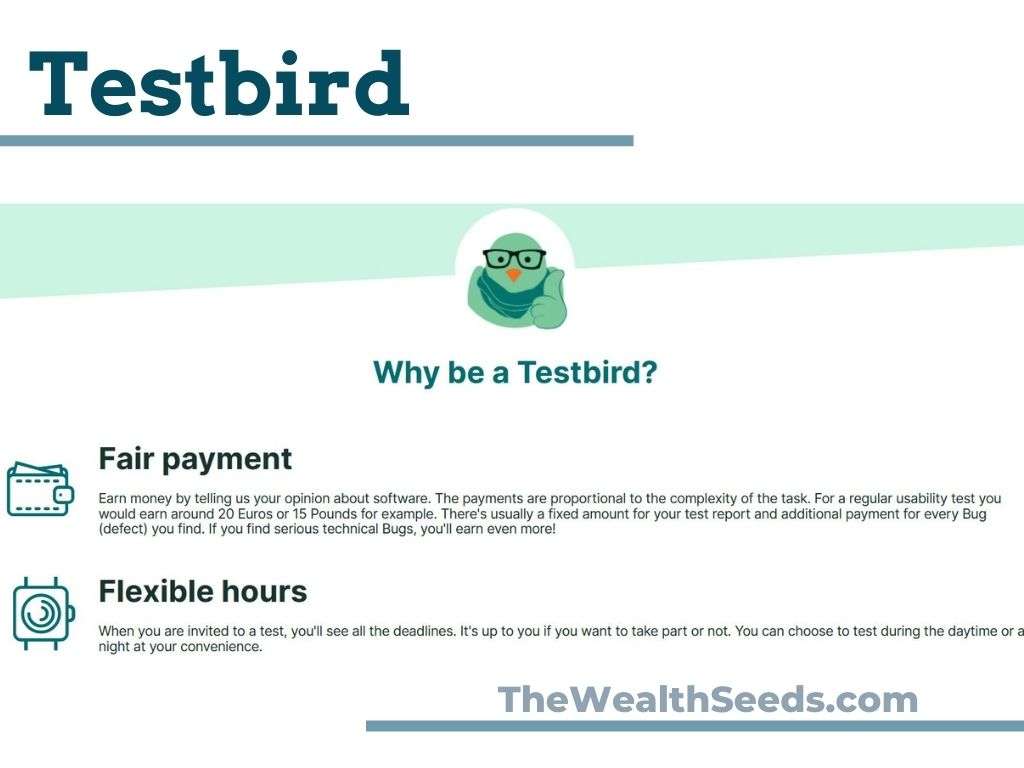 Testbirds is a legit crowd testing website with headquarters in Germany, Amsterdam, and London. They count on clients like BMW, and Audi so if you are a fan of any of these brands, you could get paid to test AI for them.
Testbirds will pay you to test apps and websites to find bugs and imperfections.
You could earn 20 Euros per usability test.
To register, you will need to complete an entry test for which you will get paid 5 Euros as a welcome bonus.
5. Userfeel
Userfeel is a user testing platform that allows website and app owners to get feedback from real users on the usability and functionality of their products. It is a web-based platform that provides a user testing service that enables website and app owners to observe and receive feedback from real users about their products.
This AI testing platform is an excellent way to earn extra money testing AI.
To maximize your earning potential with Userfeel, it's important to complete as many tests as possible and provide detailed and helpful feedback. Additionally, you may want to check the Userfeel website regularly for new tests that become available.
Userfeel will pay you $10 per test. You will have to undergo an initial assessment to demonstrate that your microphone works and that you can speak your thoughts. This is also suitable if you are looking to get paid to talk to AI.
So if you are shy, this is not for you. Otherwise, you know that for each successful AI test you complete, you will get paid $10.
You will get paid to Paypal.
6. RefineAI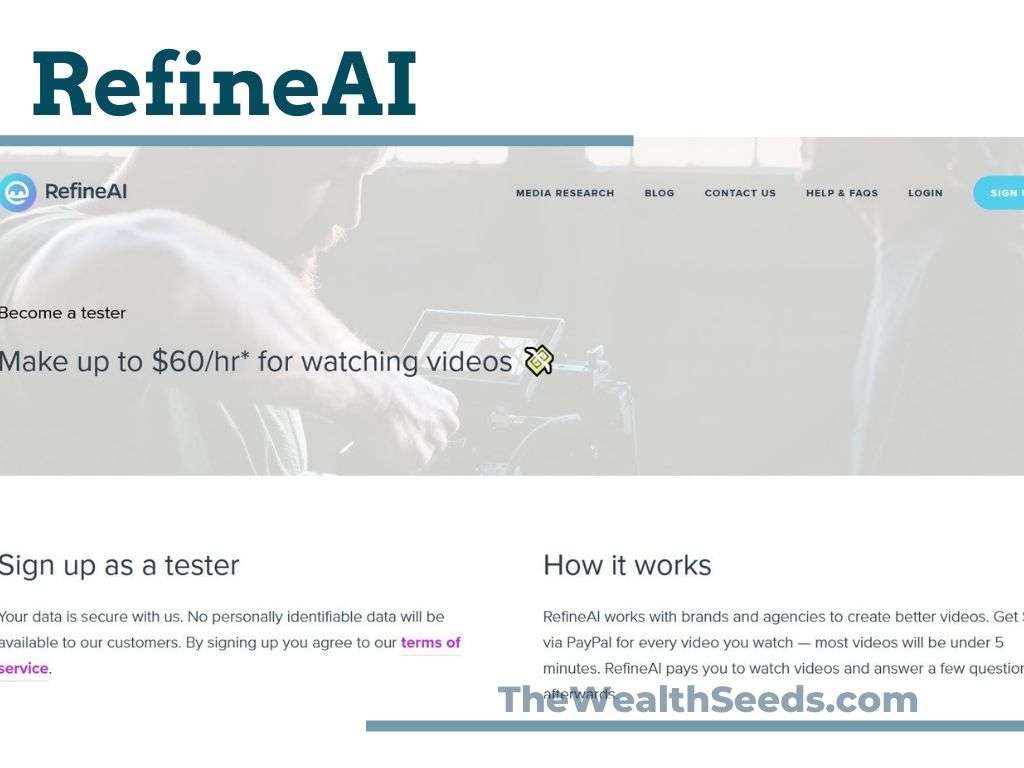 Refineai is a New York-based company that recruits AI testers.
You can make up to $60 per hour watching videos and giving your feedback on them.
They are primarily focused on video testing for brands and agencies.
Your duty as a tester would be to give your honest opinion about the videos you watch. You will have to answer a few questions after each video, and that's how you make your money.
Your demographics matter for them, so depending on what their clients are looking for will be how much work you will get. So you won't be able to rely on Refineai as your sole source of income.
Payments will be deposited in your PayPal account seven days after you complete a test.
7.Neevo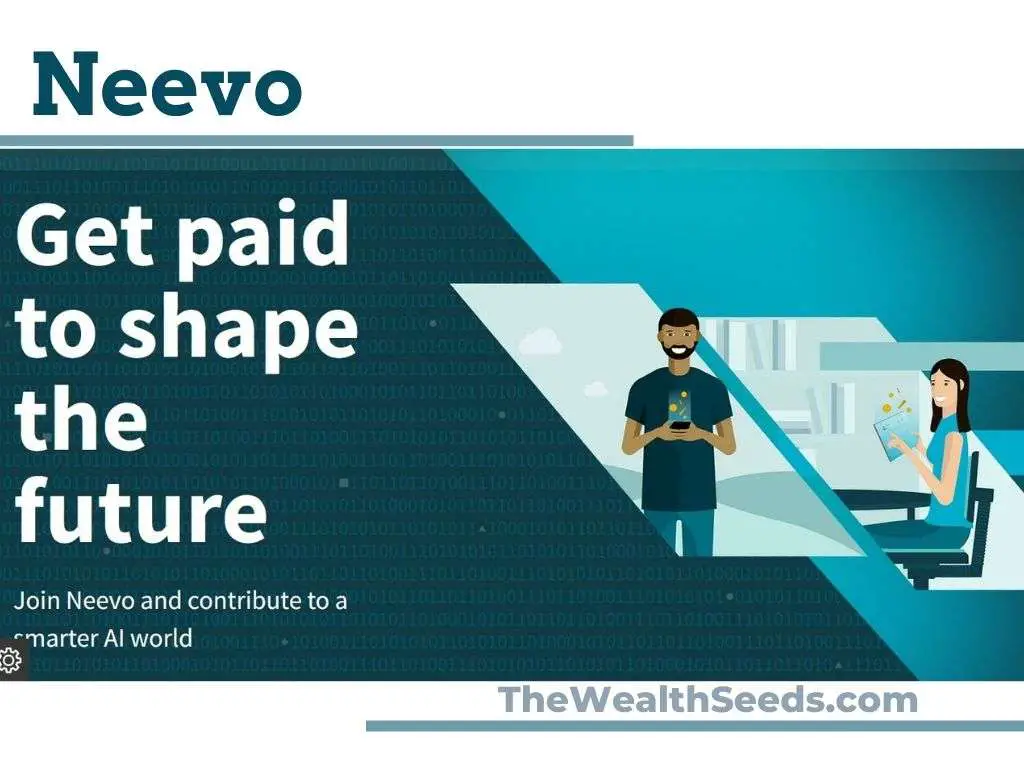 Neevo is another site you can ad to get paid to test AI. You can make decent money, although there are not always jobs available to take, and you need to act fast when they are available.
They also have quality checks that can invalidate the jobs you have to do, so make sure to give your best if you give this one a go.
Other than that is an excellent site to keep an eye on if you want to dedicate your spare time to test AI and earn some bucks.
8.TryMyUI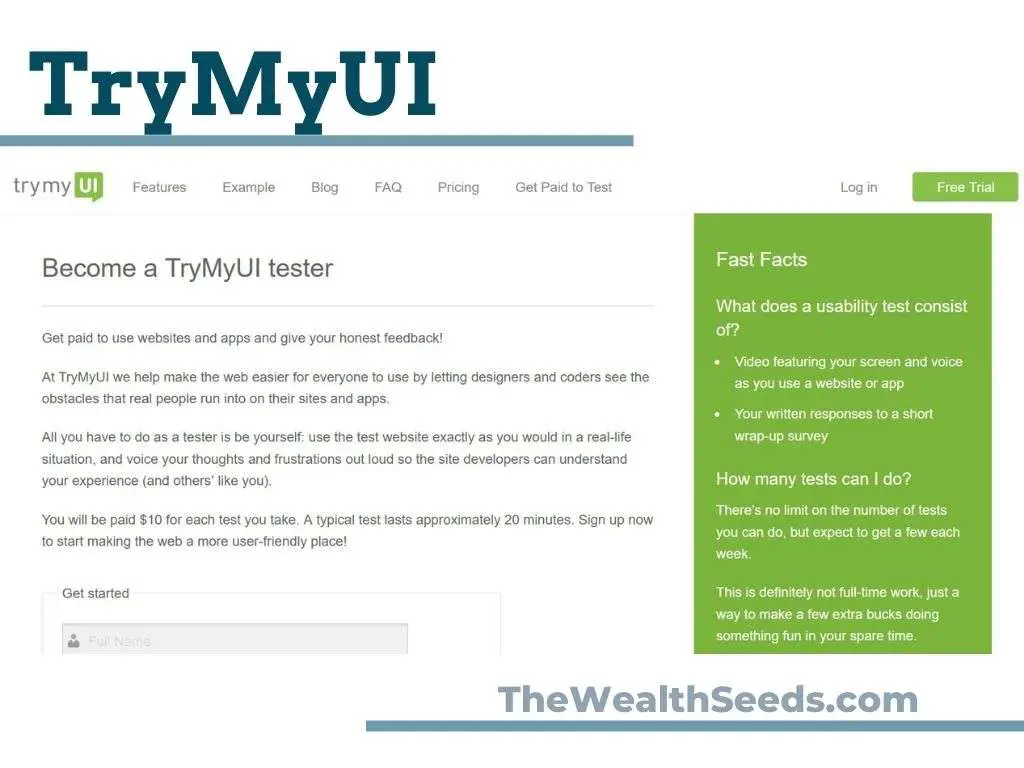 TryMyUI is a platform that pays you to test and review your experience with AI, apps and websites.
You will earn $10 each time you conduct a test and leave a successful review. It will take you roughly 20 min to complete a test which is not bad. You get paid to train AI.
Remember that even when it might seem like you could make $30 an hour, you won't get enough tests to keep you busy for an hour consecutively.
9.Validately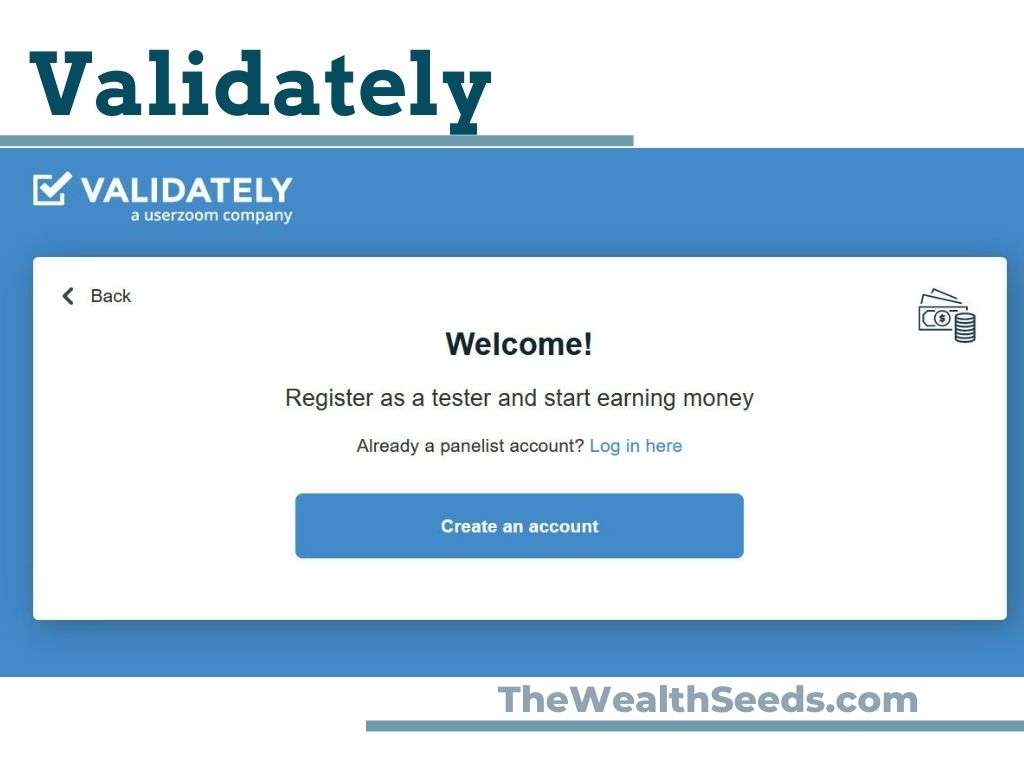 Validately is another website where you can get paid to test AI and give your feedback on your user experience with apps and websites.
They will send you invitations to complete tests based on your profile. When you register, you have to answer personal questions that will determine how often you receive tests. For example, it will depend on your age group or where you live.
On average, each test takes between 10 to 20 minutes to complete, and you can earn around $10 per test.
They also have live remote sessions for which you can make up to $100, but they are scarce.
10. UTest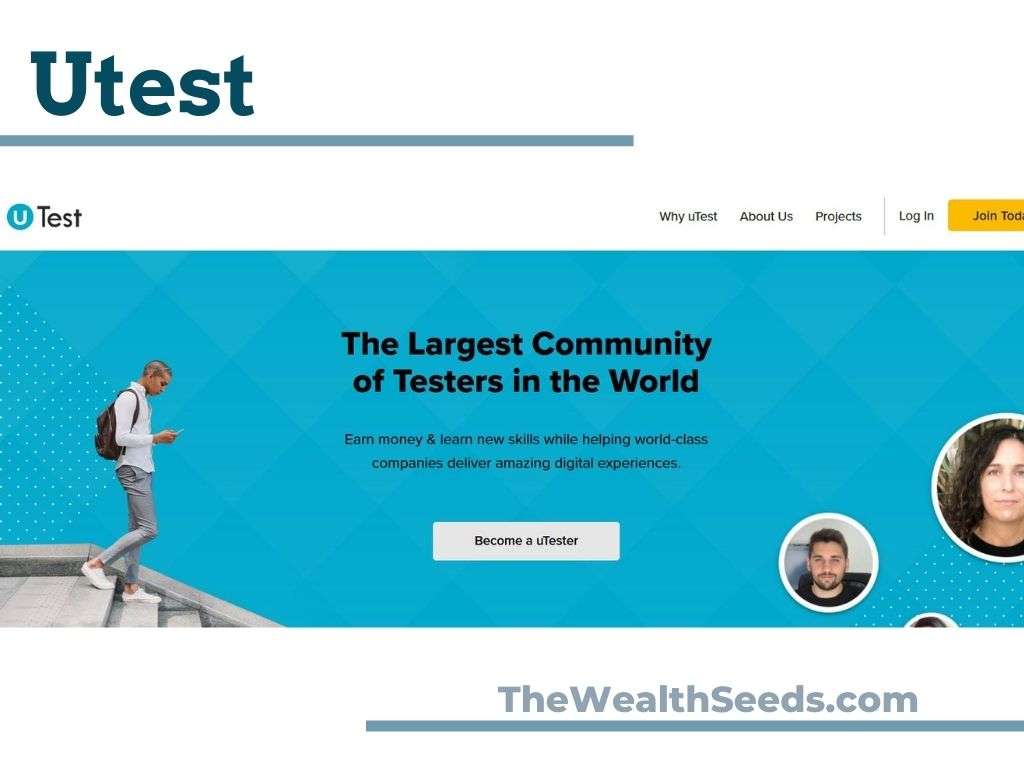 UTest is a bit different than the previous website since it is more like a freelance platform.
However, what is remarkable about Utest is the community they are gathering and the sense of belonging to this group. You will have a great time there. Along the way, you will also make extra cash and receive rewards for interacting with the tester community.
Here there is a better chance of getting testing jobs and more diversity of employment as well.
Since you will deal with different employers, your pay per test is not a pre-established amount. How much money you can make will depend on your time and skills.
Get paid to talk to ai.
Working as an AI chatbot trainer or tester
One way to potentially get paid to talk to AI is by working as an AI chatbot trainer or tester. This involves helping to develop and improve AI chatbots by testing their responses and providing feedback on their performance.
Some companies are offering paid positions for this type of work, and you can get paid to talk to AI.
There are job postings for positions involving AI training and consulting on Indeed right now.
If you have become an expert on ChatGPT, look at this posting so you can realize how much money you can make with AI! Crazy right?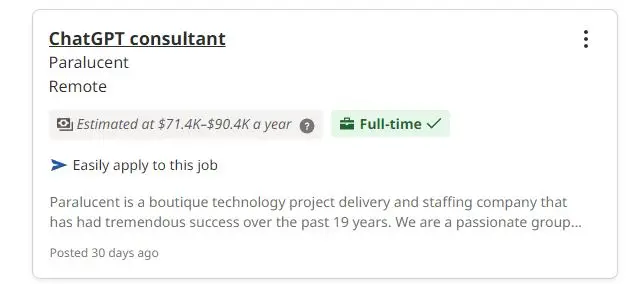 I have also included other companies that usually pay you to talk to AI on the previous list. Take advantage of that.
Be a customer service representative and Get paid to talk to ai
Another option to get paid to talk to AI is to work as a customer service representative for a company that uses AI chatbots to interact with customers.
In this role, you would be responsible for answering customer inquiries and providing support through the chatbot.
Right now, some companies are sourcing and offering paid positions to talk to AI. Check the previous list where you will find those companies. As well as real companies that will pay you to train AI chatbots.
However, it's essential to be cautious of scams and ensure that any opportunities are legitimate before providing any personal information or completing any tasks.
Final thoughts on get paid to test AI
As you can see, sites are abundant where you can start testing AI and earning a decent extra income from anywhere in the world.
You need your PC, a webcam and microphone in some cases, and of course, an internet connection to train AI for money.
Go ahead and sign up today for any of the sites listed here. Don't waste a minute.
Remember to put aside in your saving a portion of what you make. In the end, the ultimate goal is to create wealth.
If you are an engineer, you may want to check this post to discover the best side jobs for you. You might also want to learn how to start freelancing in machine learning.