I am sure you have heard, "Do something you like, and you'll never work a day in your life." That's a quote by Mark twain that has been reframed and changed over time. Now, is it true? Can you really make money out of your passions? To validate this idea, I have gathered a list of profitable hobbies that make money. I am pretty sure you might have one or more of them and without knowing, are sitting on a pile of money 😉
1. Writing
Do you enjoy writing and can express your ideas clearly? There are so many money-generating activities derives from writing that your only bump will be deciding what's the best route to take to start making money with your hobbies.
If you are looking for extra cash here and there, you can start freelance writing. You will provide a service at your convenience and still make money doing just what you love doing.
However, if you want your hobby to substitute your income, you have to treat it as a business. The best approach to take your writing hobby to the next level is to start a money-making blog.
There are so many people out there making a living with their blog; even better, blogs have made many millionaires.
If you take this path, you will definitely start reading income blog reports; Take, for example, Ling's income report from Finsavvypanda.
Blogger's Income reports are invigorating and infuse you with energy to keep you centered on growing your blog. You will need it because it takes time, effort, and consistency to see results.
Above all, you need to have faith that it will work. It is easy? No way. When you see you have written thousands of words and no one is reading, it can break you down, but it gets better, and when it does, it becomes a snowball.
That's why if it is one of your hobbies, you will stay centered, and the beginnings when you have no audience, and no income won't be that hard because you are doing what you love.
If you decide to take this route, check Solo Build It(SBI). They have been helping solopreneurs kickstart their online business for more than a decade. I found them, and it completely changed my game. There is so much disinformation or better-said over blogging information that it can be overwhelming to find the right resources. SBI will take you by the hand and guide you through the startup process and beyond.
2. Web Design
Web design is one of the educational hobbies that can make you a lot of money. Even better if you paired it with a passion for digital marketing, for example.
As a web designer, you know what fonts and colors to use to enhance a website's appeal. You also know how to layout a site and are on top of the latest website design software and practices. Chances are you might have even offered to design your friend's websites for free.
Web design is a hobby that can serve you beyond giving you pleasure. In fact, you can make a living and more as a web designer.
You can offer your services to local businesses and start from there. Consequently, you will be acquiring other skills like search engine optimization and pay-per-click advertising to help your clients build their digital presence.
This is an example of a successful digital marketing agency offering web design services. If you want to learn how to start your own agency, dive deeper into Ruan's youtube channel. You won't find another channel like his. It is packed with tutorials, how-to videos, and everything you need to start your agency.
3. Camping
Are you an outdoor lover and an expert on camping gear? If camping is one of your hobbies, you can make money with it.
Camping is part of a larger segment of the economy known as Outdoor Recreation, which includes other camping activities.
In 2018, the outdoor recreation industry generated roundly $890 billion in economic activity, according to the National Park Service USA. For a detailed industry analysis here.
Canada is not behind by any means; according to a survey conducted by Statistics Canada, nearly 7 in 10 Canadians participated in outdoor or wilderness activities in 2018, some participants more than once.
I know this first hand; you need to book your camping quite in advance; otherwise, you won't get reservations.
As you can see, your camping hobby falls under a prevalent category with millions of people interested in it.
Now to the point, how to make money with this hobby? You can do niche websites based on camping. You know the activity better than anybody else and know what people need and are looking for.
If you create a website to help people find their way into camping, you can make big money. If you want to learn more about starting a business around your camping hobby, you can find more Here.
An example of successful niche sites focused on camping is Clever Hiker. More than a million people visit their site every month looking for outdoor gear, travel guides, and clothing for camping. Their main source of monetization is affiliate marketing.
4. Video Games
What? Yes!!, if you count playing video games as one of your hobbies, you certainly can make money. Tell your mom if she ever told you playing video games is a waste of time.
The gaming industry is booming and has grown exponentially in the latest years, attracting more and more hobbyists to the arena.
You have several options to make money playing video games, from becoming a professional Esport player to streaming live your games. The possibilities are endless.
Take a look at the earnings of the top esports player earners. Note It takes a lot of practice and effort to get there. I am not saying it is easy, but it is possible
6. Film making
If you are a filmmaker passionate, you can turn your hobby into a money-making machine. You might have already developed many skills accidentally by following your passion.
I am sure you know how to conceivably shoot and edit a film, create and edit the sound and music, and mix the final cut on your home computer.
This hobby will assist you well. Create a YouTube channel and start creating a following. If you also have a message to transmit, you can combine your abilities and profit from them.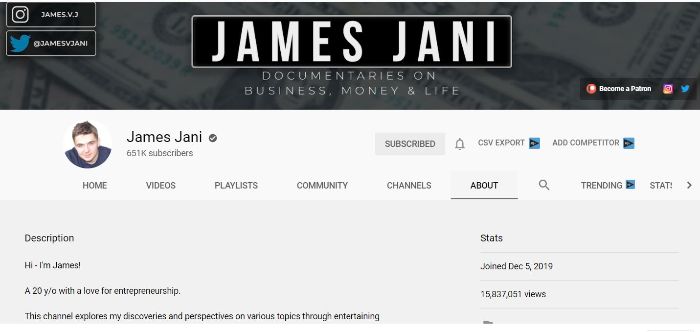 An example of a successful filmmaking hobbyist is James Jani. He makes documentary quality youtube videos and has more than 600 000 followers, most of which he gained in the first months of starting his channel.
You don't even have to be that sophisticated as to have a cinematic quality. One of the most popular youtube channels for Kids has over 74 million subscribers, and according to Social Blade, their channel has estimated earnings of 8 million a month. Their mom Elena is who film the videos of Diana and Roma playing and opening toys. She started as a hobby and now are millionaires.
7. Home Decor
If home decor is one of your hobbies, then it can make you money. According to Allied Market Research, the global home decor market was valued at $616.6 billion in 2019 and is estimated to reach $838.6 billion by 2027. That's an idea of the market size you will be tapping into.
To monetize your hobby, you can take different approaches. You can always start a blog and start sharing your ideas and projects while making money with paid ads after having significant traffic.
Another strategy is starting a home staging business catering to the real estate industry and attracting clients about to sell their homes. Staging a house can give the homeowners a significant advantage since it is proven that sellers can get the most of their money when they have their home professionally staged.
Rebecca Robeson is my favorite story of someone who used her hobby to make money. If you check her youtube channel, you will realize why that is. Her designs are absolutely mind-blowing. I can't get enough of her incredible house transformations. And it all started as a hobby that transformed into a profitable, sought-after business. I dream of having my house stage by her!! Visit her website for inspiration and ideas at https://kinwoven.com/
8. Photography
Is photography your hobby? You're lucky. If that's the case, I am sure you have a great camera always with you to capture everything that catches your eye and imagination. But hey!!, this hobby can also make you money, and this is how.
The first that comes to mind is a freelance photographer; however, you will be limited in time and space to make money. That is because you will mainly rely on events like weddings and baptisms to land gigs. But hey, it is still a viable option to make money.
Another approach you can take is selling pictures online. There are tons of places to get you started, like Alamy, 500px, SmugMug Pro, Shutterstock, iStock Photo, and the list can go on and on.
Additionally, if you have more technical know how you can sell photography online courses. The possibilities are wild. Your only limit is your imagination.
9. Surfing the Web
If you love being online and can't seem to detach from your online device, either phone or PC, you are a web surfing hobbyist, and you can definitely make money with this passion of yours.
One of the easiest ways to make money surfing is participating in online surveys or getting paid to click ads.
Even though you won't make a lot of money this way, you can still compensate for your time surfing the web.
Always make sure you protect your identity and personal information when signing with any website. I always check their reputation first and their review in Trustpilot.
10. Shopping
If shopping is your hobby, you might find relief to know that you can actually make money instead of spending it.
Probably you have heard of a mystery shopper; although it is a legit way to make money, shopping opportunities to find gigs are scarce. But it is still an option; check iShopFor and BestMark to learn more.
Another option is to start dropshipping, which is a simple yet effective business model. You create a website and sell and promote other people's products at a higher price. When someone buys from you, you then place the order with the manufacturers, who then ship the product directly to your customer.
Since you like shopping, you might have a sense of what other people want. Probably you are on top of every buying trend, which gives you a trade headstart. However, don't overlook the process of validating your idea and selecting your product.
11.

Artistic creations
As a bonus hobby, if you create a beautiful design, you are an artist by heart and don't know what to do, your talent, or Selling on Redbubble and help you monetize your creations. This dropshipping- print-on-demand platform can help you make money by selling your art.
How can I make money from my hobbies?
It doesn't matter what kind of hobby you practice or if it is not on this list. You will be surprised at how many weird subjects have been monetized.
Do you think you can make money talking about chickens? Wait…Yes, you can. There is a lady from England that built her online business around how to raise happy chickens. That's fantastic. Although she does not disclose her full income, she retired early and is living a comfortable life. Her hobbies that make money help her rebuilt her house and pay for expensive vacations.
So how can you make money then? Start an online business. You already know what you are passionate about. Your next quest is to validate if you can make money.
To validate your idea identify how many people are interested in your hobby. How many online searches are there in a month for your targeted subject? Check Reddit to see if there are groups about your hobby. Are people spending money on your hobby? Explore the potential of it.
Once you know there is money to be made, decide how you will monetize your business. Are you going to sell courses? Perhaps you use affiliate marketing, ad display, or both? Will you sell your product instead?
There is much information that you need to process. That is why you need a mentor that helps you pave your way to online success. Give Solo Build it a try. They have all the tools and resources to help you start building your online business.
Hobbies that make money for stay at home moms
Most of the hobbies I have listed here are mom-ready. If you are a stay home mom, like me when writing these lines, these hobbies are for you too. Even if you don't see your hobby here, you probably can find a way to monetize your passion.
It is practically impossible to find that you don't share a passion with someone else, and where there is a passionate audience, you can make money.
I know firsthand how it feels when you are a stay home mom. All our focuses shift towards our little one, and we put our priorities aside. During these moments, we discover new hobbies that probably involve spending time with your baby. For me, it was DIY and writing. Check your arsenal; there must be a hobby for you to make money.
If you need to make money fast, there is a solution for that. Keep reading the blog for more resources. You also can try websites that pay you to do simple tasks like watching videos.
conclusion
Passion leads to greatness. Don't be afraid to monetize your hobby and start living each day with passion. Others have done why don't you. Let me know what your hobby is in the comments. Mine is writing; that is why I started this blog.