Hey guys, I discover this money-making opportunity, and I can't wait to share it with you. Today I want to show you how to make money on Slicethepie writing a music review. Isn't it fun? Here is everything you need to know about Slice the Pie, along with my review of the platform.
Let's start right away.
Disclosure: This post may contain affiliate links that at no cost to you; if you make a purchase using my link, I may earn a small commission. I only recommend products that I've used and trust.
What is Slicethepie
Slice the Pie is a review site that pays you to review music, voiceovers, short audio clips, fashion, and mobile accessories.
You may be wondering why would anyone pay me to review music? and the thing is that artist needs feedback on their music to make it better and see what the public response is. After all, music is a product. It can hit or break the market. That's why if they can have a forecast beforehand to make it better, why not?
Slicethepie entered the online world in 2007 and rapidly became the largest music review platform on the market. It is a valuable tool for record labels and independent artists to expose their music to avid music lovers like you. In exchange for your time and your thorough review, you will receive a monetary reward.
Your review will give real-time predictions and insights to designers, music producers, buyers in small and large businesses. It will help them decide how their product will perform once it launches in the marketplace.
SlicethePie is available to reviewers, or scouts as they call them, from almost all English-speaking countries and Germany.
How do you make money on Slicethepie?
Firstly go there and create a free account. Slicethepie is a legitimate platform, so don't be afraid; you are in good hands.
Once you have signed in, you will need to set your music preferences. You can select from the choices they have available at the time you log in. Like in the next picture, I had only the option to review clips and music.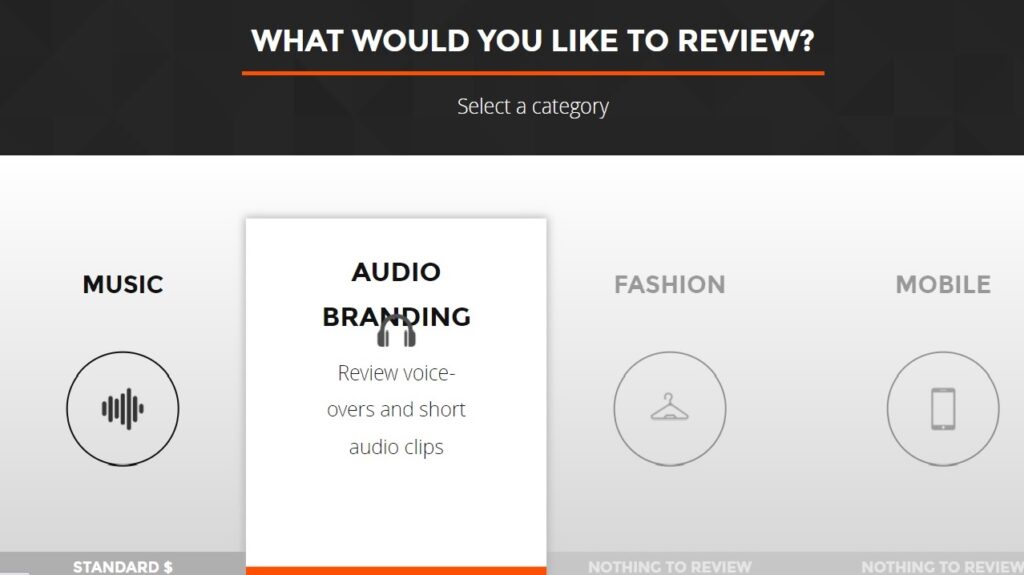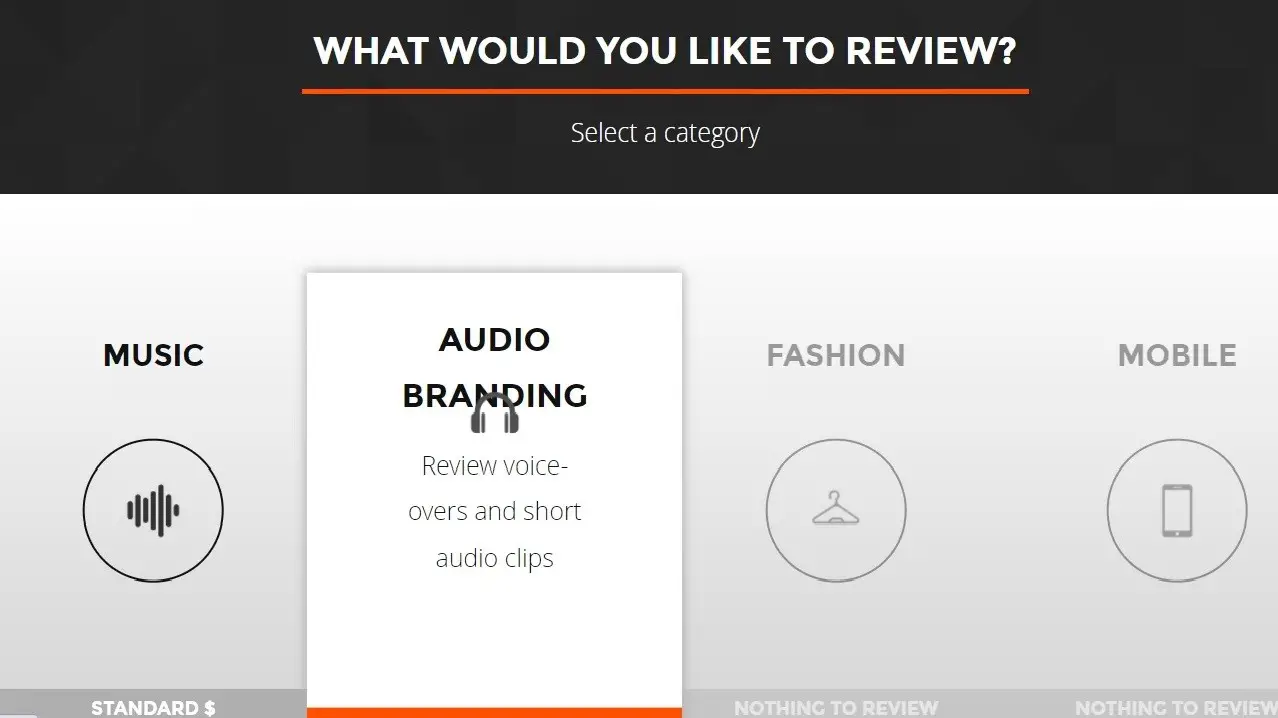 Once you have set your music preferences, you can start reviewing. Before you can send a review, you must listen for at least 90 seconds to start writing your review. The more details you give, the better. After you have written your thoughts on the song, you need to rate on a scale of 0 to 10 and submit your review.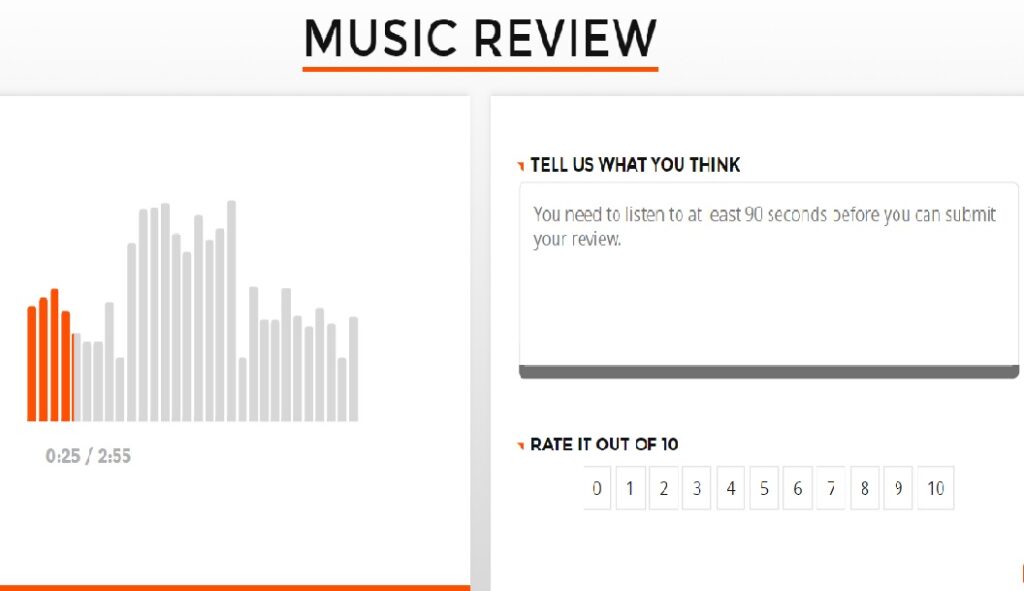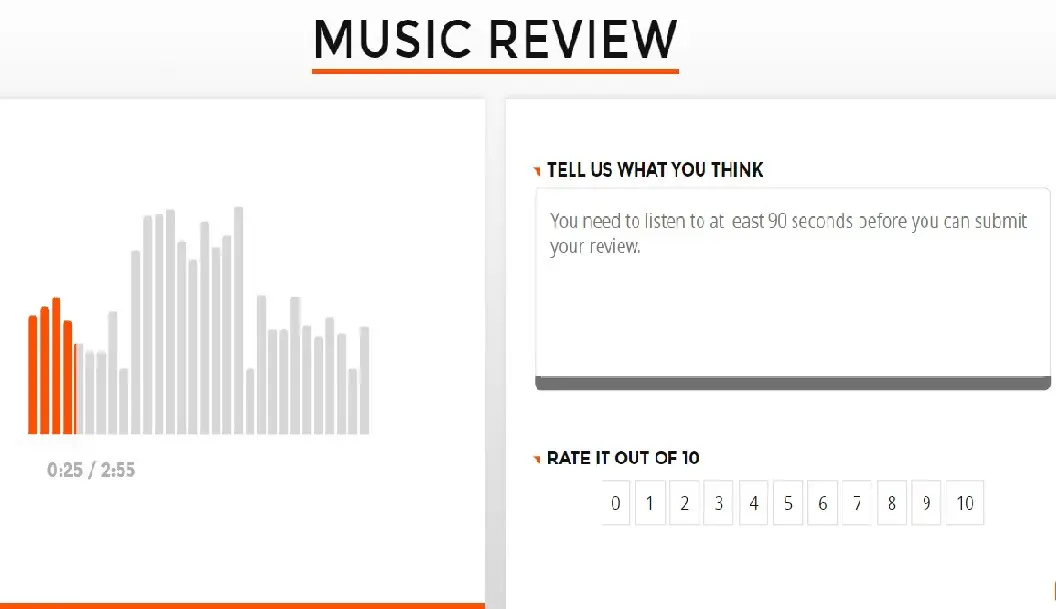 You will also receive stars for your reviews. The more stars you have, the more you earn. They rate your reviews to measure your work quality, so everybody is not cut with the same scissors. So keep that in mind when you send your reviews.
It is easy to increase your ranking, so don't get discouraged. It will start growing as soon as you start reviewing.
Additionally, you can make extra money referring friends to join the platform. You will receive a cash bonus every single time they review.
That cash bonus represents 10% of all friend review earnings. When they sign up, ask them to enter your referral code, and that is pretty much it.
If you want to use my referral code, follow this link or enter the code down below.
How to Get Paid With Slice the Pie
Once you have earned $10, you can withdraw your money using Paypal.
You go to your profile under balance and request to withdraw your funds; it's that simple!!. You have to enter your date of birth to make the transaction secure on their end. If you didn't provide your actual DOB, make sure to remember the one you enter, or you will have to write them and show them some ID to transfer the funds.
Paypal usually takes up to 5 days to make money available in your account, so have that in mind.
How much can you make on Slicethepie?
You won't make a living in Slice the Pie. This platform is an excellent place to make extra cash, call it pocket money or beer money, but that is it. You should explore ideas with more money-making potential.
In the beginning, your rating is one star. You will make money proportionally to your rating. Anywhere from 2 cents to 25 cents is the average pay per review. Also, remember that you also get paid to refer friends. Add that to your possible earnings.
Is Slicethepie legit?
Yes, Slice the Pie is authentically legitimate? They understand that you may question if this is something legit, but once you understand the value, they bring to the market place you start easing your doubts.
However, every time I want to double-check if I am dealing with a legit company, I check their review in Trustpilot.
On average, Slicethepie has a review of 3.9 stars on Trustpilot, and for what I could grab, the bad reviews are from people not being satisfied with the amount of money they are making.
That has nothing to do with the company; they are not lying and telling you that you will make hundreds of dollars reviewing their products. Money is energy, and you make it in proportion to the value you add. You can't expect to break the bank with Slice the Pie.
This is a gig for those who want to make an extra 30 bucks in their spare time. If you want to substitute your income with Slicethepie, I am afraid that it is not possible.
Let's check the Slicethepie review together and dissect the good, the bad, and the ugly.
Slicethepie review example 5 stars
Slice the Pie is really good. I have made over $100 in a short amount of time. $7 in one day yesterday. It's really easy and simple to use. I love it. Sometimes it can be slow and not always have reviews but that's part of it. Use the browser to get more out of it. The people who are moaning about the amount you get haven't read the t&c. You earn stars the more you review and how detailed your reviews are. The more stars you get the more you earn per review & get bonuses. Yes, this takes a while but it's worth it.

Example of a 5 start review from Truspilot.
Slicethepie review example 3 stars
It's fairly easy to start with plenty of opportunities at first to make money. I recommend cashing out when you make your first $20. You'll get paid pretty quickly, and it should take about a week to make that $20, but you'll have to work pretty consistently and diligently on it. Then the site runs out of opportunities, and it's harder to make that next $10, no matter how hard you work at it. They also have many rap tracks that have disturbing and misogynistic lyrics, which I would've rather not heard, and they were unsettling. Bottom line: It's a great, short-term opportunity to make an extra $30.

Example of a 3 start review from Trustpilot
Slicethepie review example 1 star
Honestly, slice the pie is alright, but as some people have said, I have just written what I thought about the music. However, after a while of writing, I got kicked out of the site as it sounds 'repetitive' and lost my work and the money I earned. Although it sounds greedy, it seems very unfair and may even seem like a scam as I contribute all this work and don't get anything out of it. Slice the pie; if this is not true, you may want to lower the threshold at which you can cash out. Thank you.

Example of a 1 start review from Trustpilot
My

Slicethepie review to conclude
I think this is a fun way to make extra cash. It is also a legitimate way to start making extra money right away without any restrictions other than writing the reviews in plain perfect English.
Is it worth it? Maybe, it honestly depends on your particular situation. If you can make a lot with $30, like I know there are places in the world that can feed a whole family with less than that, then yes, it is worth it.
But if you are in a developed country where the minimum wage is at least $8, you are better off devoting your time doing something more profitable.
You can start an online business, an eCommerce store, learn to make money with Pinterest, start a blog. Your time will be better spend to obtain a greater benefit.
Let me know your thoughts in the comments.